Home Prices: 8 Cities To Consider Where Costs Could Drop Quickest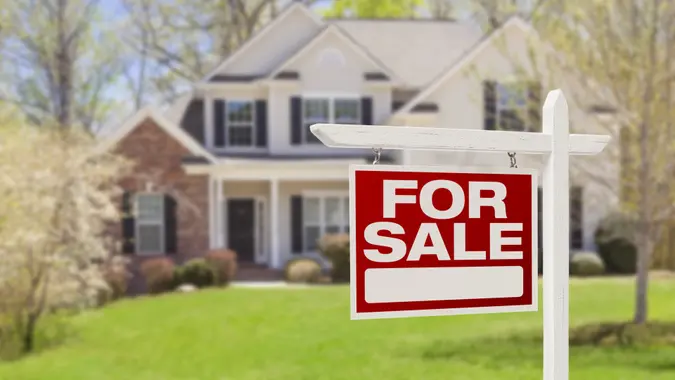 Feverpitched / Getty Images/iStockphoto
As housing prices begin to fall after a period of real estate mayhem (during which home prices rose by as much as 20.6% year-over-year in March 2022), Goldman Sachs recently projected a significant market cool-off in the near future. The investment bank wrote a note to clients earlier this month, the New York Post reported, in which it narrowed down four cities where it expects home prices to decrease most significantly in the coming months.
Austin, Texas
In its note, Goldman Sachs called Austin an "overheated housing market" that would "likely grapple with peak-to-trough declines of over 25%, presenting localized risk of higher delinquencies for mortgages originated in 2022 or late 2021." As early as October of last year, local news outlet KVUE detailed that the Austin real estate market was slowing down. Blaming high interest rates and the stagnation of an earlier "gold rush," Cord Shiflet — president of the Austin Board of Realtors — described a silver lining for buyers.
"What buyers are enjoying is there are no longer 40 offers on a house. They're actually able to have a shot at getting a house."
San Jose, California
When Goldman Sachs mentioned Austin as an overheated housing market, it mentioned San Jose, California, as being in the same situation. Redfin data comparing the San Jose real estate market from Dec. 2021 to Dec. 2022 showed home prices being down 8.9% year-over-year (and price per square foot down 10.3%), and that houses were on the market for an average of 30 days in Dec. 2022 as opposed to just 10 days a year prior. Despite this downturn, Redfin suggested that San Jose was still a competitive market, a positive sentiment echoed by Neil Collins — CEO of the Santa Clara County Association of Realtors — via San Jose Spotlight.
"Demand is still strong as our members report increasing crowds at their open houses… houses will continue to sell, but they will take a bit longer. Home prices are expected to be fairly stable. Mortgage rates may drop later next year, but that does not mean putting off the purchase of your dream home as you can always refinance later if rates drop. Finding the perfect home is a bit more difficult."
San Diego, California
San Diego was also brought up as a city that would "grapple with peak-to-trough declines of over 25%," per Goldman Sachs. As The San Diego Union-Tribune detailed in a Jan. 26 report, the median home price in San Diego fell nearly $100,000, from $850,000 to $756,000, in less than a year — from May 2022 to Dec. 2022. Overall home sales were down significantly as well, falling in volume by 46% by Dec. 2022 as compared to the year previous.
Despite this, local real estate analyst Mark Goldman remained bullish on the future market. "Interest rates notwithstanding, the demand is still super strong," he said. "I think we have more-or-less seen the bottom of the market."
Phoenix, Arizona
And finally, Phoenix, Arizona was named as a city that would see declines of over 25%.
According to Redfin data, in December 2022, Phoenix home prices were down 1.4% compared to last year, selling for a median price of $410,000. On average, homes in the Phoenix are sold after sitting for 61 days on the market compared to 31 days the year prior. There were 1,242 homes sold in December this year, down from 2,427 in 2021.
Housing Prices Fall Across the U.S.
According to Newsweek, Goldman Sachs also released a report citing cities that would see a notable fall in housing prices — though perhaps not predicting a crash. Highlighted in this report, in addition to the above, were San Francisco, California; Denver, Colorado; Seattle, Washington and Tampa, Florida. In all these locales, prices are predicted to drop by over 10 percent throughout 2023.
Though Goldman Sachs predicts notable price declines in Phoenix, San Diego, San Jose and Austin — on par with what we saw during the Great Recession in 2008 — a housing crash on that level is unlikely, largely due to the lack of inventory on the U.S. market in general.
Take Our Poll: How Do You Think the Economy Will Perform in 2023?
More: Should You Invest In Real Estate or the Stock Market?
"Housing inventory is about a quarter of what it was in 2008," National Association of Realtors' chief economist Lawrence Yun said in November. "Distressed property sales are almost non-existent, at just 2%, and nowhere near the 30% mark seen during the housing crash. Short sales are almost impossible because of the significant price appreciation of the last two years."
More From GOBankingRates