5 Home Renovations That Will Help — or Hurt — When Selling, According to Zillow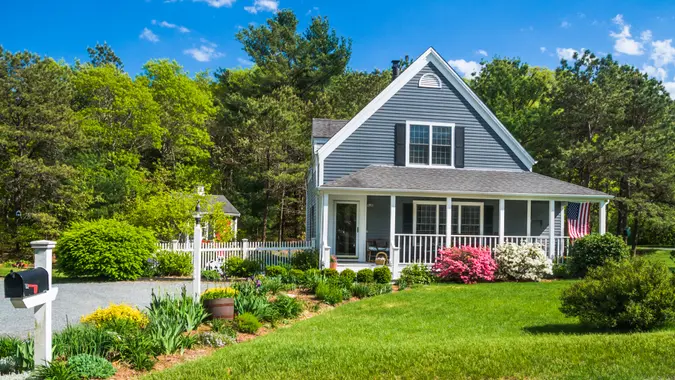 KenWiedemann / Getty Images/iStockphoto
With all of the home renovations shows on TV, you may be eager to tackle a project of your own. But before you go knocking down any walls, you will want to make sure that you'll get a return on your investment (ROI) when you go to sell your home.
Zillow's home trend expert Amanda Pendleton explained, "If you're renovating your home to make it better for your family, go for it. If you're renovating your home with only resale in mind, you've got to think about the projects that are going to maximize your ROI. Renovation projects rarely return a dollar-for-dollar return on investment, so your first step is to prioritize the home improvement projects that make your home clean, safe and functional."
She continued, "A survey from Zillow finds most recent sellers take on at least two home improvement projects before listing their home for sale. The most common home improvement projects recent sellers completed to prepare their homes for sale are interior painting, carpet cleaning, and landscaping. The average cost of these projects adds up to $5,388, according to Thumbtack." 
So before you pull out your jackhammer or painter's tape, you'll want to calculate just how much the project is going to cost and whether it will help you when you go to sell your home. Here are five common home renovation projects and how they may impact the sale of your home.
Painting
Painting can be a great home renovation to take on, but will it pay off? Well, it depends.
"Interior painting is the most common project recent sellers take on; 40% do it before listing their home for sale. But it pays to be strategic about color. Zillow's latest interior paint color analysis finds that homes with a charcoal gray kitchen can sell for an estimated $2,512 more than similar homes, while a dark gray living room can command offers of $1,755 more," Pendleton said.
"Some colors can hurt your home's value. Recent and prospective buyers would offer an estimated $3,365 less for a home with a mid-tone cement gray front door. Buyers would offer $1,760 less for a home with a forest-green bathroom and $1,123 less for a home with a mint green bedroom. They would offer $2,125 less for a home with a bright yellow kitchen and more than $3,032 less for a bright yellow living room," she added.
Carpet Cleaning
If you really want to appeal to potential buyers, you might want to consider a carpet refresh. A professional cleaning is often less than $200 (depending on your home's square footage), and even replacing the carpet altogether is pretty affordable.
"Carpet cleaning or, when necessary, carpet replacement can deliver a powerful signal to potential buyers that a home is clean and well-maintained. New carpet, when mentioned in a listing description, can help a home sell 1.5 days faster than expected," Pendleton said.
Landscaping
What's on the inside matters, but in the case of getting higher offers on your home, what's on the outside also really matters.
"Outdoor space has become more important than ever for today's post-pandemic homebuyers, so think about adding functionality to your yard," Pendleton said. 
She said homeowners should "[s]tart by landscaping. Clean up your yard, then consider adding some affordable extras like an outdoor path or deck lighting and a firepit. Zillow data finds both features could help your home sell for 1% more than similar homes when mentioned in a listing description."
Appliance or Roof Repair
One project a homeowner may want to consider skipping is anything related to appliance or roof repair. Appliance and roof replacement or repair are exceedingly expensive but generally have little return on investment. Zillow's home trend expert noted, "Only 11% of recent sellers thought appliance repair or replacement, and roof repair, maintenance or cleaning helped sell their home."
Kitchen Renovation
Kitchen renovations are another project that homeowners may want to hold off on. Despite what TV reno shows may have you believe, they do not appear to be a major selling point in most home purchases. 
According to Pendleton, "Fewer than 1 in 5 of recent sellers (17%) believe completing a kitchen renovation to prepare their home for sale helped sell it. While costs vary depending on the work done and materials chosen, this pricey project can average $10,355, according to Thumbtack, and typically only delivers about $0.50 on the dollar in resale."
More From GOBankingRates