1 in 4 Homebuyers Would Go $100K Over Budget for Their Dream Home — Is It Worth It?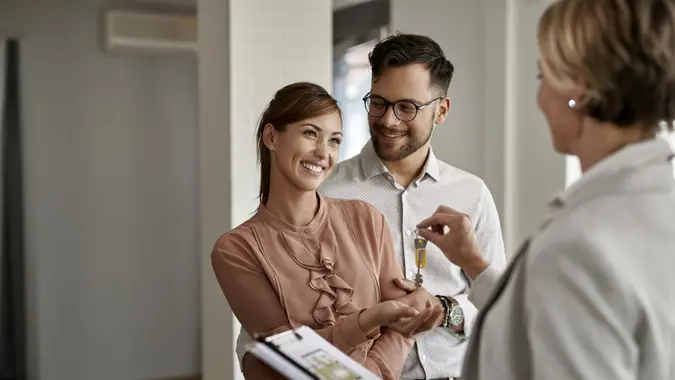 Drazen Zigic / Getty Images/iStockphoto
In this extremely competitive real estate market, homebuyers are more willing to do whatever it takes to get their offers approved. A recent HomeAdvisor survey found that 63% of homebuyers would go over their budget for the perfect home, and 1 in 4 homebuyers would go $100,000 over their budget for their dream home — but is breaking your budget by such a large figure really worth it?
Find Out: Best Places in Every State To Live on a Fixed Income
Learn More: How Long $1 Million in Savings Will Last in Every State
GOBankingRates spoke with financial advisors to get their takes.
Why It Might Not Be Worth It To Go Over Budget
Jay Zigmont, CFP, founder of Live, Learn, Plan, a financial planning firm in Mississippi, said that he does not advise going over your homebuying budget — even for your "ideal" or "dream" home.
"This type of home fever can cause you nightmares in the future," he said. "In general, you should try to keep your mortgage payment — including interest, taxes and insurance — to less than one-third of your take-home pay."
Not only could an expensive mortgage derail your monthly budget, but it can also make it harder to cover the unexpected expenses that come along with homeownership.
"The thing to remember is that once you own a home, you are also responsible for any maintenance, repairs and the like," Zigmont said. "On average, house maintenance will be 1% of the house's value each year, but there can be big swings, like when you need to replace a roof or HVAC."
Zigmont also notes that your dream home of today may not be your dream home 10 years from now.
"There is a high likelihood that you will move in the future," he said. "What may be a dream house now may not fit you as your job, family and life change. Buy a house you can afford, pay it down and 'upgrade' in the future. You want to enjoy your house, not always be worrying about how you are going to pay for it — or worse, if you might lose it."
Advice: 20 Home Renovations That Will Hurt Your Home's Value
Why It Might Be Worth It To Go Over Budget
Jordan Hanson, CFP, a financial advisor with HCR Wealth Advisors, an independent financial advisory firm based in Los Angeles, said that in certain situations, "it can absolutely be worth it to go over budget for the 'perfect home.'"
"Your home purchase will likely be the largest purchase you make in your entire life, so the decision should not be taken lightly," he said. "In general, you do not want to buy a house based on the maximum loan amount you are approved for. This will likely put a lot of strain on your monthly budget. However, if you have strong job security and are confident that your income will continue to rise and your career will continue to advance, then stretching your budget for a home purchase is not all bad."
If you do go over budget, you should be prepared to tighten your purse strings for a bit.
"While you may feel some strain on your budget initially, as your income rises, your housing costs will become more and more affordable because your mortgage payment (principal and interest) is fixed," Hanson said. "Additionally, this acts as an inflation hedge. Prices will continue to rise as a result of inflation; however, your mortgage payment will not. This effectively makes your mortgage payment cheaper every year on an inflation-adjusted basis."
More From GOBankingRates