Homebuying Assistance Programs in These 5 Southern States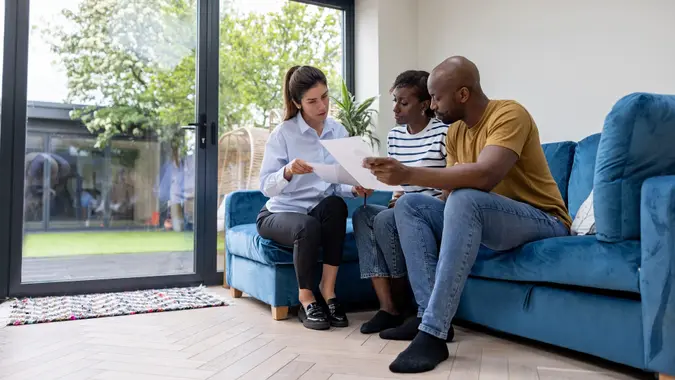 andresr / iStock.com
Traditionally, lenders required prospective homebuyers to save 20% for a down payment, but with the assistance of government programs, many can now get by with just 3.5% down — but "just" is a subjective term. With a national median home value of around $358,000 as of late November, the buyer in the middle would need $12,530 in the bank — plus closing costs — in order to seal the deal.
See: How Long $1 Million in Retirement Will Last in Every State
Find Out: Should You Still Buy a Home in Today's Market?
The good news is that your state might have a program that can help you meet your minimum down payment requirement or offer some other kind of financial boost to get you into your dream home.
According to Forbes, homebuying assistance programs fall into one of five categories. Grants are the most valuable because they don't require repayment, but there are also individual development accounts (IDAs) or matched savings programs, zero-interest forgivable second mortgages, zero-interest deferred payment mortgages and low-interest second mortgages.
All 50 states offer their residents one kind of program or another, with many giving homebuyers a choice of several assistance options that might be right for their particular situation. 
The following is a look at the programs homeowners can turn to in the five most populous states in the South. 
Florida
The Sunshine State's Florida Assist program offers up to $10,000 on FHA, VA, USDA and conventional loans and 0% non-amortizing, deferred second mortgages. Florida Assist is not forgivable and repayment is deferred unless you sell, refinance, transfer, satisfy the first mortgage or otherwise cease to occupy the property. 
There's also the Florida Homeownership Loan Program (FL HLP), which offers $10,000 and a 3% fully amortizing second mortgage with a 15-year term. Here, too, you must pay in full if you move or refinance. 
Finally, there's the HFA Preferred and HFA Advantage PLUS Second Mortgage, which offers 3%, 4% or 5% of the total loan amount in a forgivable second mortgage. When used with Florida Housing's conventional HFA Preferred for TBA or HFA Advantage for a TBA first mortgage, it's forgiven at a rate of 20% a year over five years.
Some of the qualifications include that you must have a credit score of at least 640, complete a homebuyer education program and not earn income that exceeds your locality's maximum threshold.
Take Our Poll: Do You Think People Should Invest In Crypto?
Georgia
The Georgia Department of Community Affairs (GDCA) Georgia Dream Homeownership Program offers most buyers $7,500 through its standard loan program — all eligible buyers can qualify. Active military, public protectors, educators and healthcare providers can apply for $10,000 through the Protectors, Educators & Nurses (PEN) program. 
The CHOICE program offers $10,000 if a household member has a disability. 
To qualify for a Georgia Dream loan, you must be a first-time homebuyer or a buyer who hasn't owned a home for three years, although there are exceptions for people who buy homes in certain designated areas. Your liquid assets must not exceed the greater of $20,000 or 20% of the purchase price and your income must not exceed the local maximum. You must also meet the mortgage loan credit requirements of an FHA, USDA-RD, VA or conventional loan.
North Carolina
The NC Home Advantage Mortgage program offers down payment assistance of up to 3% of the loan for both first-time and "move-up" homebuyers. The North Carolina Housing Finance Agency, which runs the program, also offers up to $8,000 in down payment assistance for first-time buyers and military veterans only. Both of those groups might also qualify to combine the NC Home Advantage Mortgage with the NC Home Advantage Tax Credit. That could save them as much as $2,000 per year on federal income taxes if they're approved for a Mortgage Credit Certificate by the NC Housing Finance Agency before they purchase their home. 
You don't have to repay any assistance you receive unless you sell, transfer or refinance your home within 15 years. Assistance is forgiven at a rate of 20% per year from years 11-15. Applicants must have a credit score of at least 640, can't earn income exceeding $126,000 and must qualify for an FHA, USDA, VA or conventional loan.
Texas
The Texas Department of Housing and Community Affairs (TDHCA) maintains the Texas Home­buy­er Program, which provides both down payment assistance and access to the Mort­gage Tax Cred­it program.
My First Texas Home, which is open only to first-time homebuyers, provides a 30-year low-interest mortgage with up to 5% in assistance. Buyers can save even more when they combine My First Texas Home with the Mortgage Credit Certificate (MCC). The MCC, which you can also take as a standalone option, is open to first-time buyers and military families and can reduce your federal tax liability on a dollar-for-dollar basis. 
There's also the My Choice Texas Home program, which offers 30-year low-inter­est mort­gage loans and up to 5% in assistance to current homeowners.
Virginia
The Virginia Housing Development Authority offers both a down payment grant and a closing cost assistance grant through the HOMEownership Down Payment and Closing Cost Assistance Program (DPA). It's open to first-time homebuyers at or below 80% of the area median income (AMI) and offers 10% or 15% of the sale price for homes purchased within established DHCD-approved areas, plus up to $2,500 toward closing costs.  
Borrowers are required to participate in homeownership counseling and complete a HUD-certified homebuyer education course through Neighborworks or VHDA. They must also contribute 1% of the home's value from their own money.
More From GOBankingRates