Nearly 75% of Americans Are Confused by Closing Costs, Preapproval or Other Homebuying Steps: Here's a Helpful Cheat Sheet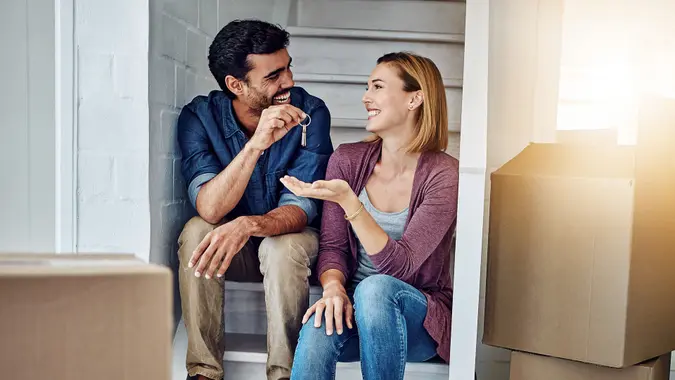 gradyreese / Getty Images
Most likely, unless you've already bought a home or work in real estate, you don't feel like you know a ton about what it takes to buy a house. At least, that's the norm for many Americans according to a recent GOBankingRates survey.
Of the 1,000 people across the country who were surveyed, only 26% felt they understood the homebuying process well. The most confusing part of the process to those surveyed was getting preapproved, followed by closing costs. Here's a quick explainer on the most important parts of buying a home that you might not know about.
What does it mean to get preapproved to buy a home? 
Unless you're paying all cash for your home, you'll need a mortgage to buy a home. The preapproval is referring to being approved for a mortgage. Obtaining preapproval lets sellers know you have a line of credit ready to buy a home.
To get this preapproval, you'll need to get in touch with a lender when you start the homebuying process. The lender will check your credit, your assets and income, and verify your employment. The lender will then approve you for a certain amount of money based on all of these factors. For credit, most lenders are looking for a 620 credit score or higher. If you have a lower score, you might have to make a bigger down payment on the home you buy. 
The lender will then draw up a preapproval letter with the amount you are approved for. This preapproval documentation expires after 60-90 days. Some real estate agents showing the homes you look at might require a preapproval letter to view the home, so you'll want to keep it current.
Which type of mortgage should you get?
In the GOBankingRates survey, 14% of respondents said they were confused by what mortgage to get. It makes sense that people would be confused, since there are six types of mortgages to choose from:
Conventional Mortgages
If your lender has determined you have good credit, recurrent and steady income, and can make a 3% down payment on a home, you can get a conventional loan. These are typically backed by Freddie Mac or Fannie Mae, which are two government sponsored companies that handle most conventional mortgage loans. 
Conforming Mortgage Loans
These loans have to conform to maximum loan limits set by the federal government. The loan limit for 2022 is $647,200 for one-unit properties, but that can go higher if you live in a city with much higher than average homes. 
Nonconforming Mortgage Loans
The amount for these loans is typically much higher than conforming mortgage loans, so you would need to show a lot of cash on hand to qualify. You typically need to make 10%-20% of the down payment and have excellent credit. 
Government-Insured Federal Housing Administration (FHA) Loans
If it's your first time being a home and are determined to have low to moderate income, you might qualify for an FHA loan. You'll typically need to make a 3.5% down payment, and pay a mortgage insurance premium up front. 
Government-Insured Veterans Affairs (VA) Loans
Military service members, veterans, and their spouses are entitled to receive a VA loan for 100% of the home's value. If you qualify, you don't need to make a down payment of any kind, and you usually encounter fewer closing costs. However, there is a funding fee that some of those who qualify will need to pay.
Government-Insured U.S. Department of Agriculture (USDA) Loans
If you are determined to be low income and live in a rural area, you might qualify for a USDA loan. These loans typically don't require much, if any, money down as long as the home meets the eligibility rules.
Once you've selected the type of mortgage you qualify for, there are repayment options to consider:
Fixed-Rate Mortgage
If you plan to live in your home for a long time, you can get a fixed-rate mortgage, which means you'll pay the same interest rate on your mortgage for between 10 and 30 years. Depending on how much you can afford to pay each month, your lender and you can negotiate how long the mortgage, and thus, the interest rate, will last.
Adjustable-Rate Mortgage 
If you want to flip the house or refinance in the future, you can opt for an adjustable-rate mortgage. These loans have a fixed rate for 10 years, then you and your lender can readjust based on the market. After those 10 years, your interest rate might go up, so if you intend to have the house after 10 years, you'll want to be prepared for that potential jump.
Depending on your situation and qualifications, you and your lender will be able to select the right mortgage and repayment rate for you. First-time homebuyers also have options available to them that can lower their monthly mortgage payment. Check with your lender for your state's programs. 
What are closing costs?
Closing costs are additional fees in addition to what you're paying for the home. These fees go to pay things like a loan application fee, a credit report fee, property tax and appraisal fee, underwriting the mortgage, real estate commissions, title and record filings, and other costs that vary by state and home type.
Closing costs are usually between 3% and 6% of a home's total cost. The lender you spoke to in order to get preapproved is required to give you estimated closing costs based on the amount of the loan you were approved for. Three days before the closing on the home you've purchased, your lender must provide you with the exact closing cost figure.
More From GOBankingRates
Methodology: GOBankingRates surveyed 1,012 Americans aged 18 and older from across the country on between March 8 and March 9, 2022, asking sixteen different questions: (1) Do you consider yourself financially literate?; (2) Where did you learn most of your financial literacy?; (3) Which financial topic do you think you should have learned more about in high school? (Select all that apply); (4) Which financial topic do you still feel you need more education on in 2022? (Select all that apply); (5) When you were growing up, did your parents talk to you about how to manage your money?; (6) Do you think high schools are lacking in financial education?; (7) How has a lack of financial education cost you the most?; (8) At what age did you become comfortable with basic money skills (i.e., writing a check, balancing your accounts, budgeting)?; (9) At what age did you start saving and planning for retirement?; (10) How do you feel about how you used your 2021 American Rescue Plan stimulus check?; (11) Which financial topic did you feel the need to learn more about due to the COVID-19 pandemic? (Select all that apply); (12) What do you not understand about the Child Tax Credit? (Select all that apply); (13) Which part of the homebuying process is most confusing to you?; (14) Which part of the car buying process is most confusing to you?; (15) Are you prepared for the student loan debt moratorium to end in May?; and (16) How are you changing your driving habits with the rising gas prices? GOBankingRates used PureSpectrum's survey platform to conduct the poll.