7 Unexpected Challenges of Homebuying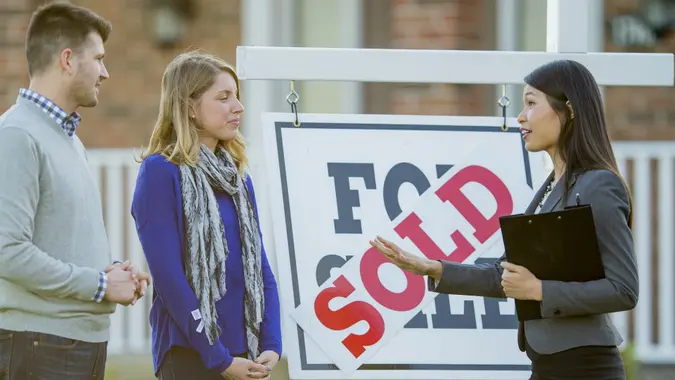 FatCamera / iStock.com
While the thought of finally owning your dream home is exciting, 54% of first-time homebuyers view the actual homebuying process as painful, according to TD Bank's First-Time Homebuyer Pulse, which polled more than 1,000 Americans planning to buy their first homes in 2022.
Be Prepared: 10 Hidden Costs of Buying a House
Helpful: 10 Important Questions To Ask Before Buying a House
While it's likely no surprise that home prices being up (way up in some areas) makes things difficult, other challenges of homebuying might not be as apparent — especially if this is your first attempt at tackling the market. 
Here are home-purchasing pitfalls to be aware of, so you'll have a better chance of reaching the closing table sooner rather than later.
Outbidding Other Potential Buyers Might Not Be Enough
It's not all about bidding the most for the home itself — other factors can come into play.
"For example, even though you may offer slightly more than the asking price, another buyer may agree to a two- or three-month leaseback upfront or offer to buy the bulk of the seller's furniture, tools and toys for a separate sum," said Baron Christopher Hanson of Echo Fine Properties. "Whatever the circumstances, it's important to understand the seller's predicament, motivation and timing as best you can, so you can decide to be a more flexible homebuyer — or not — depending on your wishes."
The House Might Fail To Meet Inspection Requirements 
"The house you want may fail an inspection and not appraise at the value you'd hoped for in order to satisfy your lender," said Hanson. "What this means is that the seller may not be willing to pay for or complete any repairs, which will come out of your pocket. Your lender, in turn, may also require a much larger down payment. It's important to either plan for this financial double-whammy in advance, or be prepared to shop for another home that does not require repairs and will appraise well."
US Housing Market: Is Now the Right Time To Be a Buyer?
Your Offer Might Turn Out To Be Over the Appraisal Value
If you're trying to buy a home where inventory is low and competition is high, you may find yourself in a bidding war and make an offer to the seller that's well over the home's appraisal value. Unfortunately, this can cause a shortfall between what you offered and what your lender is willing to loan you.
"You will want to offer to cover any appraisal gap in the form of an appraisal gap guarantee inserted into the offer," said Bill Gassett, founder of Maximum Real Estate Exposure and a Realtor for 35 years. "The seller doesn't want to find out well into the deal that the home isn't appraising because you offered well in excess of the asking price."
It's Recommended That You Waive All Contingencies
"Another key element is buyers are recommended to waive all contingencies upfront before their offer is accepted, which is very risky for them to do," said Fernando Spindola, a Realtor with Experience Real Estate. "In this market, sellers and listing agents know there are many qualified buyers to choose from so they ask for contingency removal even before opening escrow."
One danger of waving all contingencies is that you won't be able to have the home inspected, which means you could inherit some very costly issues. Also, if your financing falls through, you'll lose your earnest money.
You Don't Realize How Time-Consuming the Process Is
"Make no mistake, buying a home today is a short-term, full-time job from sunup to sundown, seven days per week," said Hanson. "You cannot be on the golf course, shopping or so buried at work you cannot transact in real time. Tell your employer, your family and close friends that you are on a home buying mission or staycation for a few weeks, so you can get face-to-face with your Realtor at any moment, take every home buying phone call and physically get to your new home location for inspections, appraisals and other critical meetings quickly."
Hanson added, "If it's not a cash deal, be sure to remain extremely accessible to your lender until all financing is complete. If you take your foot off the gas or leave town even for a moment, your deal could fall through or a more committed buyer could win the home you want instead."
Live Richer Podcast: Jaspreet Singh Gives Tips For Beginners in Real Estate Investing
Your Debt-To-Income Ratio Changes
When you apply for a mortgage loan, lenders look at how much debt you have in relation to your income, also known as your debt-to-income ratio. The maximum DTI you can have depends on the type of mortgage loan you apply for, but when applying for a conventional loan, you'll generally need a DTI of 50% or less.
"Making a large purchase like a car, boat or new furniture can change your debt-to-income ratio, which can disqualify you from a mortgage — even if you were pre-approved before purchases," said Rachel DiSalvo, a real estate expert, broker and design consultant.
The Seller Might Not Vacate as Soon as Expected
"The seller or their attorney, at the last minute, may not agree to vacate the property you are hoping to purchase just yet — typically because the seller needs more time to either purchase another home themselves or handle extenuating family circumstances," said Hanson. "Whatever the seller's scenarios, it's essential for homebuyers and their savvy Realtor to get in writing upfront and during the transaction exactly when the seller's move-out date upon closing will be, before putting in a binding offer or going under contract."
More From GOBankingRates