House Hunting Checklist: What To Have When Looking for a New Home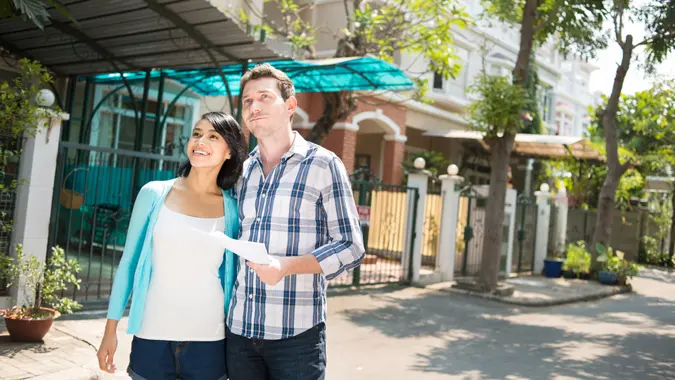 Dragon Images / Shutterstock.com
It's finally happened: you're ready to settle down and find the perfect home for yourself and/or your family. Before you go out house hunting, however, you want to make sure you have everything in order to make the process as smooth and easy as is possible. After all, this is most likely the biggest purchase you'll ever make, and a long-term commitment.
See: 7 Financial Habits That Improve Your Daily Life
Find: 20 Home Renovations That Will Hurt Your Home's Value
Our house hunting checklist helps you plan for everything, from the finances and people you need on your team, to the items to bring with you when you start your search.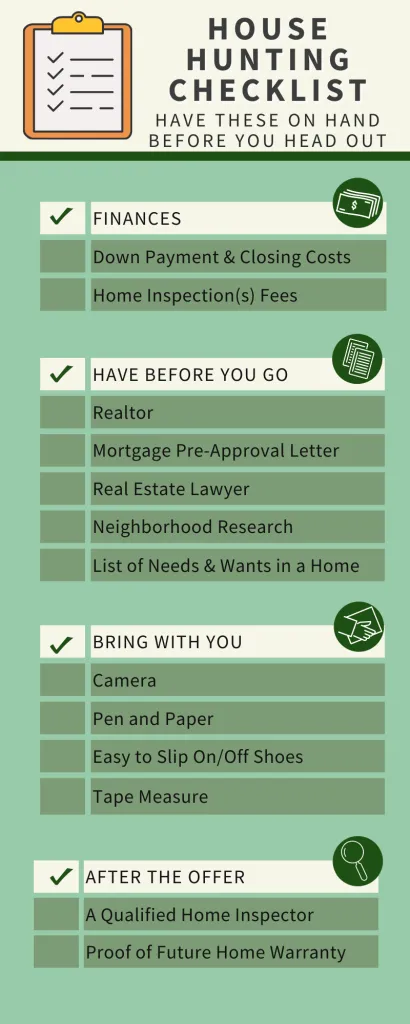 Finances
Down Payment and Closing Costs
Most people know that they'll need to put a down payment on a house — a portion of the cost of the house due up front. How much you put down affects how much you'll pay monthly, as a mortgage. Since houses cost in the many hundreds of thousands to millions of dollars, even a 10% down payment can add up to a lot of money. Depending upon your state, county, and the kind of mortgage you qualify for, you may have to come up with, on average, anywhere between 3% and 20% of the total mortgage, according to Investopedia. There are some first time homebuyers' programs that can help with this, or limit your down payment, so look into those first.
But that's not all! There are also closing costs, the fees you pay your lender to create the loan for you, according to Rocket Mortgage. These costs average about 3% to 6% of the home price. So if you were to take out a mortgage worth $400,000, closing costs would be anywhere from $12,000 to $24,000.
Home Inspection Fees
If you're lucky enough to have your offer on a home accepted, you then have to pay for the cost of a home inspection, and a variety of other inspections or tests depending upon risk factors. The national average for a home inspection is $340, though it can be a little less or more, according to Home Advisor. Other possible inspections, according to Rocket Homes, could include termite inspection, asbestos, mold, or lead testing, a foundation inspection, septic tank inspection, sewer scope or radon testing. Each of these tests can run from $100 up to $1,000 depending on who you hire.
Have Before You Go
Realtor
There's one professional you don't want to try to purchase a home without — a real estate agent. It's their job to do a number of important things most people don't know the first thing about. Not only will they show you houses based on your needs, once you find one you want, they'll put in your offer and translate any requests to the seller. They'll help you set up your inspections and other due diligence, file all the necessary paperwork and guide you through the escrow process. You'd be lost without one.
Mortgage Pre-Approval Letter
Before you even begin to look at homes to buy, you need to know how much you can afford to pay in a monthly mortgage based on your income. Mortgage lenders will run your information and produce a mortgage pre-approval (or pre-qualification) letter that estimates how big of a mortgage you can comfortably take out, according to the Consumer Financial Protection Bureau. While it's not a guarantee, it does make a potential seller more likely to accept your offer.
Be Careful: 10 Signs You Should Not Buy a Home Right Now
Real Estate Attorney
Depending on where you live and the kind of purchase you're making, you might need to hire a real estate attorney. These lawyers know how to draw up and review legal documents that may be necessary in the purchase of a home. However, not every purchase requires one, according to Rocket Mortgage. Your real estate agent or mortgage lender will let you know if you need one.
Neighborhood Research
Simply walking past a home you want to buy is probably not enough to learn all you need to know about it. You will want to put in some neighborhood research to determine if it fits your needs. Sites like AreaVibes and Neighborhood Scout can give you data on crime rate and general neighborhood demographics, as well as neighborhood groups like NextDoor.
List of Needs and Wants in a Home
The more specific you can get about what you want versus what you need in a home, the more likely you are to find a home that overlaps between the two lists. MoneyUnder30 recommends you start with your dream home and work backwards, carving out things that you can live without and cementing the things that are deal breakers.
Items To Bring to Home Showings
When you go to an open house for a home, there are some essential items you'll want to bring with you for practical purposes. A camera, so you can take photos of elements to remember later; a pen and paper to write down important info (or a phone/tablet); shoes that you can easily slip on and off as some homes may have a no-shoes policy; and a tape measure so you can be sure that key pieces of furniture or appliances will fit in the necessary spaces.
After The Offer
As mentioned above, you're going to need to pay for an inspection, if not several, and the time when you'll actually need to do so is after your offer has been accepted. Finding one may not be as simple as relying on your realtor, according to Consumer Reports. Realtors are often in a hurry to "close the deal" and may not have the best person for the best price. Rely on word of mouth from friends, Yelp or Home Advisor, they suggest. Make sure your home inspector has credentials, and that their price compares with going rates.
You also may decide to purchase a home warranty when you buy a home. A home warranty covers repairs or replacements of big ticket items such as appliances and major systems in your house, and can be customized, according to Creditful. These warranties cost several thousand dollars up-front, according to Investopedia, and typically charge a fee for every time a repair person is called to come out and fix something, which may be another $100 or more per visit. However, keep in mind that not all warranties will cover all kinds of problems, and you may never even need to take advantage of it.
More From GOBankingRates