Housing Market 2023: Is a Double-Digit Drop in Prices Coming?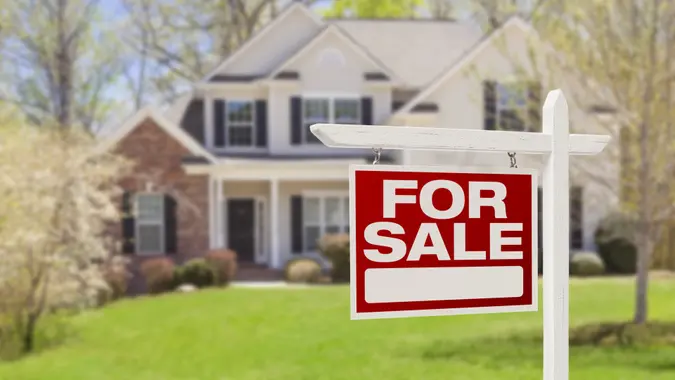 Feverpitched / Getty Images/iStockphoto
The long-awaited buyer's market might finally make its debut this year. If you've been trying unsuccessfully to purchase a home, this will certainly come as welcome news.
Nationally, home prices may drop by 5% this year, according to a recent study by the University of California San Diego's Rady School of Management. However, it predicted certain parts of the country could realize double-digit drops.
Some of the top cities possibly headed for a decline in home prices include Phoenix (18%); Stockton-Lodi, California (13%); Las Vegas (13%) and San Diego (12%).
As of February, the median sale price in the U.S. was $386,721, according to Redfin. This represents a 1.2% year-over-year price drop.
Undoubtedly, this is music to your ears if you're looking to buy a home. However, you're probably not too excited about this if you're planning to sell a property this year.
There's no way to know for sure what will happen with home prices this year. However, GOBankingRates spoke with several real estate experts to get their thoughts.
Here's what they had to say.
Closely Watch the Fed's Next Steps
Before the collapse of Silicon Valley Bank, it was a lot easier to predict whether a double-digit drop in home prices was on the horizon, said Kenon Chen, executive vice president, strategy and growth at Clear Capital.
"When we look at sales and listings activity year to date, we are already seeing a double-digit decrease in activity year over year," he said. "The number of sales for the past 30 days is down 22% and new listings are down 18%."
Despite that, he said purchase demand seems to be incredibly rate sensitive, as loan applications spike when rates fall below 7%.
"We will have to keep a close eye on what the Fed's next steps are given the recent bank issues," he said.
Prediction: Modest Price Drops for Most Markets
"I don't think there will be a housing crash nationwide," said Eric Maribojoc, director of the Center for Real Estate Entrepreneurship at George Mason University School of Business. "There will be certain markets that will have drops in prices."
He said this will occur in either the most expensive markets — e.g., San Jose and San Francisco — or smaller markets that saw large and rapid price increases over the past two years — e.g., Boise. Overall, he expects most markets to have more modest price drops, contrary to the housing crash of 2008.
"However, more expensive newly built home prices will drop more than existing houses for sale," he said. "A lot of home construction which started last year is being delivered in 2023."
He said this prediction is based on several factors.
"Because of the large price increases over the last two years, homeowners have more equity in their houses compared to the amount of their mortgages," he said. "Due to low interest rates in 2020 and 2021, many borrowers have refinanced to low fixed-rate mortgages and not floating-rate mortgages."
He said the amount of available inventory will also be a factor, as the newly built home segment is oversupplied. This, he believes, will cause concessions and price declines in 2023.
"The one factor that can cause larger national housing price declines is a sharp increase in the unemployment rate," he said. "Right now, the unemployment rate is very low."
Prediction: Home Sales Will See a Double-Digit Decline
"In my opinion, we will see a major slowdown in the number of transactions that occur," said Gordy Marks, managing broker at the Gordy Marks Real Estate Team at RE/MAX Northwest in Seattle. "Fewer homes will be bought and sold in 2023 nationally, which is undeniable."
While he believes one aspect of the market will slow down, he doesn't think it will impact every area.
"I believe that pricing will not see a double-digit depreciation," Marks said. "With the higher interest rates, people are going to be staying in their homes longer than they may have previously."
Now that interest rates are higher, he said homeowners have shifted their thinking.
"The big boom in the real estate market in the last few years was driven by artificially low mortgage rates," Marks said. "Homeowners could upsize and downsize a lot easier knowing the property they were going to purchase was at such a low interest rate."
"Now, with rates being much higher — and expected to go down in the next 12-24 months — homeowners are going to tough it out in their situation longer than they would have in 2021."
Of course, he said this means fewer listings will come on the market.
"Low inventory is what leads to an appreciation in the prices," Marks said. "Now the demand won't be as strong as it was either, which is why I expect things to be at a slight decrease or flat year of appreciation."
In Seattle, he said, listings are already back to multiple offers, due to low inventory. "The buyer pool is smaller, but so is the pool of homes for sale."
Ultimately, Marks doesn't expect to see anything extreme happen with home pricing this year.
"Our bottom line prediction for this year is that home sales — number of transactions — will probably see a double-digit percent decline," he said. "Prices will not."
More From GOBankingRates