Housing Market 2023: Exploding Housing Costs Are Forcing This State's Residents Into Homelessness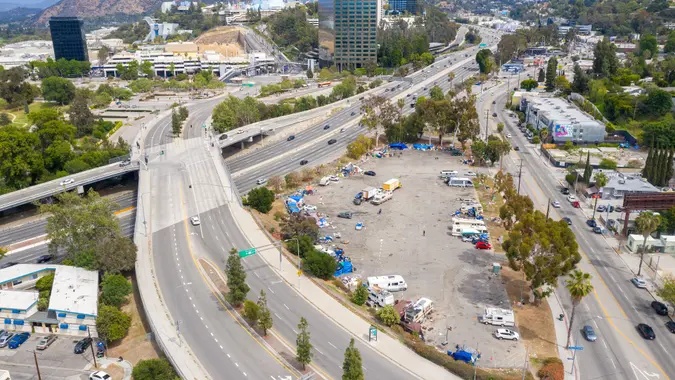 DutcherAerials / iStock.com
Record-high home and rental prices haven't just strained the budgets of Americans already battling high inflation, they've also been a major contributor to homelessness across the United States. That's especially true in California, where there is a direct correlation between sky-high housing costs and a rise in homelessness, according to a new study.
The California Statewide Study of People Experiencing Homelessness (CASPEH)  was released on June 20 by The University of California, San Francisco Benioff Homelessness and Housing Initiative (BHHI), which called it the "largest representative study of homelessness in the United States since the mid-1990s."
The study used surveys and in-depth interviews of homeless participants to develop a "clear portrait" of homelessness in California, according to a press release. One of its findings is that 30% of the nation's homeless population live in California, along with half of the unsheltered population live.
The study also found that the cost of housing had "simply become unsustainable" for homeless participants in the study. Participants reported a median monthly household income of just $960 in the six months prior to their homelessness. Most believed that either rental subsidies or one-time financial help would have prevented their homelessness.
"The results of the study confirm that far too many Californians experience homelessness because they cannot afford housing," Margot Kushel, Director of UCSF BHHI and principal investigator of CASPEH, said in a statement. "Through thousands of survey responses and hundreds of in-depth interviews, the study's findings reflect the incalculable personal costs of homelessness. Our policy recommendations aim to inform solutions to the homelessness crisis."
Among the other findings are that California's homeless population is growing older, and that Black and Native Americans are "dramatically overrepresented."
Contrary to popular perceptions that much of California's homeless population arrived there from elsewhere, the study found that 90% of participants are from the state. A similar percentage spent time unsheltered since they became homeless, meaning they haven't been able find shelter at facilities provided by government agencies or other organizations. The median length of homelessness was 22 months.
The CASPEH study mirrored similar findings included in "Homelessness is a Housing Problem," a University of California book written by researchers Clayton Page Aldern and Gregg Colburn and released last year.
As the Los Angeles Times reported, the book looked at various contributing factors to homelessness such as mental illness and addiction, along with the per capita rate of homelessness around the United States. The researchers found that communities with the highest housing costs had some of the highest rates of homelessness.
Aldern, a data scientist and policy analyst in Seattle, and Colburn, an assistant professor at the University of Washington's College of Built Environments, found that homelessness was a particular problem in expensive cities such as Los Angeles and San Diego. One thing they concluded is that homelessness can no longer be attributed to traditional factors such as mental illness and addiction.
Based on the CASPEH findings, the BHHI offered several key policy recommendations, including the following:
Increase access to affordable housing for "extremely low-income" households earning less than 30% of the area median income.
Increase household incomes through training and job search programs, and provide transportation and outreach to help the homeless sign up for eligible benefits.
Increase outreach and service delivery to people experiencing unsheltered homelessness.
Embed a "racial equity" approach in all aspects of homeless system service delivery.
Housing Market 2023: Prices Are Now So High That Banks Are Losing Money on MortgagesReal Estate Transfer: Baby Boomers Secure Generational Wealth by Transferring Property to Children
"You could fix all the addiction in San Diego right now and you'd still have a problem with homelessness because there just aren't places for people to go who have lower levels of income," Colburn told the LA Times.
More From GOBankingRates