Housing Market 2023: Here's How To Avoid High Mortgage Rates by Buying a New Home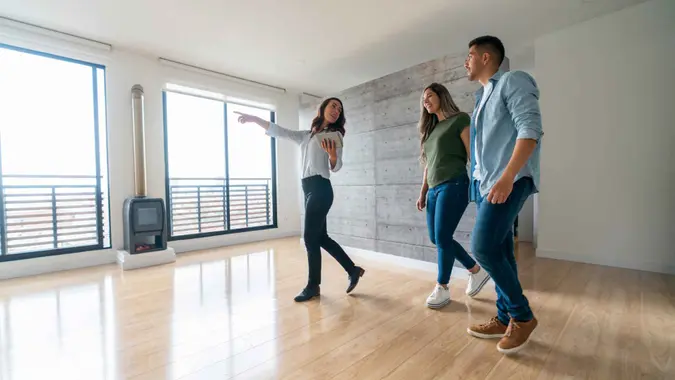 Hispanolistic / Getty Images
If you want to avoid paying mortgage rates that currently average about 6.4%, then homebuilders have a deal for you. In some cases, builders are offering mortgage rates of 5% and lower to get people into newly constructed homes.
See: 15 Cities Where Houses Are the Best Bargains Right Now
Find: Demand for Gold is Up. Here's Everything You Need to Know.
As MarketWatch reported earlier this year, some homebuilders are "playing hardball" by offering mortgage rates as low as 3% on new houses. Other builders are offering rates closer to 5% — still well below the average rate of 6.39% for a 30-year fixed-rate mortgage, according to the latest data from Freddie Mac.
One reason builders can offer lower rates is because they have more profit margin to work with, which gives them the financial wherewithal to offer bigger concessions to buyers.
"They're able to use [that margin] to finance both permanent and temporary buydowns that allow for lenders to offer lower introductory rates," Jason Will, senior vice president of market growth at Embrace Home Loans, told MarketWatch in January.
Another advantage builders have are "captive finance arms" that allow for more flexible financing, according to UBS senior research analyst John Lovallo.
"We think that positions the [publicly traded] homebuilders in particular extremely, extremely well in this environment," Lovallo told Yahoo Finance in a recent interview.
Builders might also be emboldened by a slightly sunnier outlook on the U.S. housing market due to an uptick in new housing starts — an especially important trend given the limited inventory of existing homes.
Last week, the National Association of Home Builders reported that overall housing starts in April 2022 increased 2.2% to a seasonally adjusted annual rate of 1.40 million units, according to data from the U.S. Department of Housing and Urban Development and U.S. Census Bureau.
"Single-family starts are showing gradual improvement from the beginning of the year, and this is reflected in our builder sentiment surveys, which are up for five consecutive months," NAHB Chairperson Alicia Huey said in a news release. "Due to a lack of inventory for resales, we expect to see further improvement for single-family production in the months ahead even as builders continue to grapple with supply-chain and labor shortages."
More than one-third of the homes on the market in April were new construction — well above the typical share of 13%, Yahoo Finance reported. This has led to the highest confidence level among homebuilders since last summer.
The upshot for buyers of new homes is that they can often get much better-than-average mortgage rates.
"[New home buyers] are not paying 6.5% — the headline rate," Lovallo told Yahoo Finance. "They're paying under 5% in most cases."
Even a small decrease in the mortgage rate can make a big difference in your monthly payment. As Yahoo Finance noted, the monthly mortgage payment on a $400,000 home with 20% down at 6.35% is $1,991. But lower that rate by one point to 5.35% and the payment falls to $1,787 — a difference of $204 a month or $2,228 a year.
More From GOBankingRates