Housing Market 2023: Nobody is Selling and Everyone is Buying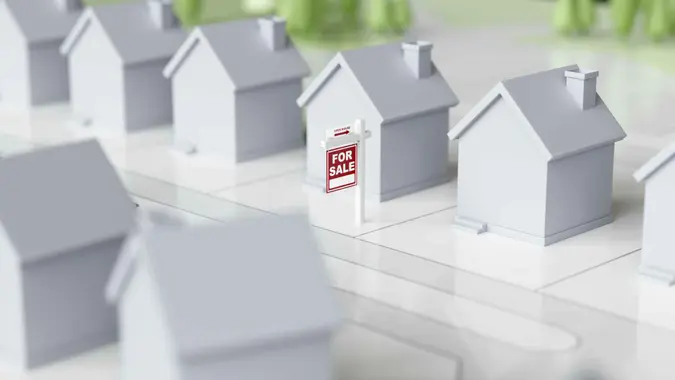 mphillips007 / Getty Images/iStockphoto
The American housing market in 2023 has shifted dramatically, with homeowners reluctant to sell and potential buyers lining up to purchase.
I'm a Real Estate Agent: Buy Real Estate in These 10 Cities To Be Rich in 10 YearsLearn: How To Get Cash Back on Your Everyday Purchases
The result has been a surge in the market for newly constructed homes, which have filled the void left by the reduced inventory of existing properties.
Last year saw a spike in mortgage rates that dissuaded potential sellers from relinquishing their current homes with their low mortgage rates.
According to data from the National Association of Realtors, only 1.08 million existing homes were listed for sale or under contract by the end of May, marking a historic low for this time of year since 1999.
This homeowner reticence has paved the way for the thriving new construction market, which has rapidly become the only viable option for many aspiring homebuyers.
The ratio of newly constructed homes to existing homes on the market has grown significantly, accounting for nearly one-third of all single-family homes for sale nationwide in May, up from the usual rate of 10-20%.
This shift has brought life back to the home-building industry, which had slowed due to rising interest rates and financial uncertainty.
Firms like Utah-based Ivory Homes, which had cut construction by almost 80% in early 2023, experienced a revival in sales in the latter half of the year. Ivory Homes had to reduce staff by 9% and cut back on construction significantly but ended up seeing a resurgence in demand.
The story is similar on a national level, with builder confidence on the rise. According to the National Association of Home Builders, confidence has increased consistently over the past seven months, hitting its highest level since June 2022.
This recovery reflects in the stock market as well, with the S&P Homebuilders Select Industry stock index experiencing a significant 39.8% growth in 2023, outpacing the S&P 500's 18.6% gain.
Home builders have had to adapt to these changing market conditions. As demand shifted and buyers sought more affordable options, builders like Ivory Homes began modifying their offerings to include lower-priced homes.
Their redesigned properties, such as the two-story homes in the Holbrook Farms community in Lehi, Utah, sold better than their higher-priced counterparts.
To further entice buyers, many builders have started offering incentives such as mortgage rate buydowns. These buydowns, some of which are effective for the life of the loan, allow buyers to qualify for the highest mortgage rate the loan will reach, effectively reducing their monthly payments.
Despite this significant pivot, the surge in new home construction hasn't entirely solved the existing housing shortage. Many markets still see bidding wars, and home prices nationally have seen only minimal drops from their record highs in spring 2022. If mortgage rates rise above 7%, builders worry it could hamper demand.
The housing market of 2023 presents a complex picture of resilience and adaptation in the face of economic volatility. As existing homeowners cling to their low mortgage rates, new construction has become the dominant force in the market.
Mortgage Interest Rate Forecast for 2023: When Will Rates Go Down?
Despite uncertainties, the home-building industry has shown remarkable resilience and agility, turning a potential crisis into an opportunity for growth.
Editor's note: This article was produced via automated technology and then fine-tuned and verified for accuracy by a member of GOBankingRates' editorial team.
More From GOBankingRates