Housing Market 2023 Patterns Have Normalized — What Buyers and Sellers Should Know for the Seasons Ahead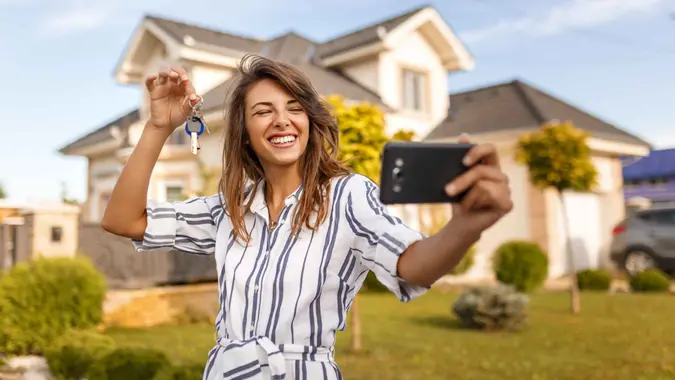 vladans / Getty Images/iStockphoto
Considering how erratic the housing market has been, experts can largely be forgiven if their predictions on the short-term direction of the housing market — and when the best time for buyers and sellers to make their respective moves might be — are off.
I'm a Real Estate Agent: Here Are the 6 Cities Where You Should Avoid Buying a Home This Summer
Find: 15 Cities Where Houses Are the Best Bargains Right Now
Whether the real estate sector is finally normalizing or experts are treating this current state of housing in the U.S. as the "new normal," there is no reason to ignore recent market patterns and the seasonal fluctuations that influence buyers and sellers every year, regardless of current affordability issues and elevated mortgage rates.
Seasonality plays an important role in buying or selling a home. Looking ahead, learning how seasonal fluctuations affect the real estate market and keeping a close eye on the path the housing market has already taken in 2023 can be advantageous for buying and selling a home.
What Can Buyers Expect?
Every year, the number of homes sales increases significantly in the spring and slows in the winter. A busy or quiet winter can provide clues about upcoming trends during the year. Demand and mobility are the highest in the summer as more people move at that time. This is the case for renters deciding to buy and for families moving to new school districts, per the National Association of Realtors.
These seasonal cycles won't change — but this year, it's difficult to imagine existing housing market conditions improving. As Danielle Hale, chief economist at Realtor.com, told Forbes: "If current economic conditions persist, with elevated mortgage rates and home prices amid scarce inventory, the market is likely in for a long, slow climb and a few bumps along the way."
Buyers are going to have to be patient and flexible as there will be fewer houses on the market. Existing owners will be reluctant to give up their prime locked-in mortgage rates. High prices will keep many buyers from taking the plunge — and the ones that do will be battling stiff competition from developers with deep pockets.
Beyond autumn, it's anyone's guess whether the housing market will be any kinder to buyers. Most experts are predicting a rebound or housing correction this year, so hopefully prices reflect that and drop after a summer peak.
Also: Why Retirees Are Expected To Sell Their Homes in These 10 Cities
What Can Sellers Expect?
At any time of year, regardless of market health, the key to selling a house is proper pricing. Hiking up a selling price in response to heightened demand might work, but pricing correctly to encourage competition often closes a deal more quickly.
Although sales took a dive during the last two quarters of 2022 and have remained relatively flat this year, demand has remained surprisingly durable. According to Michael Fratantoni, chief economist at the Mortgage Bankers Association, "Demand has hung in there better than we would have expected for that first-time buyer."
Sellers, safe in the knowledge that sales are significantly more likely in this time of limited supply, are reaping the rewards of this sustained competition in the market — and will continue to do so in the foreseeable future. For homeowners looking to sell, the trade-off is that they'll most likely be shedding a desirable existing mortgage rate. However, with houses commanding such high prices, the chance to place a larger down payment on a new house (or at least new to them) will be possible for most sellers.
More From GOBankingRates