2023 Housing Market Correction: What Home Sellers Need To Know for Spring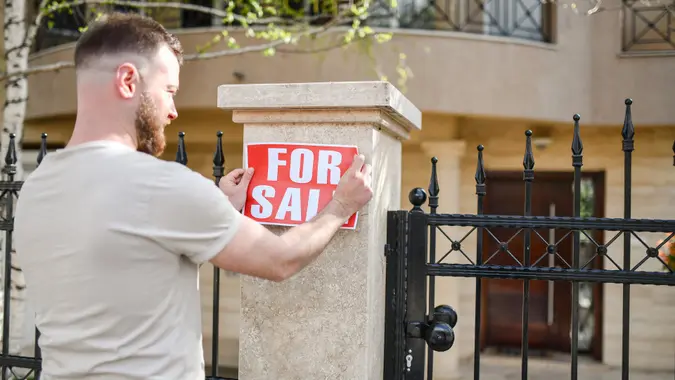 AleksandarGeorgiev / iStock.com
Things may be blooming for the housing market this spring, as experts are predicting another shift in an already volatile market. As GOBankingRates reported, initial swings began in 2020 during the height of the pandemic when housing prices took a huge nosedive just as the economy did — but soon there were rising prices due to a lack of inventory and a legion of bidding wars.
The untenable times were only made worse in the past year as interest rates have soared amid the Federal Reserve spiking them upwards to cool inflation. But that all may be about to change starting this spring — though it will be in baby steps.
"The spring is likely to mark a turning point," Robert Dietz, chief economist of the National Association of Home Builders told Realtor.com. "You're at the low, but you can start to see better days ahead," especially since median housing prices are finally falling for the first time in a decade.
Per CNN, citing a National Association of Realtors report, "The median price of a U.S. home was lower this February than it was in February 2022, ending more than a decade of year-over-year increases." The current media home price is $363,000, which is down 0.2% from this time last year. "This marks the first monthly year-over-year price decline since February 2012."
So what can homebuyers and sellers look forward to? Here is the forecast:
Inventory Will Still Be Shaky
While Realtor.com reported the number of homes for sale is up 68.7% as of February 2023 from a year prior, they also stated "buyers shouldn't get too excited." That's because many of these homes have been sitting for a while and are unlikely to attract buyers "because they're fixer-uppers, dated, overpriced, remotely located, or utterly lacking curb appeal." Other sellers are likely to wait to unload their properties while mortgage interest rates are high — if they are currently locked in at a 3% mortgage, for example, the last thing they'll want to do is get a new property to finance with double the interest rate.
There Will Still Be Bidding Wars
Because the inventory is a bit underwhelming, homes that are move-in ready and located in desirable neighborhoods will move fast, and sellers can likely expect to see above sticker price offers. "Desirable areas, good school districts and good quality homes are still going to sell well and [still] face bidding wars," Ali Wolf, chief economist at the building consultancy Zonda, told Realtor.com. "But that's not going to be the norm."
Most Homes Will Get Less-Than-Desired Offers
The desirable "unicorn" homes in the market notwithstanding, most homes for sale won't enter into bidding wars and will instead see lower offers than normal. This is largely because, "Purchasing a home is now about 50% more expensive than it was a year ago for those who rely on a mortgage," stated Realtor.com. This is related to mortgage rates, how much more a 20% down payment has appreciated with home values.
Pricing Is Key
Given the two points above, pricing a home correctly will be key to making a good sale, according to Forbes. "Affordability will still be a challenge for many buyers this year, but sellers who price and market their home competitively shouldn't have a problem finding a buyer," Zillow senior economist Jeff Tucker told the outlet. He believes the dip in mortgage costs will "revive demand after last fall's slump," though the competition won't be as hot as the past two years.
Things Will Get Better (But Likely After Spring)
As Robert Dietz said above, spring may be the turning point as better days start to come into view, but the next few months will be pretty status quo when it comes to the housing market. Many economists and experts believe the Fed will start lowering interest rates as inflation continues to cool (and this will thus affect mortgage rates), but that won't happen until later this year.
Many Are Getting Pre-Approved Now in Anticipation of Late 2023/Early 2024
As may anticipate the upswing to come later this year into early next year, they have been starting to get pre-approved so they can jump into the market when the time is right — a trend that mortgage lender Shmuel Shayowitz told Realtor.com they've been seeing.
More From GOBankingRates