Housing Market Crash: How Soon Will One Happen and What Cities Could Be Impacted the Most?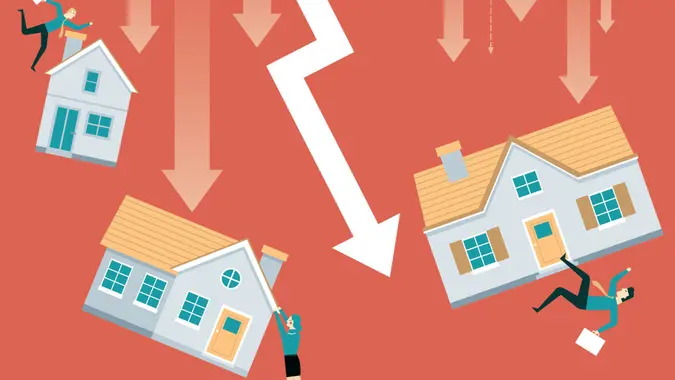 sorbetto / Getty Images
High mortgage rates, inflation and low supply have made the road to homeownership a difficult one as of late. While home prices seem to be cooling down, some experts are warning that a potential housing market crash might be on the horizon — but not all regions will fare the same.
Goldman Sachs strategists wrote in a Jan. 23 note that the investment bank expects "a peak-to-trough decline in national home prices of roughly 6% and for prices to stop declining around mid-year."
"On a regional basis, we project larger declines across the Pacific Coast and Southwest regions — which have seen the largest increases in inventory on average — and more modest declines across the Mid-Atlantic and Midwest — which have maintained greater affordability over the past couple years."
In another note, the investment bank said that a few cities will be particularly vulnerable: San Jose, California; Austin, Texas; Phoenix, Arizona; and San Diego, California. These cities will likely "grapple with peak-to-trough declines of over 25%,"  according to the note.
According to The New York Post, "such declines would rival those seen around 15 years ago during the Great Recession."
However, Goldman Sachs added that this national decline "should be small enough as to avoid broad mortgage credit stress, with a sharp increase in foreclosures nationwide seeming unlikely."
Goldman Sachs also said that it had revised its 2023 forecast, as it believes interest rates will remain at elevated levels. In turn, it raised its forecast for the 30-year fixed mortgage rate to 6.5% for year-end 2023.
National Association of Realtors (NAR) chief economist Lawrence Yun detailed, in a 2023 forecast, that housing inventory is expected to remain tight in 2023, with housing starts below historical averages and fewer homeowners willing to sell.
Yun, however, added that he sees "many hopeful signs for early next year."
Take Our Poll: How Much of a Tax Refund Do You Expect in 2023?
While current conditions don't point to a housing market crash, a few factors could lead that way, according to U.S. News & World Report. These include a drastic increase in unemployment, a prolonged housing shortage and lower overall demand.
More From GOBankingRates