The Median Home Price Is Now $436K — But How Much Did the Average American Pay for Their Home?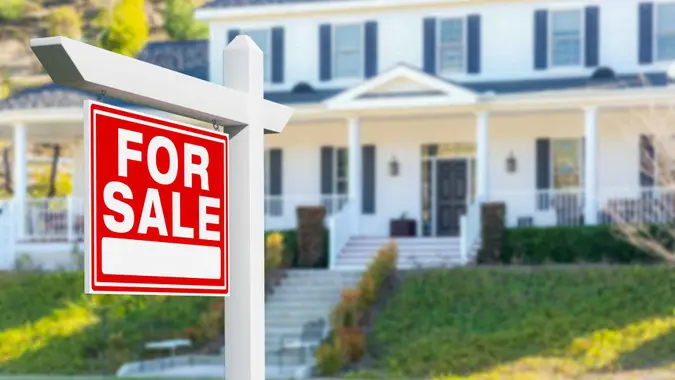 Feverpitched / Getty Images/iStockphoto
The median price for a home in the U.S. is now nearing the half-million dollar mark, but a recent GOBankingRates survey found that most homeowners today paid much less. The majority of Americans (39%) paid less than $200,000 for their homes and an additional 19% paid between $200,000 and $300,000. Only 9% of Americans reported spending between $400,000 and $550,00 on their homes, the range where the median home price lies.
Here's a closer look at the survey results, as well as where you can still get a home for $200,000 or less.
Very Few Americans Paid $550K or More for Their Homes
Even though $550,000 is just about $100,000 over the current median home price, very few Americans paid this much for their homes. The survey found that 6% paid between $550,000 and $750,000, 7% paid between $750,000 and $1 million, 3% paid between $1 million and $2 million, and 3% paid over $2 million.
Does Age Factor Into What Americans Paid for the Homes?
The survey did not ask how long ago homeowners purchased their homes, so you might make the assumption that the majority purchased homes when $200,000 or less was still the median home price in the U.S. (this was in 2003). However, this is not the case — the majority of Americans across age ranges report that they spent less than $200,000 on their homes: 47% of 18- to 24-year-olds, 31% of 25- to 34-year-olds, 33% of 35- to 44-year-olds, 43% of 45- to 54-year olds, 55% of 55- to 64-year olds and 50% of Americans ages 65 and above spent this amount.
Women Spent Less on Their Homes Than Men
Women homeowners were more likely than men to have spent $200,000 or less on their homes — 47% of women versus 30% of men spent this much. Women were also more likely than men to have spent between $200,000 and $300,000 on their homes with 20% and 18%, respectively, buying homes in this price range.
Men were more likely to buy seven-figure homes: 10% of men bought homes that cost over $1 million versus just over 2% of women.
Where Can You Still Buy a Home for $200K or Less?
Although the median price range is now more than double what the majority of Americans spent on their homes, there are still places where you can buy a home for $200,000 or less. Cities where the average home value is currently under $200,000 include:
Detroit
Memphis, Tennessee
Baltimore
Milwaukee
Rochester, New York
Tulsa, Oklahoma
Wichita, Kansas
Cleveland
St. Louis
Toledo, Ohio
Laredo, Texas
Mobile, Alabama
Fayetteville, North Carolina
Birmingham, Alabama
More From GOBankingRates
Methodology: GOBankingRates surveyed 1,004 Americans ages 18 and older from across the country between May 26 and June 5, 2023, asking 19 different questions: (1) When do you expect to buy your next house?; (2) How much do you plan to spend on your next house?; (3) How much did you spend on your current house?; (4) How much (as a percentage of the home cost) did you put as a down payment?; (5) How much is your monthly mortgage payment?; (6) What is the most you are willing to spend on a monthly mortgage payment in your current financial situation?; (7) How long did it take to save for your down payment?; (8) When you bought your house, did you pay more than you originally planned/budgeted for?; (9) How much do you spend on yearly maintenance for your house?; (10) When buying your current house, which costs were more expensive than you expected? (Select all that apply.); (11) How much do you have saved in an emergency fund for house repairs/maintenance?; (12) What is holding you back from buying a house? (Select all that apply.); (13) How much did you spend on home renovations in the last year?; (14) Do you expect a housing market crash to happen in the next two years?; (15) Do you think that homebuying will become easier or harder over the next 10 years?; (16) Are you currently using real estate/buying properties as a way to build wealth?; (17) How much did you spend on your vacation home?; (18) Where would you most want a vacation home?; and (19) Which of these fast-growing big cities would you consider relocating to? GOBankingRates used PureSpectrum's survey platform to conduct the poll.
List of cities where you can buy a home for less than $200,000 is sourced from Zillow and is accurate as of June 2023.