How Much Should You Offer on a House?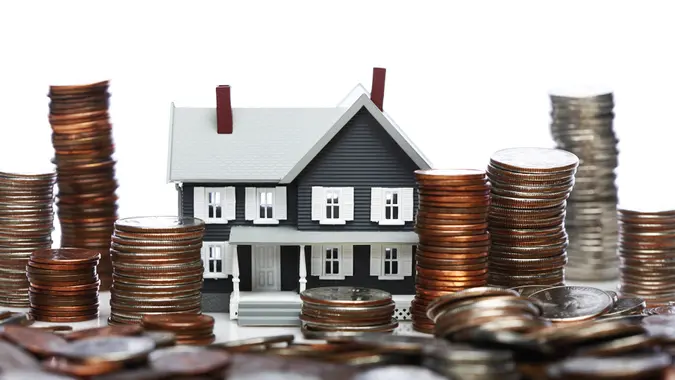 CHRISsadowski / Getty Images
You've found the house of your dreams, or maybe one that's good enough for now. The next step is to make an offer. Do you go low to save money and risk being outbid? Or do you bid high to make sure you're the one doing the outbidding? What factors determine the list price of a home in the first place?
Home buying can be a stressful and confusing process, especially with the prevalence of uninformed or outdated advice. Read on to put your mind at ease and learn how much to offer on a house.
What Affects a Home's Value?
Hundreds of factors go into the online estimate of a home's value, but what are the most significant factors that influence a seller's list price?
Comps and Location
The biggest factors going into a realtor's recommendation for a house's listing price are comps, short for comparables, and location. Location is the more obvious of the two. What's near the home that makes it attractive or not attractive? How are the schools in the area? Is there new construction nearby? What is the crime rate in the area? Even things like coffee shops and entertainment can affect a home's value.
Comps are homes that are similar to the house you are looking at with the same number of bedrooms, lot size, and age — especially if these houses have had recent sales. Realtors will also show the seller price listing for their competition, other houses that you might consider when determining a list price.
Features
Features aren't only en suite bathrooms and updated kitchens; they can also be things you won't notice right away, like a new HVAC system or roof. Even a low-priced and especially friendly homeowners association can be a feature that factors into the list price.
Market
The "market" in this context is a classic Economics 101 definition. It's all about supply and demand. If there are more people looking to buy houses than people selling houses, then it's a seller's market. If the situation is reversed, with more homes available than people buying, it's a buyer's market. Whichever side the market belongs to will have more negotiating leverage.
At the time of this article, the housing market in the U.S. has finally started to come down from the pandemic highs, but it's not yet a buyer's market, which will affect your offer.
Don't Forget the Seller's Strategy
Sometimes sellers intentionally give low listing prices to create a bidding war that drives the price higher than the house's value. Keep this in mind when you are preparing your offer. If the home you are looking at is a suspiciously good deal, you may need to be prepared to walk away.
What Is a Reasonable Offer on a House?
As with most things, the answer to this question is "it depends." What are other buyers in the area doing? In some areas, buyers are coming in way over the asking price, whereas in others, buyers are offering around the list price. Depending on the market, it may make more sense to offer under the asking price.
Here are some other situations when you might want to make an offer above the list price and some examples for when you can come in below the list price.
Above Asking Price
If you buy in a seller's market, you should be prepared to go above the listing price. There will probably be multiple offers on the home, so come ready for a bidding war or be prepared to walk.
You may want to bid above the asking price if you've found your perfect home. If everything about the house is ideal for your living situation, then making an offer above the listing price is a good plan. This is something you will have to ask yourself, but make sure to consult with your real estate agent to make sure you don't make an offer you won't be able to recover from.
Right at Asking Price
If the house has just gone on the market or if the comps all sold very close to the list price, you might want to consider offering right at the asking price. Even if it's a seller's market, they might accept a prompt offer just to be done with the process.
This strategy can work on the other end as well. If the house has been on the market for a while without a lot of interest, the seller might be ready to accept an offer. You can also offer the list price but make it more attractive with non-monetary offers, like removing contingencies or a flexible closing date.
Below Asking Price
If you're in an area where the market is more forgiving to buyers, you may want to offer below the asking price for a home that has been on the market for a long time. An offer below the asking price might also be accepted if the home needs a lot of repairs or if you can find comps that show the home may be overpriced.
This is another situation where you have to ask how you feel about the home. If you don't care too much about getting rejected, but the house is good enough for now, consider making an offer below the asking price.
What Is Lowballing?
A lowball is an offer that is significantly below the asking price. Depending on the source, this could be anywhere from over 10% below the asking price to 25% or 50% below. If you want to submit a very low offer, work with your agent to make sure your offer is taken seriously.
Takeaway

The best advice for putting in a reasonable offer on a home is to have a good team on your side. After that, take the factors above into consideration and never go over your budget — your dream house can become a nightmare if you can't afford it.
Our in-house research team and on-site financial experts work together to create content that's accurate, impartial, and up to date. We fact-check every single statistic, quote and fact using trusted primary resources to make sure the information we provide is correct. You can learn more about GOBankingRates' processes and standards in our editorial policy.