How To Avoid Being 'House Poor'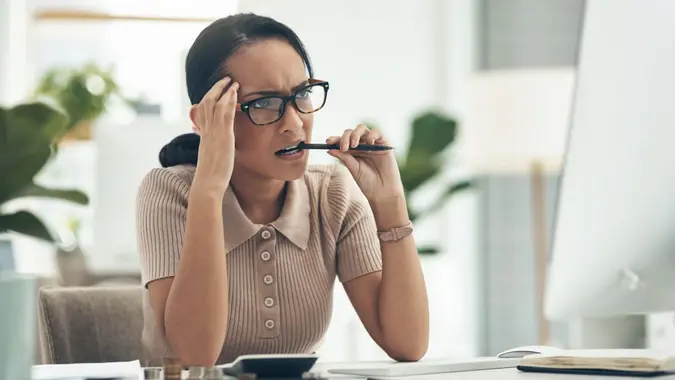 PeopleImages / Getty Images/iStockphoto
With home prices and mortgage rates spiking over the last few years, many people are finding they have little left over to put toward savings and other important living expenses — a situation also known as being "house poor." How can you avoid becoming house poor in today's expensive market? Experts in real estate, mortgages and finances offered GOBankingRates their best advice.
Tips: 25 Sneaky Car Dealership Tricks To Avoid at All Costs
Find Out: 3 Things You Must Do When Your Savings Reach $50,000
Refuse To Go Over Your Budget
Many real estate and lending experts recommend spending no more than 28% of your income on housing. But Robert Johnson — CFA and professor of finance at Creighton University — warns against taking this rule of thumb at face value.
"These rules are awfully aggressive when it comes to determining how much house one can truly afford," he said. "There's an enormous difference between how much one 'can' afford to spend on a home and how much one 'should' spend."
The 28% rule, he pointed out, ignores factors such as additional debt, state and local taxes, and other assets and expenses you may have. You should also make sure your home purchase doesn't jeopardize your budgets for home and car repairs, emergency savings, retirement contributions and medical expenses.
Research Housing Costs Before Buying
The first step in determining your budget is accounting for all housing expenses. This goes beyond a down payment and monthly mortgage payments and includes renovations and repairs, property taxes, homeowner's insurance, HOA fees, utilities and maintenance.
"You should sit down and put all these estimates on paper and then account for all your other liabilities like auto expenses, credit card bills, student loans, food, clothes, drug store and so on," said Joshua Massieh, a mortgage broker and CEO of Pacwest Funding. "Compare all these costs to your monthly take-home pay (after taxes) to make sure that you're not overextending yourself."
Take Our Poll: What Are Your Financial Priorities in 2023?
Consider Buying a Starter Home
One way to stay within your budget is to opt for a starter home. A small house, townhome or condo may not be the home of your dreams, but you don't have to stay there forever. And in the meantime, you can save hundreds of dollars per month on your mortgage payments.
"Owning a home allows you to use real estate to build equity so that you can eventually afford that dream house," Massieh said.
Save For a Bigger Down Payment
Some lenders may let you take out a mortgage loan with a down payment as small as 3%. But putting 20% down may save you hundreds of dollars each month, said Autumn Lax, CFP® and lead advisor at Drucker Wealth.
"Coming up with a 20% down payment will help you avoid private mortgage insurance, an added cost if you put less down," she said. "You could also end up paying more in interest and points with a lower down payment."
Saving for a down payment of 20% might take several months or years. So carefully consider your current housing needs and financial situation before making a decision.
You may also be able to take advantage of homeownership grants or down payment assistance programs in your area, said Nicole Beauchamp, a senior global real estate advisor and licensed associate real estate broker at Engel & Völkers.
Work On Your Credit
Mortgage lenders will look at your finances to determine whether you qualify for a loan and, if so, what interest rate you're eligible for. Two factors they consider are your credit health and your debt-to-income (DTI) ratio.
The higher your credit score, the more likely you are to qualify for a lower interest rate, which can help decrease your monthly mortgage payments. If your credit score isn't where you'd like it to be, consider working on it by consistently paying your bills and debt payments on time, paying down your credit card balances and checking your credit report for any inaccuracies.
Paying down your debts can also improve your DTI, which is your total monthly debt payments divided by your total monthly income. A lower DTI may help you qualify for better loan terms and lower interest rates.
It's OK To Keep Renting
Remember, you don't have to buy a home to achieve the American dream, Johnson said. Instead, the goal should be financial independence. If you invest your money in high-growth assets, you could potentially earn more in the long run than if you put that money toward a house.
"One can choose to continue to rent," he said. "… The problem that people get into is that too large a portion of their monthly income is consumed by mortgage payments, effectively crowding out other, more lucrative investments — like building wealth in the stock market."
More From GOBankingRates