How To Buy Land: Your Guide to Investing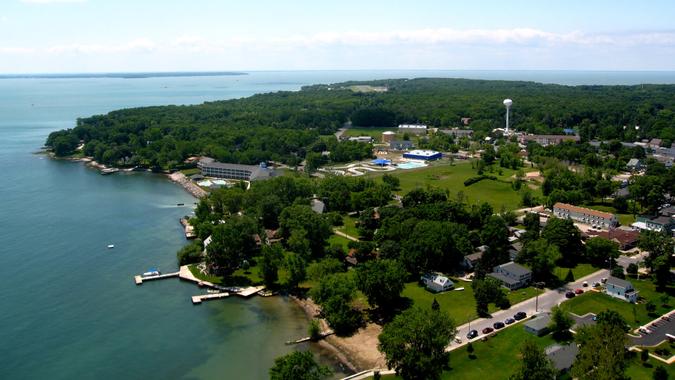 Sean Munson / Flickr.com
There's no better way to get exactly the home you want than to have a custom home builder build it for you. But you can't build a house unless you have land, and unless you already own a lot, you'll have to buy one. The nuts and bolts of a land sale transaction are similar to those of buying a home, but with land, you have more details to consider and more planning to do in advance.
Assess Your Expenses Before You Buy Land
When purchasing land is just one piece of your overall plan, it's important to take a step back to look at the big picture. Start by setting a budget, and then dividing the budget between the cost of building your home and the cost of the land purchase plus related expenses. Leave a cushion for unexpected costs.
Establishing a timeline can help you narrow your focus once you start looking at property. The less work the lot needs, the sooner you can build a home on it.
Good To Know

It's hard for a novice buyer to predict expenses accurately, so consider assembling a team of professionals if this is your first land purchase and home construction. Your team might include a real estate agent as well as a home builder and a lender.
How To Buy Land: Here's What You Should Consider
Depending on the type of land you buy and its location, the process can be simple and straightforward — or slow and complicated. Understanding the process will make it go more smoothly either way.
What Kind of Land Do You Want To Own?
A lot depends on the type of land you purchase — financing options, for instance, and the amount of preparation needed before construction starts. Here are the three primary types:
Raw land: Raw land is undeveloped, so you'll start from scratch to use it as a building lot.
Unimproved land: Unimproved land is closer to being buildable than raw land is — it might have street access, for example — but at the very least, you'll probably have to have power lines run to it.
Improved land: Improved land is ready for construction or nearly so. It typically has street access as well as water — if it's to be supplied by city water — and utilities.
How To Find Land
You'll find land listings through several different sources, including the local multiple listing service. This is where having an agent comes in handy — an agent with MLS access can get you a lot more property information than you can access on your own through a real estate portal site. You'll also benefit from their market expertise.
Specialty websites like Land and Farm and LandWatch list lots for sale throughout the U.S., along with contact information for the real estate brokerage that lists it.
Homebuilders often sell land/home packages — another reason to have a builder on your team from the onset. You might pay more buying from the builder, but you'll also avoid the hassle of doing it on your own.
Social media marketplaces and neighborhood groups are an excellent source of land being offered for sale by the owner.
What Should You Look for When Buying Land?
The specific details you need to consider for a particular piece of land depend on whether it's raw, unimproved or improved. Here's an overview of the factors that determine whether a lot is the right one for you.
Land Buying Factors You Must Consider:

Price: In addition to ensuring the land is a good value, limiting yourself to about 30% of your total budget will help ensure you have enough reserved to cover the cost of constructing your new home.
Location: How far is the land from conveniences like supermarkets and schools? Is the area developing, which might raise the possibility that your private lot won't be so private a few years down the road? These details could have a major impact on your long-term enjoyment of the property, not to mention its future value.
Zoning: Zoning determines how you can use land. This is an important consideration if you want to use the land for something other than a residence — as a farm, for example, or to construct a separate building for your business. Also, look into building codes and, if the land is in a planned community, homeowner association rules that might restrict the size, appearance and other features of the home you want to build.
Buildability: How ready is the lot for construction? The number of trees that need to be cleared and the amount of excavation needed to level the land affect the timeline as well as the cost. The lot also needs access from the street; if there's no direct access, you'll need an easement from the owner of a property that landlocks the land you want to purchase.
Environmental issues: Flood risk, wetland status, hazards such as industrial contamination, airline noise and the existence of endangered species are all things that can derail your enjoyment of the land, make it difficult or impossible to insure, and perhaps even prevent you from building on it.
Water and sewer: If your land isn't served by municipal/county water and sewer service, you'll have to have your own well and septic system installed, the total cost of which can easily reach $30,000 or more. Local codes determine where the well can be in relation to the septic system, and you'll need a percolation test to verify that the land has adequate drainage.
Utilities: In addition to water and sewer, you'll need power and optionally, broadband cable/internet and phone lines. You'll have to pay to run the utilities to the land if the land isn't already served.
Survey: A survey verifies the property boundaries so you know the exact dimensions of the lot and can identify any encroachments, such as a neighbor's fence or shed.
How To Finance Your Land Purchase
As noted previously, financing depends in part on the type of land you buy, with raw land being the hardest to finance and improved land being the easiest. Once you clear the hurdle of finding a lender that will finance the type you want to purchase, you'll have to consider what type of loan to get.
Land loan: A land loan finances the land but not the home you build on it. This might be a good choice if you don't plan to build soon.
Construction loan: A construction loan finances the home construction, and it'll also cover the lot if you buy them as a package. Whereas a construction-only loan requires that you get a mortgage loan afterward, a construction-to-permanent loan converts to a mortgage automatically. In addition to standard loans, the USDA, FHA and VA all back construction loans for eligible borrowers and properties.
Seller financing: If the seller is willing, you can make payments directly to them rather than borrow money to pay the seller in one lump sum.
Home-equity loan: Assuming you have enough equity in your home, you can borrow against it to finance the land purchase.
Making an Offer on Land
Before making an offer, you'll need to research the sale prices of similar lots in the same area to come up with an offer price. Land sales have so many potential nuances that you might need an agent to properly evaluate the comparables unless they're in a planned community with consistent sales and sale prices.
As with a home purchase, you can include contingencies in your offer in case things don't go as planned. A financing contingency, for example, lets you back out if you're unable to secure the type of financing you want. An environmental inspection contingency lets you back out if an environmental inspection reveals issues you find unacceptable and can't resolve with the seller.
Take Caution: How To Avoid Scams
The U.S. Postal Inspection Service warns of the proliferation of "land grabs," where scammers forge deeds and contracts to sell land they don't own. In another ploy, the scammers use slick marketing materials to lure buyers into purchasing what appears to be prime real estate but is actually worthless. You can avoid being ripped off by doing your homework before you buy and working with reputable professionals to ensure you're getting a good deal.
Our in-house research team and on-site financial experts work together to create content that's accurate, impartial, and up to date. We fact-check every single statistic, quote and fact using trusted primary resources to make sure the information we provide is correct. You can learn more about GOBankingRates' processes and standards in our editorial policy.