How To Live Richer as a Homeowner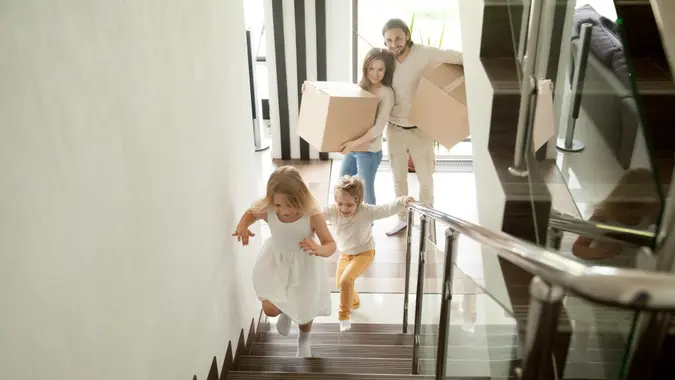 ©Shutterstock.com
Day 29: GOBankingRates wants to help you Live Richer. For a month, we'll be sharing daily tips for how you can do just that, with advice on budgeting, saving, investing, making the most of your career and managing debt — plus money advice for every phase of your life. Check back each day during our 31 Days of Living Richer to learn everything you need to know to set yourself up for financial success and live the richest life possible.
Back to Day 28: How To Live Richer in Your 50sRead Day 27: How To Live Richer in Your 40s
Becoming a homeowner is a major milestone in both your personal and financial lives. But now that you've made it to this point, it's important to know how to make the most of it. This means figuring out what type of investments in your home are worth the money — like thorough insurance coverage — and which are not — such as renovations that can ultimately hurt your home's value.
Here's your guide to Live Richer as a homeowner.
Go Back to Day 26: How To Live Richer in Your 30s
Replenish Your Emergency Fund
"Assuming you used a large chunk of your cash as a down payment for the home — like the vast majority of homeowners out there (myself included) — it's important to start replenishing those savings ASAP," said Tony Molina, CPA and product specialist manager at Wealthfront. "Now that you have a mortgage payment, annual property taxes and homeowner's insurance to cover, you want to protect yourself in case the unexpected happens. Prioritize saving at least six months' worth of your monthly expenses or at least six months' worth of your home costs. That way, you won't be scrambling to pay your mortgage if you lose your job or have an emergency."
Discover 25: How To Live Richer in Your 20s
Set Up a Home Savings Fund
In addition to an emergency fund to cover living expenses, you should also set aside money especially for home maintenance and repairs.
"There are a lot of fees and costs that come with buying a home, but it doesn't stop once you finally sign the papers and get the keys," said money-saving expert Andrea Woroch. "Maintenance and home repairs can be a financial burden if you don't prepare ahead. That's why it's crucial to set up a home savings fund."
Check Out Day 24: How Debt Prevents You From Living Your Richest Life
Having this fund in place will prevent you from needing to take on debt to cover these costs. Aim to have at least $1,000 saved.
"You can expect to have to spend $1,000 on home maintenance a year," said Loren Howard, owner of Prime Plus Mortgages.
Read Day 23: How To Pay Off Your Debt in a Manageable Way
Look For Ways To Save on Your Home Insurance
"Shop for quotes in advance of the needed date of insurance to save because the earlier you shop, the more you can save," said Joe Meisinger, chief underwriting officer and head of national products for personal insurance at Travelers. He also recommends bundling home insurance with other insurance policies: "Insure everything with the same company and consider bundling your valuable items and umbrella liability policies to save," Meisinger said.
And Day 22 of Living Richer: How To Stop Accumulating Debt Once and for All
Upgrade Your Life Insurance
"As a homeowner, especially a family with two income earners, you should have at least enough life insurance to pay off the mortgage in the event something happened to the other party," said Gerald Grant III, an advisor with Equitable Advisors. "In most cases, the mortgage payments can be supported with both incomes; however, if something happened to one person, it may be difficult for the other to maintain the property on one income. Life insurance can help ensure the other party and family have a place to stay."
Read Day 21: Top 3 Expert Tips for Managing Debt

Invest In Projects That Will Bring You a High Return
Some home improvement projects will provide a high ROI, so it's worth it to invest in them.
"Energy-efficient projects like windows or insulation will save you money and be a selling feature for your home," Howard said.
You may also want to invest in projects that can save you on taxes.
"When you install certain kinds of energy-efficient equipment like solar panels, solar water heaters and geothermal heat pumps, you may be eligible to claim a tax credit for up to 22% of the cost," Molina said. "Of course, these projects can have financial benefits beyond the tax credit. Installing solar panels, for example, can also reduce your monthly electricity bill. To claim a residential energy credit, fill out and file Form 5695 with your federal tax return. The tax code can change from year to year, so don't wait too long to get started. Currently, this tax credit is set to expire in 2022."
Go Back To Day 20 of Living Richer: 3 Signs You've Found Your Dream Job
Note that you may not be able to recoup all the costs of your renovations, so keep that in mind before doing something major.
"Spending $10,000 to improve your kitchen doesn't necessarily mean you'll get that $10,000 back when you sell your home. But some renovation costs are easier to recoup than others," Molina said. "For example, you'll likely recoup more of a minor kitchen remodel than a deck addition. Having issues with your garage door? That's actually one of the best renovations you can make in terms of return on investment, according to Zillow's sellers' guide."
Day 19 of Living Richer: Top 3 Expert Tips for Salary Negotiations
Avoid Costly Renovation Projects That Can Lower Your Home's Value
If you plan to make your new home your forever home, it's OK to make it uniquely yours. But if you plan to resell it at some point, be wary of taking on renovation projects that will lower its value.
"Pools can be a great selling feature but it's hard to earn back the cost of them," Howard said. "Choosing the wrong floors or counters can actually make it hard to resell your home and hurt the value of your home."