How To Prepare For the Financial Stress of Buying a House, According to Experts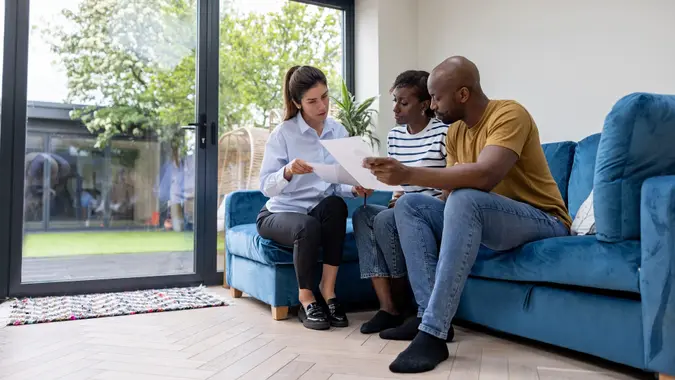 andresr / iStock.com
For most people, buying a home is the largest single purchase they will make in a lifetime. While buying property can be a great investment, it can also put stress on your finances. Without careful planning, you could end up "house poor" or in a home that leaves you with little to nothing in your bank account.
We asked experts to weigh in on how potential homebuyers could prepare for the hardship of buying a house. We found out that there are several things that you can do to get ready for this large purchase to ensure that you are living well within your means while still getting the house of your dreams.
Here is what our experts recommend for how to prepare for the financial stress of buying a house.
Do a Financial Check Up
Potential buyers should do a check-in with their finances, said David A. Krebs, a mortgage expert with over 15 years of experience offering commercial and residential loans beyond regular banks. "To prepare financially for a home purchase, it's vital to first understand your current financial health, which includes your credit standing, your debt-to-income ratio, and the overall state of your finances," he said. 
As far as what to do first, Krebs recommended, "Start by checking your credit report for any errors that might negatively impact your credit score. If your score isn't as high as you'd like, consider steps to improve it. These might include paying down outstanding debts, ensuring all payments are made on time, and avoiding new lines of credit. Remember, a higher credit score often leads to more favorable loan terms."
Krebs also said for individuals with student loans, "if they are currently in deferment, it's advisable to put them back into repayment status. Lenders consider all debts, including deferred student loans, when assessing your loan application."
Save Up for a Down Payment
If you're looking to avoid extra stress while buying a house, one of the most important things to do is to make sure you save up enough for a down payment. The more you can put toward your down payment, the better off you'll be.
"The amount of the down payment can vary depending on the type of loan, but it is generally recommended to save up at least 20% of the purchase price. Additionally, potential home buyers should shop around for the best loan rates and terms," said Joseph Melara, the founder and managing broker at Residential Brokers in Palm Desert, California.
Create an Emergency Fund
Houses come with a lot of different potential issues, so it's important you're financially prepared for them if you want to avoid financial stress.
"One important step when financially preparing to purchase a home is to create an emergency fund. Many times people will empty their entire bank accounts for a down payment, not leaving any room for maintenance events that may take place after the purchase," said Donald Olhausen Jr. ("DJ"), the owner of WeBuyHousesInSanDiego.com. 
He recommended, "Always save at least three months of your mortgage payment in the bank in case your new home springs a new leak, or your water heater decides to go out."
Obtain a Prequalification Letter
When shopping for a house, especially in a competitive market, you want to be one step ahead of the others.
"Obtaining a pre-qualification letter is another valuable step," Krebs said. "This not only provides a clear idea of how much you can afford but also strengthens your negotiating position when making an offer on a house."
Financial expert Xavier Epps, founder and CEO of XNE Financial, agreed.
He said hopeful homeowners should "[o]btain pre-approval from a lender before house hunting. This process involves thoroughly evaluating your financials, income, and credit history. Pre-approval gives you an idea of your borrowing capacity, streamlines the home search, and demonstrates your seriousness as a buyer," Epps said.
Research Mortgage Options
Epps also recommended that homeowners "research mortgage options." He added, "Familiarize yourself with different mortgage types, such as fixed-rate, adjustable-rate, or government-backed loans. Compare interest rates, terms, and conditions from multiple lenders to find the best fit for your financial goals and preferences."
Consult With the Professionals
Our experts agree that teaming up with the right professionals is essential to success and will help curb the stress. Epps said homebuyers should "[s]eek advice from real estate agents, mortgage brokers, and financial advisors. They can provide valuable insights, guide you through the process, and ensure you make informed decisions."
Krebs agreed, noting, "Beyond getting your finances in order, preparing for a home purchase involves aligning yourself with the right professionals and understanding the total costs of homeownership. Creating a budget that includes potential home ownership costs, such as property taxes, homeowners insurance, maintenance, and unexpected expenses, will give you a more accurate picture of what you can afford."
"Working with a well-rounded mortgage broker who has access to a variety of loan products is another crucial step. Every homebuyer's needs are unique, and a competent broker will understand your situation, offer various options, and guide you to the best solution," he said.
More From GOBankingRates