I Just Bought a House in This Market: My Biggest Regrets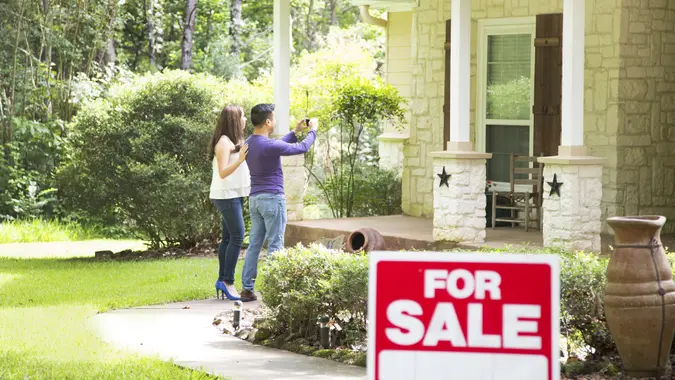 LifestyleVisuals / iStock.com
While the market has become more favorable for buyers in some regards — prices are cooling and inventory is increasing in some areas — that doesn't mean that buying a home will always be a smooth process, and it's possible that some homebuyers will feel buyer's remorse. Whether they overpaid for a property, took out a mortgage when rates spiked or pulled the trigger on a property that they ended up not liking, there are a number of reasons why a buyer might now feel a twinge of regret.
GOBankingRates spoke with recent homebuyers to find out their biggest regrets — here's what they had to say.
Buying a Home in a Less-Than-Ideal Location
Larry Snider, VP of operations at Casago SB Rentals, was charmed by the general area of the home he recently purchased, but didn't pay enough attention to the specific neighborhood it was in.
"I really like the area the house is in, but the location isn't ideal because it's not as close to anything I enjoy," he said. "It's not an aspect of buying a house I considered before. It's one of those things you don't realize until you've lived in it for a while, and driving to different places starts to seem like a struggle. I just wish I thought about it more than I did."
Read: Mortgages for Homebuyers with Good Credit To Cost More Starting May 1 — High-Risk Buyers Will Pay Less
Underestimating How Much Work Needed To Be Done
Miguel Camperos didn't realize how much work he would need to put into his recent home purchase.
"My biggest regret will probably turn into a blessing — but right now it's not feeling like much of one!" he said. "I bought a home that needed a lot of love. It's not completely a fixer-upper, but it definitely had a lot of issues than needed attending to, particularly in the yard. I have spent so much time in the yard doing non-fun yard work, like weeding, moving things around, clearing debris, etc.
"I'm someone who loves gardening, so I knew that I was going to be able to really create the exact outside space I wanted, but I underestimated how much work it was going to take to get to the point where I could actually start doing the fun stuff," Camperos said.
Buying Shortly Before Prices Started To Drop
Nathan Russo regrets buying his home when prices were still at a high point.
"My biggest regret is the timing," he said. "When I bought my house, I rushed into making an offer because I knew I wanted it. Unfortunately, housing prices started dropping a bit almost right after we sealed the deal. I'm not sure how much more I could've saved, but it definitely would have made a difference."
More From GOBankingRates