I Renovate Houses: These 6 Renovations Are Worth the Yearly Cost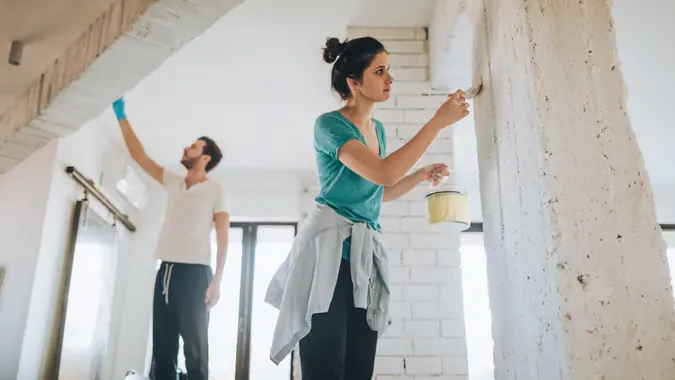 AleksandarNakic / Getty Images
How much do you spend on yearly home maintenance? In GOBankingRates' 2023 real estate survey, nearly 30% of existing homeowners surveyed said they spend between $500 and $2,000 each year. Of the age ranges who responded, the highest percentage belonged to homeowners ages 65 and over, at 48%. 
It's OK not to conduct certain types of home maintenance each year, but some types of maintenance and renovations should be done on an annual basis. GOBankingRates spoke to four home renovators about the home renovations that are worth the yearly cost. 
Roof Tune-Up
David Espinoza, founder and estimator at Shepherd Roofing & Renovations, said an annual roof tune-up is worth the cost. 
While roofing systems are meant to last for decades, there are several areas of the roof that do not last. Among the things that might need done, Espinoza said, are resealing exposed nails using sealant, inspecting pipe jacks for cracks in the neoprene gasket, inspecting lead pipe jacks for squirrel damage and inspecting roof peaks for any bird damage. 
Take Our Poll: Are You Planning To Buy or Sell a House This Year?
HVAC System Checkup
Homeowners with central heat and air should call their HVAC technicians to schedule biannual checkups and servicing for these systems. 
Reinsulating Windows
Interested in having your HVAC system run more efficiently? Glenn Wiseman — RASDT, RHDT and sales manager at Top Hat Home Comfort Services — recommends reinsulating windows as a summer project. 
"If you want to reinsulate your windows, you can get window inserts and caulking to replace the seal around the glass," Wiseman said. "Alternatively, you may also want to switch out your glass pane for thicker double-pane windows that provide more insulation. Reinsulating your windows can save you around 10% in energy costs, depending on your chosen method."
Refresh the Paint
Nick Ron, founder and CEO of House Buyers of America, said a fresh coat of paint in the current year's trendy colors creates a perception of newness in a home.
Not sure which colors to pick? Ron recommends opting for a light gray or shades of white on inside walls, possibly contrasted with black trim. Remember to keep the paint fresh on the front door, shutters and trim.
Maintain a Home's Exterior and Curb Appeal
"Maintaining the exterior of your home is crucial for keeping up its curb appeal and safeguarding it from the elements," said Abraham Kourtidis, owner of Brush Paint Wall.
Aside from getting a roof tune-up, Kourtidis recommends cleaning the gutters and caring for landscaping yearly. For landscaping needs, Ron said to keep up with trimming bushes, edging walkways and filling any bare spots with inexpensive plants and flowers. 
Focus on the Kitchen and Master Bath
Both rooms will need specific updates each year. Ron recommends updating handles, knobs and faucets in both rooms in finishes such as brushed nickel, brushed bronze or black. This ensures consistency throughout the home. 
"Equip the kitchen faucet with a hand sprayer and replace the bathroom shower head with a flat, rain-style fixture," Ron said. "Engage a skilled cabinet painter to refresh these spaces."
More From GOBankingRates