If Your Homebuying Budget Is $500K, Where Can You Get the Most House for Your Buck?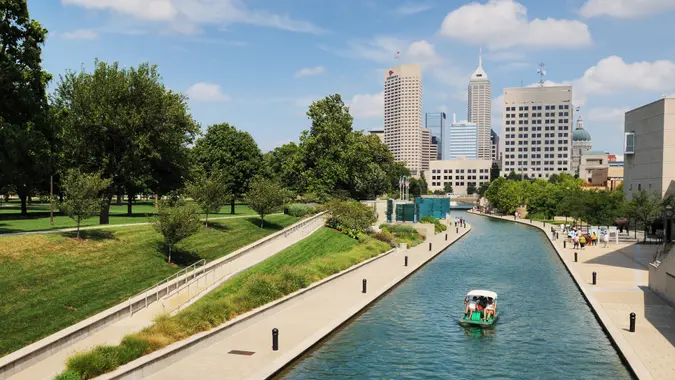 Purdue9394 / Getty Images
The median home value in America is roughly $437,000, according to the St. Louis Fed, so if you have a half-million dollars to spend, you can look forward to $63,000 more house than the buyer in the middle.
But your location will determine what that budget buys you.
GOBankingRates spoke to a variety of real estate professionals to find out where shoppers with a $500,000 budget can get the most house for their money.
The following locations aren't necessarily the cheapest markets in America. There are places where you can get more square footage for less, but many are in declining cities suffering from depopulation, high crime, a lack of amenities and other drawbacks.
In these spots, however, the quality of life is as attractive as the price.
If You Missed the Boat on Austin, Consider San Antonio
The booming real estate markets of Houston and Austin, Texas, grab the headlines, but in one Texas city, the boom is just beginning.
"For homebuyers with a budget of $500,000, the city of San Antonio offers plenty of bang for your buck," said Keith Sant, founder and CEO of Kind House Buyers. "Located in South Central Texas and boasting a population of over 1.5 million people, San Antonio is the seventh-largest city in the United States. San Antonio is a great place to buy a home for those who enjoy outdoor activities and nature — in fact, the city has over 200 parks and numerous green spaces."
Delaney Juarez, a realtor in San Antonio, agrees.
"The median home price here is currently $320,000, so with a budget considerably higher than that, you'll have options of the homes that are larger, nicer, and in more desirable areas of town," he said. "$500,000 goes a lot further in San Antonio than it does in almost every other major city in the country, and whether you're interested in the suburbs, downtown living, or something more rural, San Antonio has appealing options in that price range."
Zillow actually puts the home value much lower at just over $263,000, and it's well under $200,000 in all but one of the nine neighborhoods it profiles.
One example of what a half-million bucks can buy you in San Antonio is a 3,701-square-foot, five-bedroom, four-bathroom home with a three-car garage in a gated community listing for $489,900.
Chattanooga Is on the Way Up With Lots of Room To Rise
Several experts who spoke with GOBankingRates mentioned Nashville as a top spot to consider, but the brightest gem in Tennessee might be two hours southeast.
"Chattanooga is rapidly emerging as a prime location for homebuyers seeking exceptional value for their investment," said Brad Smotherman, a professional house flipper and podcaster based in Tennessee. "We've observed a surge of interest in Chattanooga, not just from regional urban centers like Knoxville and Atlanta, but from all across the nation. There's a compelling confluence of factors at play."
Smotherman said that the median home price in Chattanooga is $320,000 compared to the nearly $440,000 national average. With three times the national average job growth rate, the city of 182,000 ranks in the top 25 metro areas out of 338 and in the top 10 in the Southeast.
He also touted the city's "dynamic, family-friendly downtown area" — but you better act fast.
"Despite remaining one of the country's best-kept secrets for a while, we've noticed that the word is spreading," Smotherman said. "Home prices have seen up to a 23% year-on-year increase in certain areas. This underlines Chattanooga's emerging status as a magnet for savvy homebuyers."
Chicago Is the Last of the Big Three Cities That You Can Afford
If you're drawn to small towns or rural enclaves, you can get a big, beautiful home in a good neighborhood for well under a half-million bucks. But if you have big-city dreams, two of America's three biggest urban centers are pretty much off-limits.
According to Redfin, the median home sale price in New York City is just under $790,000. With a median sale price of $930,000, Los Angeles is even farther out of reach.
But in Chicago, America's third-largest city (by population), it's just $350,000.
"Chicago is a great choice to buy a home with a budget of $500,000," said Colleen Cassel, a real estate agent with Compass. "For $500,000 or less, you can buy a home with four-plus bedrooms, two-plus bathrooms, plenty of closet space, hardwood floors, and other must-have amenities. The Chicago area covers many different neighborhoods that offer good transportation, shopping, and a wonderful food scene."
Two Door Group profiled six unique Windy City homes that are within a $500,000 budget. They included a two-story South Loop townhome in the Prairie District, a 1,500-square-foot West Loop penthouse condo with a private roof deck and a 1,468-square-foot brick single-family home in Forest Glen.
Get More for Your Money in Indianapolis
If Chicago isn't your speed, the surrounding region is famous for its low cost of living and affordable housing.
"When we're talking about getting a great bang for your buck in real estate, the Midwest should be your go-to," said Humberto Marquez, a licensed agent with real estate investing company Awning.com.
One of the choicest locations is less than three hours from the Windy City in its neighboring state to the east.
"Indianapolis has been a hotspot for real estate investors due to its low cost of living and strong economy," Marquez said. "With a budget of $500,000, one can get a sprawling, 3,000-square-foot home in the city's best neighborhoods."
That might actually be an understatement. A stately 3,572-square-foot, five-bedroom, four-bathroom stunner with a three-car garage is currently on the market for $449,995.
More From GOBankingRates