I'm Planning To Buy a House This Year: 3 Steps I'm Taking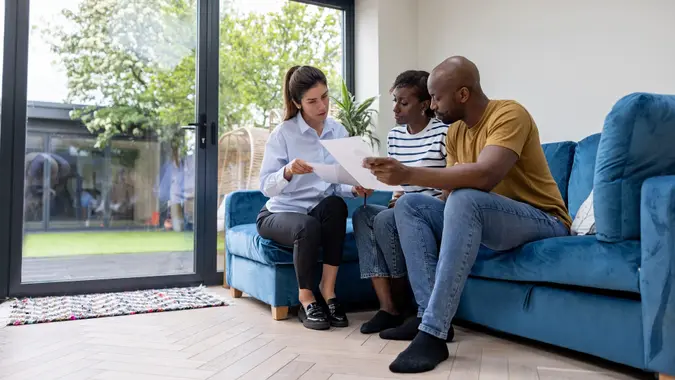 andresr / iStock.com
Will 2023 be the year Americans become homeowners? In a June 2023 press release from BMO Financial Group, the latest BMO Real Financial Progress Index reveals 64% of Americans polled said they're waiting on rates to drop before entering the housing market. 
Regardless of rates, some Americans are choosing not to wait on buying their dream home. GOBankingRates spoke to two professionals who plan to buy a house in 2023 about their homebuying plans. Here are the steps necessary to take when making this purchase.
'I brought my credit score to over 800.'
After years of renting, Felicia J. Persaud, group CEO at ICN Group of Companies, is actively looking to buy a condo. 
Persaud has taken several steps to better position herself as a buyer. She paid off all of her debt, brought her credit score to over 800 and put money into a high-yield savings account. She told GOBankingRates that she also had to claim more in earned income on her self-employment taxes. 
'I took a homebuyer class.'
Taking a first-time homebuyer class is another essential step for Persaud in her homebuying journey. 
Certain states require first-time homebuyers to attend a homebuyer education course. Taking this course helps prepare buyers for understanding the importance and responsibilities of homeownership. In some states, like California, a certificate of completion is required by a loan officer to obtain specific types of loans like a CalHFA home loan. Typically, you have the option to take courses in-person or online and pay a small fee.
Persaud said she qualified for a $50,000 to $80,000 grant from the county in Florida, the state where she is based. After compiling her documents and trying three lenders, Persaud was able to get prequalified at a 6.3% interest rate. She has secured a broker and told GOBankingRates she plans to buy a home this year.
'I secured a mortgage commitment before putting in my bid.'
Public relations director John Gramuglia is closing on the purchase of his home the week of June 9, 2023, after making a savvy money move.
Gramuglia told GOBankingRates he secured a mortgage commitment before putting in his bid on the house he got. 
"It was a step beyond the pre-approval to let the sellers know 'this guy has money to go through with the purchase.' We actually were the second highest bid on the house we got, but the commitment pushed the seller over the edge to choose us," Gramuglia said.
Not only did this give Gramuglia the leg up on the competition, but Gramuglia's real estate agent said she now tells her other buyers to secure a commitment prior to submitting any bids.
More Homebuying Tips From a Realtor
Realtor Morganne Jones has a few additional pieces of advice for potential buyers looking to make a home purchase this year.
First, Jones recommends securing a down payment and looking into other available financing options. Buyers should speak with a loan officer about options that could be best for you and your goals. 
Then, run your credit for rate shopping. This can be done multiple times within a 30-day period. "The Consumer Financial Protection Bureau assures home buyers these hard inquiries from lenders for homes only counts towards your credit as a single inquiry," Jones said. 
Jones' final tip is to buy a home when you can afford it. Buyers should make sure they are able to afford their monthly payments. They can refinance the home later on.
"While interest rates are currently volatile and are higher than they've been, they won't stay this way forever," Jones said. "Trying to time the market and wait until potentially another year [to buy] could price you out of the market."
More From GOBankingRates