15 Incredible Golf Course Homes Around the World

9 min Read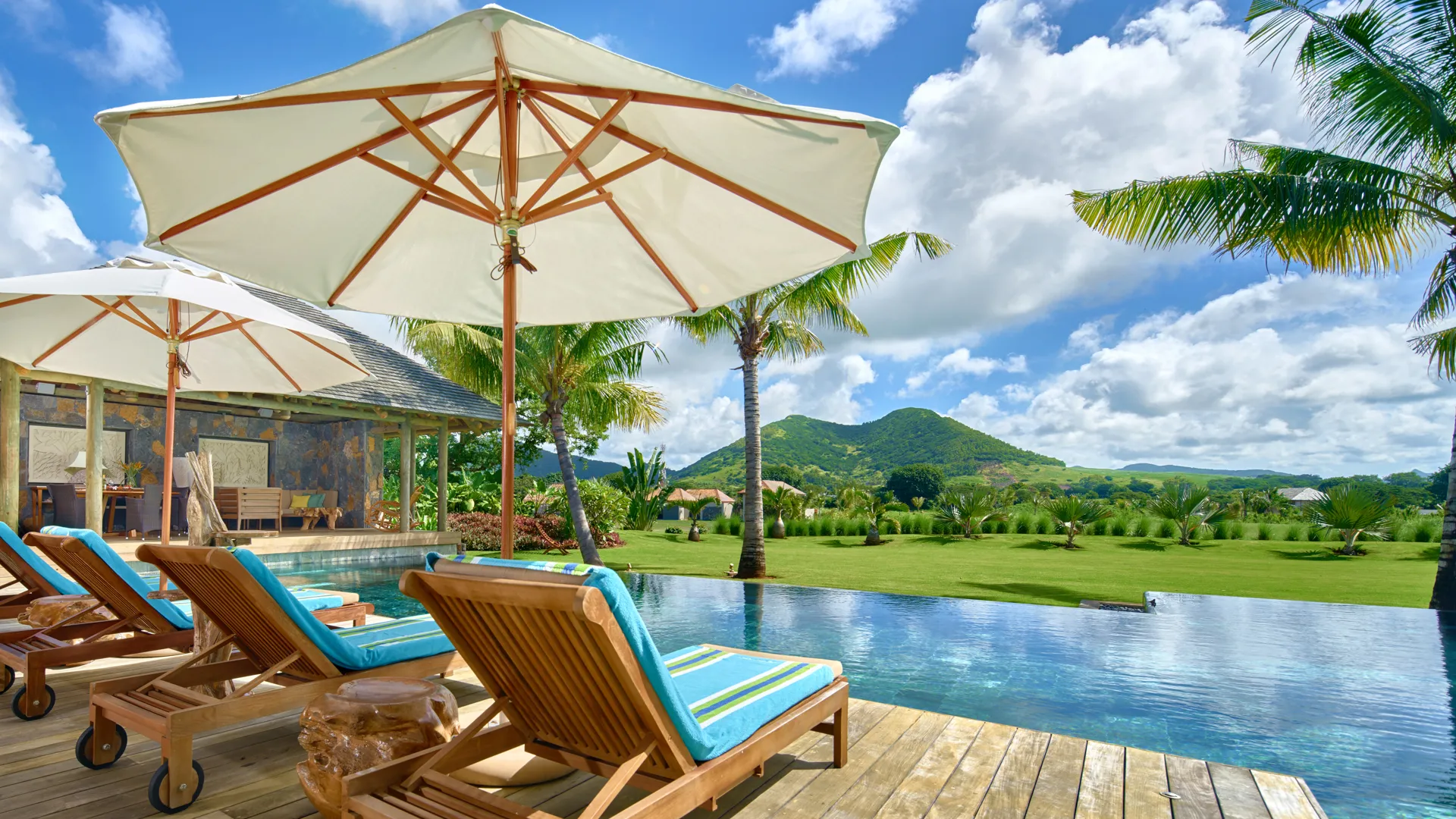 Ask yourself, and be honest: Do you constantly find yourself itching to get out to the links? Is a Saturday at home a recipe for restlessness as you imagine chipping onto the green or sinking a 40-foot putt? Is your backyard currently in a state of utter disrepair because your clever idea about installing your own putting green turned into a valuable lesson about how the job of a greenskeeper is a lot harder than it looks? Well, lucky for you, you can bring the golf course to you by, well, living on or next to it.
Whether you're a retiree who finally has the time for nine holes a day or just the sort of enthusiast who wants to live right next to the big green spaces you love, there's a variety of beautiful options for homes that are right on or right next to top tier golf courses — in the U.S. and abroad. Granted, they're financially out of reach for anyone not firmly ensconced in the 1%, but then, so is golf most of the time, so it works out. Without further ado, here's a collection of some of the most stunning homes in the world conveniently located near a course.
New Seabury Mansion Near the Ocean
Price: $9.9 million
Square footage: 5,600 square feet
New Seabury, Massachusetts, is home to two of New England's finest golf courses — the Ocean and the Dunes — but this 13-room house is situated on the Ocean. That's a double entendre, actually, as it's on the golf course the Ocean as well as having gorgeous, unobstructed 270-degree views of the Atlantic Ocean — as well as Hyannisport, Martha's Vineyard and the Nantucket Sound. And while the 800-square-foot garage can fit two cars, it could also fit one car and a whole lot of golfing equipment.
Enjoy: Get a Glimpse of 14 Homes Worth More Than $10 Million
Desert Home With a View of the Sand Traps
Price: $8.75 million
Square footage: 15,010 square feet
Not only is this palatial Scottsdale, Arizona, home situated right between two country clubs, but at over 15,000 square feet of space — over a third of an acre, in case you were wondering — you could also just build your own course to go along with the home's floor plan. The dual-island kitchen could make for quite the obstacle to chip around, the outdoor Zen garden means you'll already be in the right mindset while you line up to putt, and the pool makes for the rare interactive water hazard.
A Southern California Home for Year-Round Golfing
Price: $4.9 million
Square footage: 6,247 square feet
What's better than living on a golf course? Living on a golf course in Southern California where the weather basically means you can be out there taking swings year-round. And that dream can be a reality at this beautiful home outside San Diego. The fairway estate features vaulted wood beam ceilings over most of the living areas, a formal dining room with a curved bay of French doors and an incredible kitchen with granite countertops. What's more, you'll have access to a members-only clubhouse where you and your family can enjoy tennis courts, fitness facilities and a large pool.
Check Out: Million-Dollar Homes Are Taking Over These 25 Cities
Brentwood Home Next to the Governor's Club
Price: $3.95 million
Square footage: Not listed
Sitting on 0.86 acres of land, this palatial Brentwood, Tennessee, estate includes an elegant driveway and pillared entrance that will let anyone know they're arriving at a home of unrivaled beauty. And to boot, you're offered easy access and wonderful views of the Governors Club golf course which, despite the name, is available to governors and those who aren't governors alike.
Mediterranean Life in Northeast Texas
Price: $3.5 million
Square footage: 8,850 square feet
This Mediterranean villa might have you doing a double take when you turn your head and see a golf course rather than the beautiful blue of the seas off the Italian coast. However, the lack of a sea view at this Dallas location hasn't diminished the beauty of the home. In addition to its proximity to one of the best golf courses in the state, the home features a wine cellar, travertine bath and a pool overlooking a loggia with grill. All in all, while Texas might not be immediately synonymous with elegance and class for some, a home like this might make you reconsider.
Luxury Living and Luxury Golfing at Grey Oaks
Price: $2.29 million
Square footage: 4,300 square feet
You can always get a membership with the Grey Oaks Palm Course in Naples, Florida, if you want to escape from the everyday grind and be able to golf nearby your home — the Grey Oaks Country Club only recently completed a $30 million renovation, after all. But, then again, with floor-to-ceiling picture windows looking out onto the 17th hole at this home, maybe you'll be living so close to the action that you won't feel the need to participate. And with seven rooms overlooking the area, you might even invite friends from out of town to come stay with you so you can all watch the golfers on the penultimate hole.
Island Golfing, Island Living
Price: $4.4 million
Square footage: 2,400 square feet
Of course, if the luxury of living on a golf course isn't in-and-of-itself enough opulence for you, you could up the ante by opting for a home on a golf course on an island paradise. This Hawaiian mansion sits on 9.19 acres and provides for gorgeous views from the seaside patio. So, if a day of golf followed by a quiet drink while enjoying the sun setting over the Pacific Ocean as a cool breeze rolls in off the waves is your idea of perfection, well, this could be your best bet.
Make the Move: 20 Gorgeous Beach Towns You Can Afford To Live In
Live Large in Dubai
Price: $4.1 million
Area: 7,424 square feet
Dubai has, in recent years, come to be viewed as something of a playground for the international uber-rich. As such, it shouldn't be all that surprising to see it pop up on this list. But, sure enough, there's an option for a three-level, six-bedroom, six-bathroom home situated on a golf course with almost 7,500 square feet of interior space. Along with the elegant design and three different reception areas, you can enjoy the gorgeous views of the city's towering skyscrapers in the distance.
1850 Irish Mansion
Price: $11.24 million
Square footage: 9,035 square feet
While less associated with golf than its Gaelic cousin Scotland, Ireland remains one of Europe's most beautiful locations — dubbed the Emerald Isle for a reason. As such, the rolling green hills and the rolling green fairways should make for a stylistic match. And in the case of this elegant, seaside Victorian Italianate mansion, you can enjoy views of both while living in the elegance of a home that was originally constructed in 1850.
Bahamian Mansion on Championship Golf Course
Price: $8.9 million
Square footage: 10,000 square feet
This mansion isn't just located on a golf course, it's in Paradise. As in it's on Nassau and Paradise Island in the Bahamas. Belle Brisé is an astonishing 10,000 square feet of space in a resort that offers homeowners the same 24-hour concierge service it provides its condo owners. The 18-hole course it overlooks was the site of the PGA Hero World Challenge, so serious golfers should find it challenging enough to keep things interesting, and there are a variety of nearby schools in case you're still raising a family.
Mansion in Mauritius
Price: $6.74 million
Square footage: 4,348 square feet
East of Madagascar is the Indian Ocean island of Mauritius, and located on that island is this gem of a golf course home. Designed by architect Jean Marc Eynaud with an interior laid out by designer Amelie Montocchio, the villa features a range of amenities that include two chandeliers, full-height windows and a private sauna. All that and there are also views of the nearby championship golf course designed by Ernie Els and Bernhard Langer.
Read: You Might Actually Be Able To Afford a Mansion in These 20 States
Golf Course Real Estate in the Caribbean
Price: $4.7 million
Square footage: 7,000 square feet
Returning to Nassau and Paradise Islands, this Bahamian mansion is smaller and cheaper than the previous option, but that hardly makes it either small or cheap. This hilltop estate is nestled alongside a golf course in the gated community of Lyford Cay. The estate has been completely remodeled with state-0f-the-art appliances in the kitchen. And to top it off, there's a golf cart and generator that come with the purchase price, so you should have easy access to the nearby links.
Golf and Glamour in Greece
Price: $3.9 million
Square footage: 5,381 square feet
Greece is often credited as being the birthplace of much of Western philosophy, drama and literature. But, perhaps more importantly, it's where you'll find this gorgeous five-bed, five-bath villa sitting next to Navarino Dunes' signature golf course. You can spend your days soaking in the Mediterranean sun while you enjoy the views of the course and the nearby sea, or you can take a luxurious dip in its nearby pool, or even prepare yourself a snack in the fully-fitted kitchen with islands. Regardless, it's all Greek to you when you're living here.
New Zealand Mansion Next to Millbrook
Price: Upon request
Square footage: 3,875 square feet
Anyone who has seen Peter Jackson's "Lord of the Rings" trilogy is no doubt well familiar with the natural beauty of New Zealand, and this gorgeous home provides the opportunity to experience it firsthand on a daily basis. Sitting on nearly two acres of land next to the Millbrook resort, you'll be able to enjoy a wonderful garden in addition to being right next to a golf course that's so close it might feel like your own.
Spanish Villa on Almenara
Price: $3.4 million
Square footage: 9,762 square feet
This Spanish villa in Sotogrande Alto is situated on the Almenara golf course and boasts incredible views of the links. What's more, the beautiful home features a grand entrance hall that gives way to an elegant salon, a modern kitchen, a glass-walled entertainment area and a dining conversation area heated by an open fireplace.
Keep reading if you want something easier like a tiny home you can order online.
More on Real Estate
About the Author