Interest Rates Will Rise, So What's a Prospective Homeowner to Do?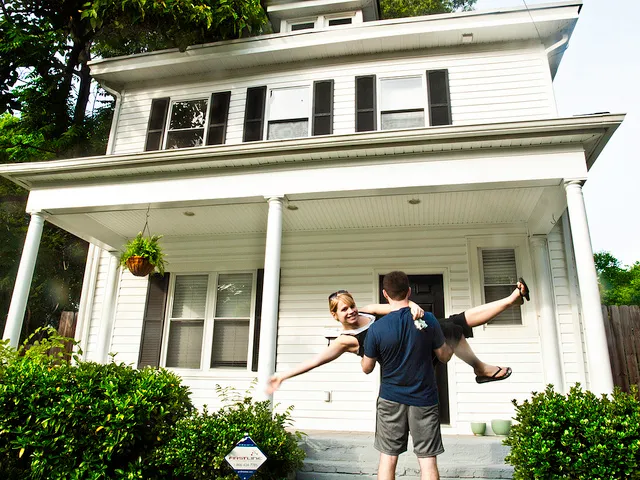 Savers are distraught — interest rates have never been this low. With less than 1 percent returns on the average savings account, your funds can only grow when you add money to the account yourself. Compound interest is irrelevant with these paltry savings returns. But let's talk about how these low interest rates are a boon to home buyers!
Borrowers have a once-in-a-lifetime opportunity to buy a home with a 4% or lower rate on a 30-year mortgage. We refinanced our home last year and picked up a 15-year fixed mortgage with a 3.375% interest rate. We were part of a lucky group that bought a home in 2011 at the market trough, so our home price was relatively low — as is our mortgage payment.
Get out that mortgage calculator: If you borrow $175,000 for 30 years, your principal and interest payment will only be $835 per month (with a 4% fixed interest rate). In most parts of the country, that's less than the monthly rent on an average apartment. Scrape together a down payment of $20,000 and you can buy a $195,000 home for a bit below the U.S. median home price. Although prices are trending up, there are still some affordable homes available.
Mortgage Loan Rates Will Eventually Rise
Consider the impact of an interest rate increase of 2 percent on a mortgage loan. Borrow $175,000 for 30 years at a 6% interest rate and your payment balloons to $1,049. That's a 26 percent increase in your loan payment.
Lest you think that $1,049 is the total housing cost for a homeowner, read on. There's more to the monthly payment than principal and interest. The borrower must also pay homeowners insurance and real estate taxes, expenses that can tack on an additional $500 or more per month.
Additionally, homeowners must keep a reserve, usually in an emergency fund, of at least several thousand dollars for repairs and maintenance. After saving for a down payment and buying a home, the savings must continue!
A 6% mortgage interest rate jump pumps your monthly housing expenses up to at least $1,549, including principal, interest, taxes and insurance. Add in savings for emergencies and utilities, and that increase in interest rates is looking worse and worse. Consider the possibility that housing prices will continue to rise and that $175,000 loan buys less and less house as time goes on.
What's a Prospective Homeowner to Do?
Many potential homeowners are stumped by how to amass enough funds for a home down payment. There are many ways to cut your expenses and build savings. Sacrifice for a short while and enjoy home ownership for many years. (How to Get Rich has a great savings strategy to build up $50,000 for a down payment.) Hopefully, if you are thinking about buying a home, you've already started building that future down payment.
Are You Ready to Purchase a Home?
History informs us that interest rates have never been this low. It's likely that they will never be this low again. There is urgency to buy sooner rather than later as interest rates will eventually rise. If you are interested in becoming a homeowner, ask yourself whether you are willing to give up some consumption today in order to purchase your own home.
What if you live on the coasts or in an expensive real estate market? You might not like this solution, but when my husband and I were just starting out, we left pricey San Diego to live in the more affordable Midwest. There we could easily afford a home and live on one income while our daughter was young.
If you haven't considered moving, don't rule it out. Live a few years in an affordable part of the country, build up your net worth and later you will have the money to return to the pricier parts of the country.
Now is the time to take action if you want to become a homeowner. Interest rates have only one direction to go — up. In the long haul, prices will probably appreciate as well.
If you lack a down payment now, bite the bullet, cut expenses drastically and consider relocating.
Tips on How to Save for a Down Payment on a Home
There are many things you can do for a short while that would seem impossible for the long term. If owning a home is your goal, take action to buy sooner, rather than later. We are quickly exiting this golden low interest rate environment.
Try these strategies to save for your down payment:
Move to a smaller apartment. You can handle anything for a limited time. Do you really need a two- or three-bedroom apartment?
Sell the newer car with fat payments. Buy a used older model and save the difference in payments.
Put a moratorium on eating out. Eat in for a few months and put the savings toward your down payment fund.
List all the discretionary costs you can halt. Remember, these lifestyle changes are temporary!
Lose the $60-per-month cable service. You can replace it with a $8-per-month Netflix subscription.
Take on extra work to supercharge the savings.
Search free entertainment online. Don't eliminate fun, just make it cheaper.
Fill your shopping craving at the dollar store. Five bucks goes a long way toward eliminating feelings of deprivation.
Get creative and challenge your partner and kids to create savings strategies. Get everyone involved!
Interest rates are rising. If you need a mortgage loan, now is the time to lock in the lower interest rates. If you delay for too long, you'll regret missing this opportunity.
Photo credit: House of Joy Photos