Interior Designers Reveal Their Top Dos and Don'ts of Home Renovations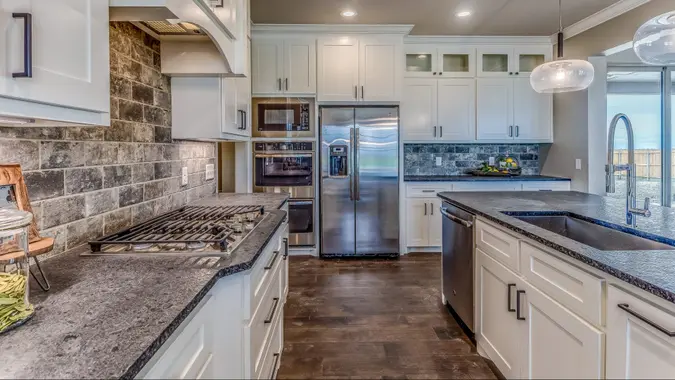 PC Photography / Getty Images/iStockphoto
Whether you save up cash or take out a home equity loan, successful home renovations are all about making every dollar count. Projects that don't justify the investment rob you of the increased home value a more cost-conscious makeover might have delivered.
It all starts with dedicating your dollars to projects that tend to pay homeowners back and avoiding the ones that don't. Here's a look at the home renovations with a strong record of pulling their weight in added value — and a few you should skip — according to experts.
A Few Hundred in Landscaping Costs Can Add Thousands in Curb Appeal
One of the most straightforward and affordable in-home projects that can add serious bang for the buck actually takes place outside the home.
"Fixing the exterior of your property, like the lawn, flower beds and garden, are all low-cost ways to really maximize the value you can get out of your home and the usability of your space," said Tom Nolan, founder of All Star Home, a home improvement, remodeling and design company with locations nationwide. "Many people don't want to relax in a yard that has leaf piles around or an unmaintained patio. In many cases, landscaping projects can be done for under $500 and can increase your property value by thousands since they will increase curb appeal and make your exterior more enticing."
Minor Kitchen Remodels Give Back More Than Big Renovations
Few projects add more value to a home than a kitchen makeover, but they can run into the high five or even six figures. "Kitchen renovations are one expensive investment that tends to get a great return," said Nolan. "That's because people see kitchens they want to aspire to. Even folks who hate cooking will be attracted to a new kitchen, as it provides a space for entertaining, spending time with friends, and starting a healthier life."
However, major renovations don't deliver the best ROI — even if you can afford them. According to Remodeling by the Journal of Light Construction, midrange major kitchen remodeling jobs cost an average of $77,939 but recoup just $32,574 in added value, or 41.8% of their cost. The average upscale major kitchen makeover costs $154,483 and returns much less — just $48,913, or 31.7% of the project's cost.
Minor remodels, on the other hand, average just $26,790 but pay you back $22,963 in added resale value — an impressive 85.7% ROI. You can also spend much less and possibly recoup an even greater percentage of the project's cost when it comes time to sell with more affordable minor upgrades.
"A kitchen renovation doesn't have to be a complete demo and rebuild," said Nolan. "You can start with a fresh coat of paint and new appliances to update your look, capping your costs at $5,000."
Nothing Recoups Cost Like Installing or Improving Wood Floors
Old, outdated and unattractive floors make homes look drab. More importantly, they can drag down a house's value. The good news is that upgrading can be a relatively inexpensive and easy fix that makes an eye-popping impression.
"Something about new flooring makes it highly desired by homebuyers and can significantly increase your home's value even if you don't do anything else," said Andrzej "Walt" Lipski of Next Door Properties in Connecticut. "Consider ripping out old carpets and outdated laminate flooring with more modern vinyl flooring if you are looking for affordability — or splurge on hardwood floors, which offer timeless elegance and durability."
If you're looking for pure ROI, the splurge Lipski talked about is worth every penny. According to the 2022 Remodeling Impact Report from the National Association of Realtors (NAR) Research Group, no interior project delivers greater cost recovery than refinishing hardwood floors, which gives back a whopping 147% of the expense. No. 2 is the installation of new wood flooring, which gives back 118% of the money you lay out to lay down planks.
Energy Efficiency Projects Pay You Back Twice
According to the NAR report, insulation upgrades are the No. 3 most cost-effective project in terms of cash recovery, behind only refinishing and installing hardwood floors. "Upgrading insulation to improve the home's overall energy efficiency is a smart investment," said Roman Smolevskiy, owner of A+ Construction & Remodeling in California.
But insulation is just one project related to energy efficiency that can pay you back twice — once in increased home value and again through lower utility bills.
"Installing energy-efficient windows or solar panels, for instance, can increase a home's value while also providing ongoing savings on energy bills," said Smolevskiy. "Buyers today are more environmentally conscious than ever, and these improvements can significantly increase a home's appeal."
According to the Remodeling cost vs. value report, window replacements recoup between 61.2% and 68.5% of the project's cost — and many other upgrades that prevent thermal transfer do as well or better. "Investments in energy efficiency can be valuable," said Smolevskiy.
Pools and Ponds Make a Splash With Friends — Buyers, Not So Much
While many homeowners assume installing a pool will make their homes irresistible to buyers, they're often viewed as high-maintenance money pits and can make houses hard to sell.
"Pools are very rarely worth the investment and you almost never get back what you spent to build one," said Braden Chandler of L&L Property Solutions in Florida. "You might enjoy the time you get to spend while owning the house, but don't expect your property value to increase by the amount you spent for the build."
The same goes for pools for fish — or any permanent water feature, for that matter. "Although you might thoroughly enjoy a koi pond, don't expect everyone to feel the same way and pay any more for your property when it's time to sell," said Chandler.
Adding a Room Doesn't Always Add Value
Converting basements or attics into usable square footage can add value when done right, but the same is rarely true when a new room comes as an addition.
"Adding a room can be a costly project," said Brad Smith, CEO and lead interior designer at Omni Home Ideas. "It may not offer a significant ROI unless it adds functionality that is highly sought after in your market, such as an additional bathroom or bedroom."
More From GOBankingRates