19 Real Islands for Sale Right Now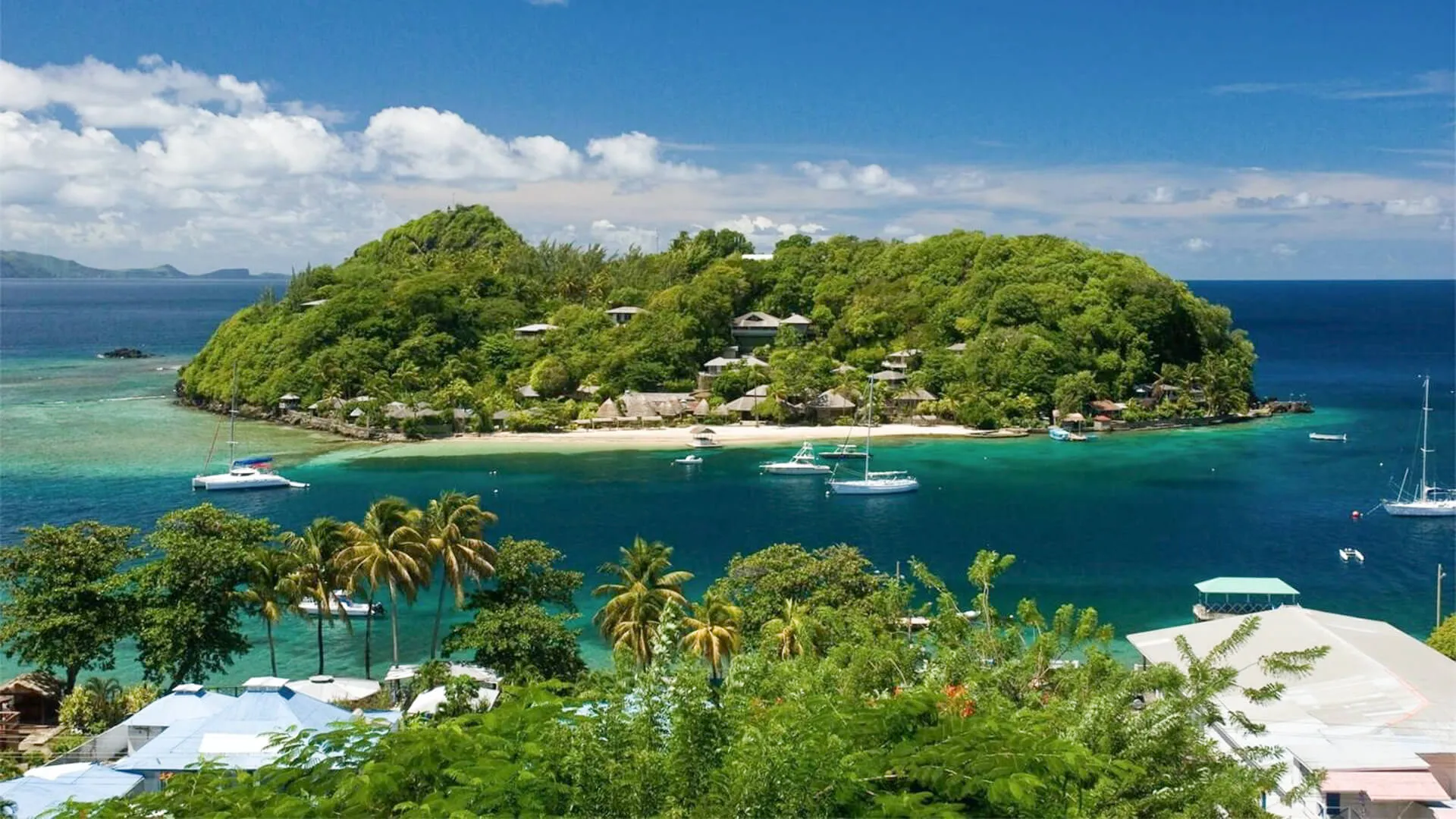 The high-end real estate market can just be so blah after a while. There's only so many palatial mansions, multi-acre swimming pools and 300-foot yachts you can see before it all starts to blur together. And if your goal is mostly to make a statement to your other rich friends — as it pretty frequently is — you're just working in the same medium they are. What's another big house when everyone you know owns a big house?
Making your fellow moneyed elites jealous could require taking the plunge and going full Bond villain on this one: buying a private island. After all, nothing says "I'm too rich to bother caring what anyone thinks anymore" like owning your own patch of land surrounded by water to keep out all the riff-raff. But, before you start opening up nautical charts to narrow your options, here's a look at 19 private islands that you can buy right now.
Spectabilis Island
Location: BahamasPrice: $75.5 million
Sure, there are a lot of islands in the Bahamas, but so many of them are full of other people. If you're ready to slap down a small fortune for Spectabilis Island, you can enjoy all of the wonders of the Bahamas without any pesky tourists. About 230 miles southeast of Miami, this 460-acre island means your own beaches. The deep water access channel means you can pilot your deep-hull yacht right up to the island, or you can fly in and use either the helipad or the seaplane ramp. But, that said, if you're really intent on using your private jet enough to get your money's worth, there's room to construct an airfield. So, you know, a fixer-upper.
Foot's Cay
Location: BahamasPrice: $19.5 million
For another private location in the Bahamas, this island could be right for you — provided you can foot the bill. In this case, you're getting a 20-acre island all to yourself and the four-suite main house that's sitting on it. Plus, when you do have friends over to dazzle them with the white-sand beaches and gorgeous Caribbean panoramas, you can put them up in either the three-bedroom quest house or two-bedroom guest cottage. And with a harbor that can manage up to two 45-foot yachts, you can even have some guests staying offshore as well.
Katafanga Island
Location: FijiPrice: $17 million
While the sprawling 225-acre Katafanga Island has plenty of on-land room to run, it's the 5,000-acre lagoon encircled by the island that's one of the big draws — in fact, the island is also known as Blue Lagoon. But, you're not just getting the island and lagoon, there's also a completed villa, as well as 19 partially-completed villas that would be pretty valuable should you choose to convert the island to a hotel or resort.
Big Gull Island
Location: AlaskaPrice: $3.45 million
Owning your own private island is usually associated with beating sun and beautiful white-sand beaches. But, if you want to buck the trend, there's also the option to choose solitude in the wilderness. Big Gull Island in Alaska could be just the option for those people who want the island part but could really do without the floral-pattern shirts and incredibly sweet rum drinks. The 11.58-acre lot has a four-bedroom, six-bathroom home on it that's got 5,200-square feet of floor space, all tucked in near the fishing community of Sitka, Alaska.
Ligpo Island
Location: PhilippinesPrice: $2.8 million
While owning a private island is generally about escaping the hustle-and-bustle of modern life, Ligpo Island could be your ticket to the best of both worlds. The island itself is just an acre with a four-bedroom house but offers a seawater swimming pool and stunning views of nearby Balayan Bay. And, if you start to feel cabin fever setting in, you're just 75-miles south of Manila, so you can return to civilization with relative ease.
Next Up: I'm Living in an Island Paradise for Only $2,000 a Month — Here's How
Golfo Dulce Island Property
Location: Costa RicaPrice: $980,000
Costa Rica is famous around the world for its beautiful natural setting, wonderful coffee and delicious chocolate — all of which won't be far from home if you opt to buy this 32-acre island in the Central American nation. The island features a chance to see scarlet macaws and monkeys in their natural habitat because, well, you'll own their natural habitat. It also has a wood-fired oven built by Italian craftsmen that could easily be used to make pizza, which you're free to share with the macaws and monkeys if you so desire. And best of all? It's on sale. After a price reduction, you wouldn't even need $1 million to cover the asking price.
Basin Island
Location: WisconsinPrice: $950,000
Another island that comes at a price that's still in the six figures is Basin Island in Wisconsin. Now, granted, when you say "private island," the next word that jumps to mind probably isn't "Wisconsin." But, perhaps you need to reconsider that mindset as the 26-acre island in Lake Michigan should provide you with plenty of opportunities for luxury living. Just a 10-minute drive from the town of Sturgeon Bay, Wisconsin, the island features a 3,700-square-foot octagonal house that's powered by solar and wind systems and a fully-equipped kitchen. And the location in the upper midwest means that all of your swimming and boating can take place in the fresh waters of Lake Michigan.
Pumpkin Key
Location: Key Largo, FloridaPrice: $95 million
The 26 acres in South Florida that make up Pumpkin Key are going to be a blast whether it's Halloween or not. The island is easy to reach by boat when you depart from the Ocean Reef Club in Key Largo, Florida, or by helicopter if you're coming from Miami. It offers you a rare chance to experience the Caribbean without ever leaving the United States. Pumpkin Key also has a main home with three bedrooms, as well as two cottages for caretakers and an apartment for the dock master. He or she will oversee the 20-slip marina large enough to accommodate a mega-yacht.
Water Cay
Location: Turks and CaicosPrice: $49 million
Despite the decidedly uninspired name, Water Cay could be your own isolated getaway in Turks and Caicos. The island is some 432 acres of gorgeous real estate long prized by the locals, with 7,000 feet of uninterrupted beach. What's more, you're just 25 minutes from Provo International Airport — though you will need to use both a boat and a car in the process. The island comes with a street-front office in Regent Village in nearby Grace Bay, Turks and Caicos, but how much work will you be doing when you own an island paradise with over a mile of beachfront?
Balliceaux Island
Location: Saint Vincent and the GrenadinesPrice: $34.9 million
You might associate "grenadine" with tequila sunrises, but if you opt to buy Balliceaux Islands, you can start shifting that to Carribean sunrises. You'll have to do your own development if you want to live under a roof, but the 320 acres of pristine nature could remain untouched if you opt to either campout or just stay on your yacht offshore. And with mountains and beaches alike, you should find plenty of ways to enjoy the island — including building a commercial resort there, if you're feeling really ambitious.
Petit Nevis
Location: Saint Vincent and the GrenadinesPrice: $24.9 million
Not more than 10 miles west of Mustique and less than a mile south of Bequia — both located in Saint Vincent and the Grenadines — lies the island of Petit Nevis, which can be yours for about $25 million. For now, the island is a natural paradise that you can visit to take in the native wildlife as well as the incredible views of the Caribbean while making use of the yacht anchorage. However, it's also ready for development and has a number of government incentives should you want to build there.
Isla Guafo
Location: Los Lagos, ChilePrice: $20 million
If you're looking for your own natural paradise in the Pacific, Isla Guafo could be just the spot for you. The cold water driven up by the continental drift helps create astonishing biodiversity on the island, making it your own natural wonderland. Penguins and sea lions call the island home, as well as birds called black fardelas. But the real treat might be the chance to spot the world's largest animal as the Blue Whale migrates through the area. Granted, you won't be alone completely — the Chilean navy owns a small corner with a lighthouse and meteorological station — but any nature lover will still have plenty of room to explore.
Fort Morgan Cay
Location: Bay Islands, HondurasPrice: Price upon request
So, the chance to buy an eight-bedroom house near Honduras that features en-suite bathrooms for each bedroom, a pool and terrace, a boathouse and four boats would be one that most people would be quick to hop on. The fact that you can also get the entire island it's situated on is just icing on the cake. Fort Morgan Cay, named for the Spanish military installation that was there in the 1700s, has large sections that remain completely untouched by human development. The surrounding area is also home to the Port Royal National Park, meaning you should have easy access by boat to plenty of options for hiking.
Whale Cay
Location: Berry Islands, BahamasPrice: $16 million
If you're looking for a major purchase that could be a real whale of a time for you and your family, Whale Cay in the Bahamas might be just the pick for you. After all, it's among the Berry Islands which are renowned for their excellent fishing. And if you're looking at that $16 million price tag and thinking it's a little steep, you might want to consider everything you're getting with it. You'd be acquiring the main house, music room, dormitory for staff, a museum, seaplane hangar and a lighthouse. And if you don't feel like that's enough, there's two plotted and surveyed subdivisions with 75 lots just in case you have aspirations for real estate development — or a really large family.
Blue Dolphin Island
Location: PanamaPrice: $11.5 million
This private island in the Caribbean sea is one of Bocas del Toro's true gems. Home to an eco-friendly resort and spa, the 16.18-acre island will give you a chance to enjoy breathtaking sunsets, swimming, diving, sailing and all of the local flora and fauna under the tropical sun.
Pepin Island
Location: Nelson, New ZealandPrice: $10.5 million
Unless you've been living under a rock, you're probably aware that New Zealand is well known for its absolutely stupifying natural glory. Of course, if that rock is in New Zealand, you're probably really aware. Either way, you can buy up your own little piece of that in Pepin Island. This slice of paradise — which is still a working farm — holds a seven-bedroom farmhouse for you to live in and enjoy spectacular views of sea cliffs, beaches and rolling paddocks. And, if the view from the farmhouse starts to feel a little played out, there are also three eco-chalets at some of the island's, especially spectacular locales.
Young Island
Location: Saint Vincent and the GrenadinesPrice: $9.9 million
When you buy Young Island, you're also getting the Young Island Resort — 29 guest cottages that are up for sale after three decades under its previous ownership. You would be buying into a business with a solid legacy and reputation, and you would presumably have a pretty good time overseeing operations while enjoying the white sandy beaches and tropical sunshine. Of course, if you're the sort of person who doesn't like having to sleep in the same cottage more than once a month, you could also just shut it down and live there alone. It's your money.
Pym Island
Location: British Columbia, CanadaPrice: $5.1 million
If you're the kind of island shopper who wants a private island but also feels like the whole "tropical paradise" angle is just a huge cliche at this point, this could be one option that's a perfect fit. The island includes about half a mile of ocean frontage, a boathouse, dock, deep-water moorage and two boats to allow residents to visit the surrounding areas with ease. And you'll be living in the enormous main house that was constructed in 1985 and features cedar roofs, stone fireplaces, floors of oak and marble, and elegant, etched-glass windows that virtually scream "South Pacific? More like Schmouth Pacific!"
Motu Teta
Location: French PolynesiaPrice: $2.9 million
If you're looking for the quintessential "deserted island in the South Pacific" experience without any of the scarcity, you might consider herding some friends onto your yacht and heading out to Motu Teta. With its beautiful wood house featuring an open-air bar, white sand beaches and beautiful palm trees, it gives the sense that you're living just like Robinson Crusoe, just without the ragged clothes and scurvy.
Click through to read about the 17 best beaches in the world for a vacation.
More on Investing in Real Estate