8 Locations To Consider When Looking To Buy a Three-Bedroom Home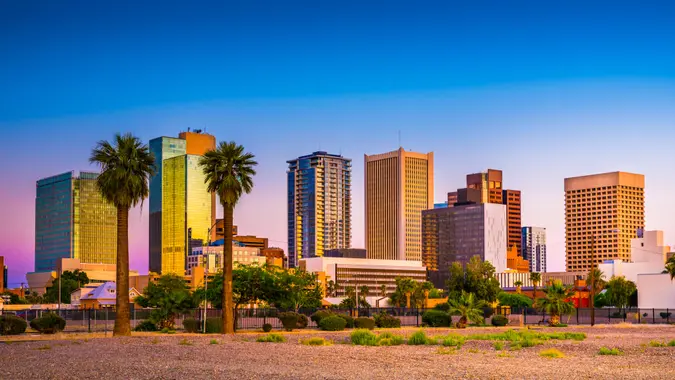 dszc / iStock.com
Buying a home is one of the most exciting and nerve-wracking moments in a person's life. There are few other times when you're going to make such an enormous financial investment, and you want to get the absolute best deal for the price. If you're driven by price before location, you will likely have more options for homes, as there are lots of cities around the United States where prices are lower than the median home price.
Read: Craziest Things That Kill Your Home's Value
See: What To Consider When Choosing a Mortgage Lender
The median home price is an average of all the homes sold in the United States. As of May 2021, the median existing home price was $350,300, according to the National Association of Realtors. If you live in a state where home prices run high, like California or New York, that would be an extremely good price. If you live in a state where home prices tend to run low (as do wages), that would be a high price.
During the pandemic, sales paused for a brief spell at the beginning and have since soared. According to Forbes, 5.6 million home were sold in 2020. All of this activity means demand is high, and thus, so are prices, making it harder for first-time homebuyers, or those with a small or no downpayment to break into the market.
But there are still cities where you can get a great three-bedroom family home, so long as you're open to a new location.
Alabama
The capital city of Alabama, Birmingham, known for its cuisine, music scene and historic part in the Civil Rights movement has 249 listings for homes with three or more bedrooms under $100,000, according to Dan Close, founder and CEO of We Buy Houses in Kentucky. "It is a popular tourist destination. Hiking, biking, picturesque vistas, and a variety of other activities are popular in the surrounding area."
Arizona
Though Arizona is a popular place for people to retire, Phoenix is still competitive, with average home prices around $400,000, according to Thomas Bayles, managing partner for Urban Growth Properties. "Phoenix has been a top market leader for a while now. The relatively low state income tax of 4% coupled with the above-average job growth creates favorable real estate investment conditions."
Florida
If good weather and proximity to beaches is your thing, look no further than Florida, said Omer Reiner, a licensed realtor and president of FL Cash Home Buyers. "Some of the cities that combine safety and affordability in Florida include Flagler Beach, where the median home price is $304,600… In addition the crime rate is -65.55% below the national average," he said.
Another town he recommends is Labelle, where the median home cost is just $95,300.
Illinois and Iowa
This midwestern state, particularly cities like Rock Island, Illinois, and Davenport, Iowa, located across the Mississippi River from one another and part of "the Quad Cities," are a good possibility. According to Steve Pogson, founder and e-commerce strategy lead for FirstPier, there are 96 listings for homes with three or more bedrooms for $100,000 or less. "Numerous riverfront activities are promoted in the Quad Cities area, including festivals and bike and walking trails…boating, kayaking, disc golf and hiking."
Louisiana
For lovers of the south, look no further than Houma, Louisiana, said Stephen Keighery, CEO and founder of Home Buyer Louisiana. "He considers this town a "safe place" for buying a three-bedroom home, where the average price is $174,923. "The area is a commercial and cultural hub, and the cost of living in the city is 12.9% lower than the U.S. average." He points new buyers to the Louisiana Housing Corporation for programs that offer assistance in the initial payments when buying their homes.
Missouri
Another Midwestern city with a great price is St. Louis, Missouri, according to Bob Scott, founder of Sell Land. "I can say without bias that St. Louis is a great choice when it comes to buying family sized homes." The home value index is $160,052, he said. "St. Louis is one of the most affordable cities to buy houses that are ideal for starting families. The city has high quality of life with low cost of living compared to other midwestern cities such as Chicago and Columbus." He also said it's got an excellent job market and good neighborhoods for families.
Ohio
If you like bigger city living, Cleveland, located along Lake Erie and the Cuyahoga River, "offers stunning views of the water, which may be enjoyed while exploring the more than 24,000 acres of parks that make up the Cleveland Metroparks system," said Sarah Jameson, marketing director for Green Building Elements. There are 459 listings for homes with three or more bedrooms under $100,000 here.
More From GOBankingRates