Looking for Homes Is Costing First-Time Buyers $1 Billion in Lost Work Hours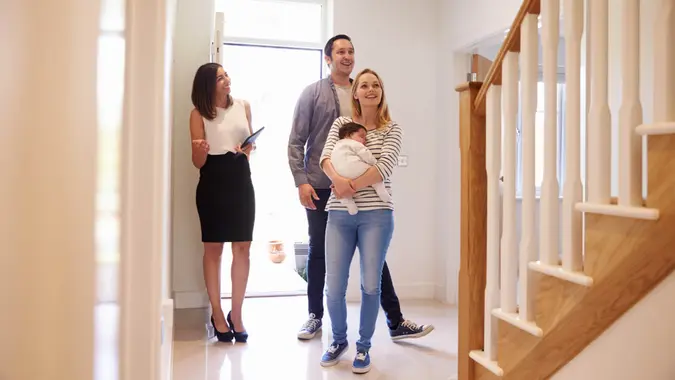 monkeybusinessimages / Getty Images/iStockphoto
Searching for a home can be a time-consuming process — and for many first-time homebuyers, this translates into lost income due to hours of missed work. A recent survey of first-time homebuyers conducted by Opendoor found that these buyers have racked up nearly $1 billion in lost work time while looking for a home.
2021's Competitive Housing Market: How Pricing, Inventory and More Changed Over the Year
Find Out: 8 Affordable Ways To Upgrade Your Primary Bedroom
Here's a closer look at why that is — and what first-time homebuyers can do to cut down on the amount of missed work during the buying process.
First-Time Homebuyers Missed an Average of 14 Hours of Work This Year
The survey found that 79% of first-time homebuyers missed work this year, with an average of 14 hours missed — nearly two whole days. Over 1 in 5 missed even more, with 21% of first-time buyers reporting that they missed 20 hours or more.
"The housing market is incredibly competitive right now," said Kerry Melcher, head of real estate at Opendoor. "Many first-time homebuyers reported having to check and recheck home listings at least seven times a day on average, given how quickly homes were flying on and off the market. Just in the month of October, we saw first-time buyers checking for new listings an average of eight times a day, which is more than twice the frequency of searches six months ago."
Year in Review: Take a Look Back at the Top Money Topics and Happenings of 2021
Melcher doesn't believe that the market will be cooling down anytime soon, so prospective buyers should be prepared to dedicate a lot of time to the homebuying process.
"We anticipate that the spring 2022 homebuying season will be a high-demand one across U.S. markets," she said.
Good To Know: 20 Home Renovations That Will Hurt Your Home's Value
One-Third of First-Time Homebuyers Toured 20 or More Homes
Home tours — whether conducted in-person or virtually — can also be a time suck. The average first-time buyer toured 15 homes this year while 33% toured 20 homes or more. Melcher recommends narrowing down your search before going on tours so that you don't waste time visiting a space that isn't a fit for your needs or budget.
"Search smart, not hard," she said. "The best way to do this is to make sure you're as informed as possible before you start. Our checklist for first-time homebuyers breaks down exactly how to determine important factors, like how much you can afford and where you want to live. Figuring these things out before you start your search will help you narrow down your search criteria and avoid spending time looking at homes that aren't a fit for you."
Melcher also recommends opting for a virtual tour if possible.
"Take advantage of virtual tour options, like interactive maps or video walk-throughs, so you can avoid extra time spent driving to open houses or in-person tours," she said.
Learn: Avoid These Home Renovation Horror Stories
39% of First-Time Buyers Cite Finding a Home That Is a Fit for Their Family's Needs as a Top Challenge in the Process
Another way to cut down on the number of homes first-time buyers look at is to have a clear set of criteria for what they need in a home that goes beyond a broad location and budget.
"Define your non-negotiables," Melcher said. "For example, distance from work, distance from a parent or within boundaries of a certain school district. Get in your car and drive so that you can opt in and out of certain neighborhoods altogether — this will make searching more bespoke for your specific location needs and wants."
Find: 26 Home Makeover Ideas That Each Cost Less Than $500
98% of First-Time Homebuyers Lost a Home They Were Interested In
One of the reasons first-time homebuyers are spending so much time searching is that their offers are very often rejected, so they have to go back to the drawing board and start from square one.
"Nearly 3 in 5 first-time homebuyers (56%) made five or more offers before purchasing their current home, averaging 10 offers apiece," Melcher said. "Nearly 1 in 3 (27%) put in 10 or more offers."
With most homes getting numerous offers in this hot real estate market, it's important for buyers to make an effort to get their offer to stand out.
"There are a few things you can do," Melcher said.
Discover: Home Improvements That Are Not Legal To Do Yourself
The first is to make sure you're completely prepared financially.
"In addition to a mortgage pre-approval letter, get fully approved by your lender's underwriting team — this tells the sellers that there will be no delays or issues due to financing," Melcher said.
When it comes to making the offer, come in with a strong price you feel good about.
"If your offer is too low, the sellers may not even bother to consider it and make a counteroffer if they have multiple better offers on the table," Melcher said. "Review sales in the area to get a sense of what prices comparable homes are actually selling for so you can make sure your offer is competitive."
Melcher also recommends writing an offer letter if it is allowed in your city and state.
"This is your chance to introduce yourself to the sellers and explain why you are the best person to buy their home," she said. "Aim to focus on the aspects of the home that you love, compliment the sellers on their tastes or the way they have maintained the home, and show them that you are committed to a smooth closing."
Finally, consider an all-cash offer solution.
"If you're financing, look into making a cash offer with tools such as the Opendoor Backed Offers program to compete with cash bids, which are typically more attractive to sellers," Melcher said.
More From GOBankingRates