Painting Your Home This Color Can Increase Its Value by $2,500, Study Finds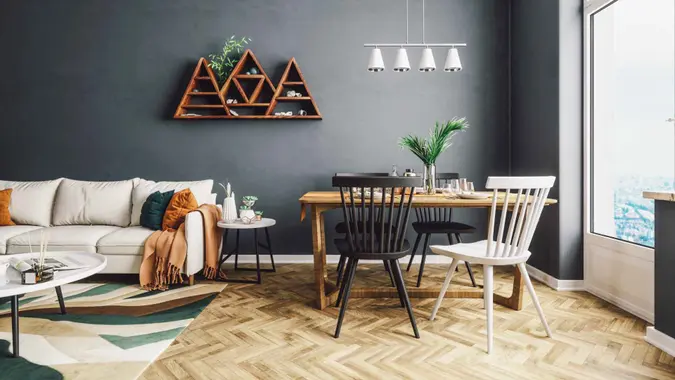 imaginima / Getty Images
When you go to view a home on the market, its walls are often white. This isn't only because white is a common go-to for its neutrality (you can find dozens of shades of white), it's because white tones can make a space appear larger. Naturally, realtors want to make a home seem as roomy as possible, so they opt for white paint. But sellers may be wowed to find out that — right now, at least — white walls aren't the best if they want to attract more potential buyers.
According to a new Zillow study, prospective home buyers would offer more money for a home with interiors painted dark gray. Charcoal-colored paint in particular is associated with higher offer prices. Those shopping for homes appear to like something much darker than white in every room studied, including the bedroom, living room, kitchen and bathroom.
Homes sporting a dark granite-gray kitchen can go for an estimated $2,512 more than similar homes without dark walls — and kitchens featuring mid-tone pewter shades can go for $2,553 more than anticipated, per Zillow. Dark gray living rooms and bedrooms can net sellers $1,755 more than homes with paler neutral bedrooms.
Not only will prospective buyers pay more for a kitchen with gray walls, but they'll also go out of their way to offer less ($612 less, according to the study) for a home that has a white-walled kitchen.
Gray a Comforting Tone on a Psychological Level
What's fueling the new craze in darker shades? The media, of course.
"Buyers have been exposed to dark gray spaces through home improvement TV shows and their social media feeds, but they're likely drawn to charcoal on a psychological level," Mehnaz Khan, a color psychology specialist and interior designer, stated in a Zillow press release.
Khan explained that gray is the "color of retreat," adding, "As we come out of the pandemic and return to our hectic lives, buyers want home to be a refuge. They want to withdraw and escape from the uncertainty of the outside world, and rooms enveloped in dark gray can create that feeling of security."
But painter, beware: Not all shades of gray sell well. Midtone cement gray front doors can hurt home sale prices by an estimated $3,365. Take your door's tone steps deeper by going black. Or, go for a mid-tone rosy brown front door. The study found that buyers would offer $300 more for a home with a door of this color. Shades of brown (terra cotta, in particular) make for more appealing bathrooms at this time and could make a home sell for $1,624 more than comparable homes with bathrooms in a different shade.
If you're in the process of getting ready to sell your home, consider selecting grays for most walls and warm browns for the bathroom and front door. The good news here is that painting interiors is a rather small upfront investment (especially if you DIY it) and these light-yet-dark renovations can bring in significant ROI.
Also bear in mind that trends change frequently. This year's gray may be next year's blue or yellow.
More From GOBankingRates