Is It Rude To Ask Someone How Much They Paid for Their House?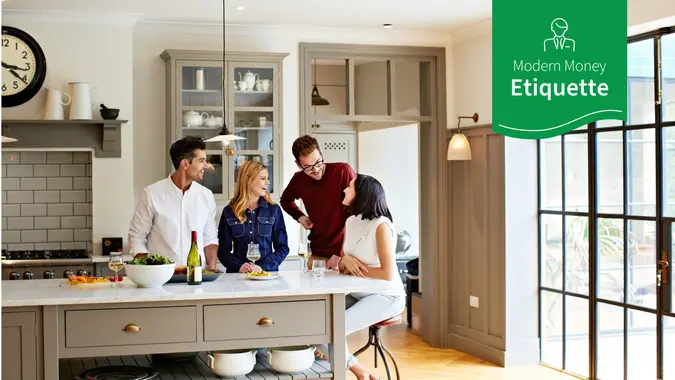 kupicoo / iStock.com
Most people know someone who has purchased a new home, but the question of how much they paid could seem a bit invasive. After all, different people have different reactions to questions regarding financial matters, and you don't want to offend the other person — but you really want to know.
More Money Etiquette: Should You Pay a Friend Who Does You a Professional Favor?Find Out: Do You Tip on Takeout Orders or Not?
Jodi RR Smith, president of Mannersmith Etiquette Consulting, has been on the other side of this equation, having just bought a new home and being asked the purchase price.
"Many years ago, when we had just bought our first home, we had a little housewarming party and one of our college friends brought along her new boyfriend," she said. "The first question he asked after introductions was how much we paid for the house."
Not wanting to reveal such personal information, she remained coy.
Read More: Should You Ask Coworkers About Salary?Learn: If Your Parents Help Pay for Your Wedding, How Much Say Do They Get With Plans?
"I answered, 'More than we expected, but much less than the asking price,'" she said. "He then said, 'No really, how much did you pay?' I laughed and said that the negotiating got a bit strained, but we were pleased with the outcome," Smith said. This still was not enough for him to get the hint.
"He responded that if I did not tell him, he could look it up on the internet — which, for 1997, was still very new," she said. "To which I said, if he was that curious, he should." Smith then ended the conversation by shifting to the topic of how her friend met her new boyfriend.
Generally speaking, she said it is frowned upon in the U.S. to ask someone how much they paid for their home — even a vacation house.
Discover: Should You Make Your Venmo Transactions Private or Public?Find Out: Is It Ever OK To Ask For Cash as a Gift?
"Unless the real estate is currently on the market or you are planning to timeshare together, to ask specifically about price is considered gauche," she clarified. However, she said there are polite ways to inquire about the price of a person's home, without being too blunt.
"It is perfectly acceptable to ask, 'This is a beautiful area, we were considering this neighborhood, what is the range for houses nearby?,'" she said. "Then, the homeowner can share a range, specifics or the contact information for their favorite Realtor."
Of course, if you're even minimally internet savvy, you know there's a very easy way to stealthily find out the purchase price of just about any property. Real estate information is readily available on an array of sites like Zillow, Redfin and Trulia. In addition to having easy access to the purchase price of just about any home, you can also see details like how much it was listed for, any price changes along the way and the amount previous owners paid for it.
See: What's Really the Best Way To Handle Splitting the Check?Know: Rude Money Habits You Need To Break Now

Given the plethora of real estate data available with a click of a mouse, there's really no need to ask anyone how much they paid for their home. Since the internet now offers the ability to learn the purchase price without the risk of offending the owner, take advantage of this opportunity to enjoy the best of both worlds.
More From GOBankingRates
Last updated: June 8, 2021