Not Already a Homeowner? 3 Reasons You Might Be in Trouble for Years To Come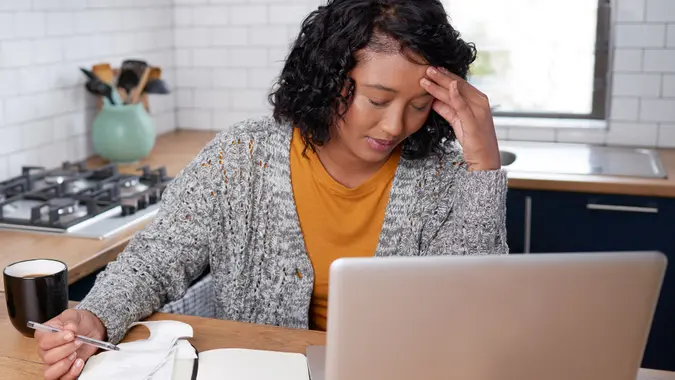 Meeko Media / iStock.com
The peak of the pandemic was a great time to buy a home. But record-low interest rates, reasonably priced inventory and plenty of choices quickly gave way to skyrocketing home values, expensive mortgages and few sellers.
Today's upside-down housing market was years in the making, and all signs indicate it's not a passing phase. If you didn't get in when the getting was good, you might have to put off the dream of homeownership indefinitely.
"Low mortgage rates and favorable prices of the past have given way to a landscape where affordability and availability are scarce commodities," said Denis Smykalov, founder of Wolsen Real Estate, a firm in Florida with 25 agents who did $80 million in sales last year. "As a result, individuals who did not seize the opportunity to buy during the era of low rates will face potential challenges and repercussions for years to come."
It Didn't Start With the Pandemic
According to Market Insider, the seeds of today's brutal housing market were planted in 2008. In the wake of the Great Recession, hesitant builders reined in construction just as the enormous millennial generation approached peak house-buying age. Record-low inventory defined the market leading up to 2020, when stimulus payments, minuscule interest rates and the rise of remote work created a buying rush that quickly became a frenzy.
The results were predictable.
In March 2020, $300,000 could buy you a 2,000-square-foot home compared to 1,400 today — a 30% decrease in purchasing power that doesn't even include the budget-shrinking spike in interest rates.
It Took Years To Get Here and Will Take Years To Return To Normal
Timing the housing market is just as difficult as timing the stock market. But the goal is the same — buy at the bottom just before prices soar.
Those who bought in 2020 locked in historically low interest rates and amassed tens or hundreds of thousands of dollars in equity in just three years. Those who missed the boat should brace for years of waiting for a return to favorable conditions thanks to a trio of powerful market conditions.
Available Homes Are Scarce and Expensive
The first problem is a shocking deficit of homes on the market during what should be the busiest time of year.
"The spring season, traditionally a time of heightened real estate activity, has witnessed surprisingly low inventory levels," Smykalov said.
According to Market Insider, there were just 400,000 homes on the market during the peak buying season this spring, which would have been unthinkable in 2019 — in a normal spring, it's more like a million.
"This scarcity of available properties has resulted in intensified competition among buyers, driving up prices and further squeezing affordability," Smykalov said. "Prospective homebuyers now find themselves confronted with limited options, multiple bidding wars, and the need to act swiftly and decisively in a highly competitive market."
Rents Soared With Housing Prices
The second challenge is steep rental inflation.
A report from the Low Income Housing Coalition found that rents rose by a record 24% over two years ending in the summer of 2022, greatly increasing the number of households putting more than 50% of their income toward housing.
"As rents continue to escalate, many individuals find themselves struggling to accumulate savings necessary for a down payment, making the dream of homeownership seem increasingly out of reach," Smykalov said. "The increasing rental burden has created a significant barrier for prospective homebuyers, leaving them with limited financial flexibility to enter the market."
The Housing Haves Are in No Rush To Join the Have-Nots
Those who nailed the pre-boom timing are enjoying reasonable long-term payments thanks to the low mortgage rates they locked in. They have little incentive to sell and join the masses competing for scant and overpriced inventory with loan rates hovering around 7%.
"Adding to the complexity, homeowners who have enjoyed historically low interest rates and manageable mortgage payments are hesitant to sell their properties," Smykalov said. "This reluctance stems from the concern of being unable to secure a similarly favorable mortgage in today's higher rate environment. As a result, the number of available homes for sale remains suppressed, exacerbating the inventory shortage and compounding the challenges faced by prospective buyers."
The impact of these market dynamics cannot be overstated.
"Individuals who did not seize the opportunity to purchase a home during the era of low rates and reasonable prices may face a prolonged struggle to enter the market," Smykalov said. "The combination of rising rents, limited inventory, and intense competition has the potential to create a barrier that may prove difficult to overcome in the coming years."
More From GOBankingRates