Owning vs. Renting in Boston: Which Is Better?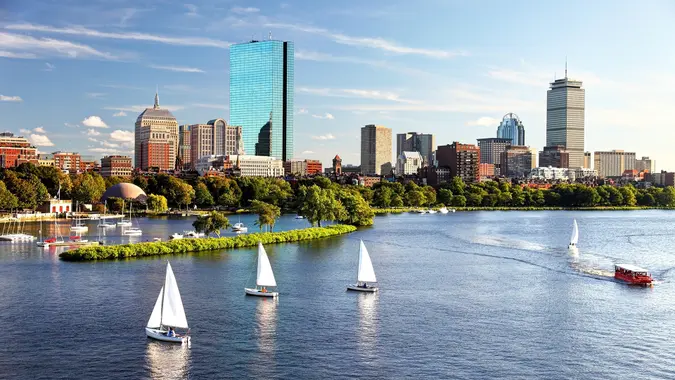 DenisTangneyJr / Getty Images/iStockphoto
The city of Boston is one of New England's finest, steeped in history and home to many major financial companies. However, life in Beantown is expensive, coming in at 70 percent higher than the country as a whole. And one of the primary driving factors for that is housing, with the costs there being more than two and a half times the national average.
So if you're looking to live in Boston, making the right choice about your housing can be an essential piece of the process. And with that comes the age-old question: Should you rent or own? Settling between renting and owning is a difficult choice in any location.
Keep reading to find out how why you should rent or buy a home in Boston.
Renting in Boston Isn't Cheap
The median rent for the city of Boston right now is at $2,613 a month, a cost that's well behind some of the most expensive cities in the country — San Francisco residents are paying a median rent of $4,285 — but still enough to make Boston one of the nation's most competitive markets at almost double the national median.
Over time, that has consistently been trending upwards, with rents up 2.6 percent just since August 2017.
Owning Will Also Cost You
If you're facing more than $30,000 a year in rent and thinking that you might as well just buy your home, keep this in mind: Boston's median home value is over half a million dollars. And that's for the city as a whole. The median home value in the 02108 zip code is in excess of $5 million, found a previous GOBankingRates study.
What's more, although the median home value in Boston is $569,500, that doesn't necessarily mean you'll be able to find anything at that price. The median list price is higher by almost half that, coming in at a whopping $740,000 as of February.
And, in both cases, those are significantly higher from where they were even just several months ago. That median home value has climbed by over $30,000 since March 2017, while the median listing price over that same period has climbed by almost 10 percent from $677,000.
Did You Know? At Least 50% of Americans Can't Afford Homes in These Cities
So, Which Is Better: Renting vs. Buying a Home?
Clearly, there are plenty of factors that go into deciding whether to rent or buy, and the decision has more to do with your specific needs than anything else. However, one key tool has been looking at the price-to-rent ratio, which is the ratio between the cost of a home to a full year's rent.
Generally, a price-to-rent ratio under 15 would indicate that buying is better than renting and anything over 21 makes renting a better proposition. Between 15 and 21 would indicate that it's typically better to rent, but the situation isn't clear-cut.
In Boston, that ratio is at 18.02, which would indicate that it's on the upper end of the range where it's probably better to rent but not entirely clear-cut. So, depending on your family's situation, there might be strong arguments for and against buying or renting.
Of course, another factor to consider is how housing prices are trending. A house can be an investment as well as a home, and if your home keeps adding value it can make buying a much better proposition. Boston was among those cities that best weathered the housing crisis, with home values climbing 53.4 percent in the last decade.
But, as always, a variety of variables — from the mortgage rate you can secure to the sort of rent you can find — will make this decision different for everyone. Consider your goals and financial situation before making a decision on renting or buying a home in Boston.
Keep reading to see 15 cities where homes are still affordable.