Passive Income: Turn Your Garage Into an Apartment With 3 Expert Tips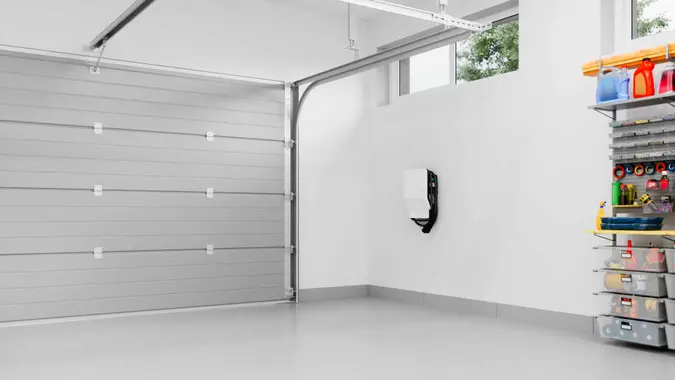 imaginima / Getty Images/iStockphoto
If you're looking to derive passive income from real estate but don't want to spend a ton of money, there's a solution that's affordable, sustainable, fast and gaining a lot of traction. And if you have a garage and some funds to spare, you can get started in no time.
Accessory dwelling units (ADU) — smaller, independent residential dwelling units located on the same lot as a stand-alone single-family home, according to the American Planning Association — are on the rise.
While these tiny home solutions have been around for a while, they mostly targeted back yards.
Now, one California-based company, Symbihom, offers garage conversion ADUs with "prefabricated modular and kit installation to fit any garage," according to the company's website. These cost half the price of backyard ADUs, according to Symbihom.
And the bonus is that the entire process can be done in four steps: buy the ADU, have it constructed then installed by the company, then rent it. 
"My studio accessory dwelling unit is anywhere from 170 square feet to 400 square feet for a one-car garage or a small two-car garage. My one- or two-bedroom ADU can range anywhere from a 420-square-foot unit in a large two-car garage to a 1,200-square-foot unit in a three-car garage," Rebecca Möller, Symbihom founder, told Business Insider.
Möller added that all units have a full bathroom with shower, vanity and toilet, a kitchen with a full-size refrigerator and freezer, an exhaust hood and stovetop, quartz countertops, a convection oven and a sink.
"The shower walls are also quartz, and there is a light on dimmers in each room. The floors are cork and bamboo, and there are solid-core barn doors inside the units," she said. "In the one-bedroom and two-bedroom units, there is also an 18-inch dishwasher in the kitchen and a tower washer-dryer."
Prices range from $175,000 for a studio to $200,000 for a one- or two-bedroom unit, depending on size and amenities plus any utility upgrades required. Exterior upgrades, sales tax and local permit fees may also inflate the sticker price.
Symbihom ADUs can be installed in three weeks and can also be easily uninstalled.
Finally, in terms of how much rental income a Symbihom ADU might generate, the company suggests landlords charge prices in line with those for a traditional apartment in your area.
"Generally speaking, rents in the San Francisco area range from $1800 — $3200 per month for units similar in size to our ADU, keeping in mind that this unit will be completely new, which is in a shortage in most communities," according to the website. "However, you'll need to check rental listings in your specific area to determine an appropriate rate for your unit. Since there is little 'new' housing stock available to rent at affordable rates, keeping your rents affordable to your community's essential workers can help with the stability and quality of your renter."
Take Our Poll: Are You Concerned About the Safety of Your Money in Your Bank Accounts?
More broadly, there are a few other tips or pieces of advice could be extrapolated from Möller's background story of how the ADU works:
Include power and water consumption in any sort of billing you will be promoting to potential renters. Since both water and electricity will be supplied by the larger house as a whole (your property), this will need to be accounted for.
Schedule a consult before doing anything. An initial consult will tell you whether or not the project is even feasible, what size ADU you can fit in your garage if so, and total cost estimates.
Buy furniture after all the pieces are in place. Space may be a concern, so style may have be be secondary at times to size or simple utility.
More From GOBankingRates