Is Your Home Really a Good Investment If You Spend $15K on Property Taxes and Renovations?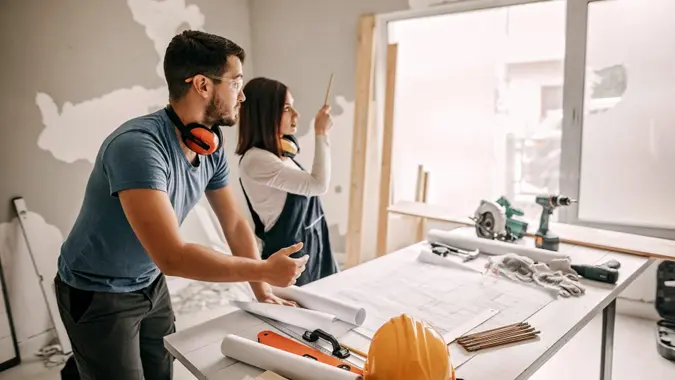 eclipse_images / Getty Images
Buying a home has never been this unaffordable, according to data from the Mortgage Bankers Association. A combination of stubbornly high mortgage rates and still-high home prices, thanks in large part to low inventory, have put buying a home out of reach of many Americans.
What's not even factored into this data, however, are the ongoing costs of property taxes and home maintenance or renovations. To help understand how much these expenses typically are, GOBankingRates conducted a survey of 1,004 Americans regarding various housing topics, including how much homeowners pay for property taxes and home renovations. The data provides important insight to those looking to buy a home regarding whether or not that big investment is actually worth it. Here's what the data reveals, along with a look at how this may impact your homebuying decision.
How Much Homeowners Spend on Additional Costs Beyond the Mortgage
According to the U.S. Census Bureau, the average American household pays $2,690 per year in property taxes, or about $224 per month. Meanwhile, nearly one-third of respondents to the GOBankingRates survey indicated they spent more than $7,000 in home renovations over the past year. This means that it's entirely possible that you'll spend at least $10,000 per year in property taxes and home renovations, adding $800 or more to your monthly mortgage payment.
This doesn't even factor in other necessary expenses, such as homeowners insurance and maintenance costs. Insurance costs can vary wildly depending on the age and condition of your home and where you reside, but the average rate in 2022 according to American Heritage Insurance Group was $1,899 per year, or about $158 per month. Maintenance costs typically run between 1% and 4% of your home value every year, or about $3,462 to $13,851 using the Zillow median U.S. home price of $346,270.
Taken all together, property taxes, renovations, homeowners insurance and maintenance costs may add $2,000 or more to your average housing costs every single month. Even taking out renovation costs, which may not occur every year, you're looking at adding at least $600 to $1,000 per month to your total housing expenses. This is nearly 50% in additional costs on top of the average monthly mortgage payment of $2,112 as of April 2023.
S
How Much Do Home Prices Typically Appreciate?
On average, home prices are generally expected to keep pace with the rate of inflation. But "average" when it comes to home prices can be wildly misleading. 
In Miami, for example, home prices nearly quadrupled from 2012 to 2023, jumping from $148,300 to $553,743 according to Zillow. Meanwhile, prices in Detroit actually fell over that same time period, from $74,000 to $64,414.
This emphasizes once again that "location, location, location" is the guiding mantra in real estate, and that it's a fallacy to think that home prices always appreciate in every location. This is something to take into account when performing a cost-benefit analysis of a potential home purchase.
Do Added Costs Make Housing a Bad Investment?
There's no denying that many Americans overlook all the additional costs involved in buying a home, and fixate instead solely on the cost of the mortgage. Depending on a number of variables, these added expenses can tip the scales as to whether or not a particular home is a good investment.
If you buy a property at a good price in a desirable area, you'll likely make plenty of money over the long run, even after factoring in all of these additional costs. But if you overpay for your home or buy in a low-demand area, you may be better off renting, at least from a strictly financial perspective.
Are There Other Benefits of Owning a Home?
There are many aspects to homeownership that can help counter added expenses like property taxes and home renovations. For starters, homeownership provides many tax breaks, as you can deduct costs like your mortgage interest. If you have extra space, you can rent out a room or two to help defray your housing costs as well. Once you build up equity, you can also either borrow against or withdraw that money to make additional investments.
On the intangible side, homeownership is an important part of the American dream. Even if you don't earn a huge return on your house, owning your own property provides important intangible benefits — from building memories with your family to setting up roots in a desirable community.
As a homeowner, you also have the right to change your dwelling as you see fit, potentially even increasing its value as a result. Even if it may not make sense from a strictly financial perspective, many Americans still prefer the lifestyle and sense of pride that comes from owning their own homes.
More From GOBankingRates
Methodology: GOBankingRates surveyed 1,004 Americans aged 18 and older from across the country between May 26 and June 5, 2023, asking nineteen different questions: (1) When do you expect to buy your next house?; (2) How much do you plan to spend on your next house?; (3)How much did you spend on your current house?; (4) How much (as a percentage of the home cost) did you put as a down payment?; (5) How much is your monthly mortgage payment?; (6) What is the most you are willing to spend on a monthly mortgage payment in your current financial situation?; (7) How long did it take to save for your down payment?; (8) When you bought your house, did you pay more than your originally planned budget?; (9) How much do you spend on yearly maintenance for your house?; (10) When buying your current house, which costs were more expensive than you expected? (Select all that apply); (11) How much do you have saved in an emergency fund for house repairs/maintenance?; (12) What is holding you back from buying a house? (Select all that apply); (13) How much did you spend on home renovations in the last year?; (14) Do you expect a housing market crash to happen in the next two years?; (15)Do you think that homebuying will become easier or harder over the next 10 years?; (16) Are you currently using real estate/buying properties as a way to build wealth?; (17) How much did you spend on your vacation home?; (18) Where would you most want a vacation home?; and (19) Which of these fast-growing big cities would you consider relocating to?. GOBankingRates used PureSpectrum's survey platform to conduct the poll.