I'm a Real Estate Agent: Gen Z Needs To Do These 10 Things To Compete in the Housing Market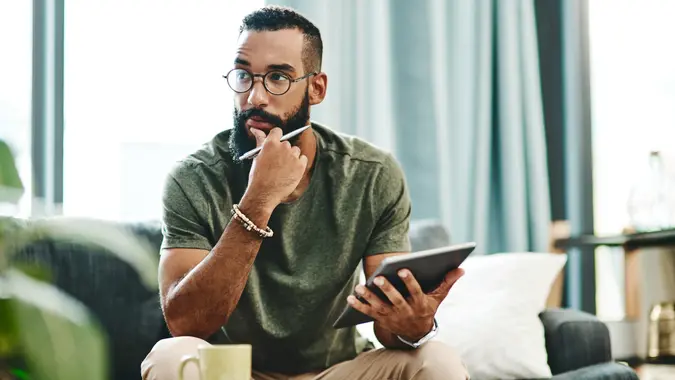 katleho Seisa / Getty Images
You're ready to buy your first home, but competition is intense. Despite high interest rates, it's still a sellers' market in many parts of the country.
A lack of inventory is a major reason for much of the competition, as buyers are forced to vie for very few homes. For example, in March 2022, only 533,310 homes were newly listed, which is a 21.9% year-over-year decline, according to Redfin.
It's easy to feel discouraged, but don't. Instead, use this as motivation to achieve your goal of buying a home.
"Members of Gen Z may be the 'new kids on the block,' but when it comes to home buying they are doing quite well against older demographic groups," said Suzanne Miller, CEO and president of Empire State Properties, based in New York City.
She said Gen Z homebuyers are definitely showing up to compete with millennials.
"Gen Z has greatly benefited from a labor market that bounced back strong since the early days of the pandemic," she said.
Hopefully, this is already working to your advantage, but that's just the beginning of your strategy. Here's 10 tips from real estate agents to help you compete with older generations.
Improve Your Credit Score
If your credit score isn't great, Miller said this could have a negative effect on your home-buying experience.
"Your credit score has a major impact on the interest rate you'll get when you apply for a mortgage," Miller said.
The interest rate you receive will directly impact your budget. Therefore, if your credit score is lower than you'd like, consider temporarily pausing your searching and taking all measures necessary to improve it.
Know Where to Save Your Money
Saving money is great, but putting funds aside in the place that will allow you to earn the most interest will grow your down payment even faster.
"High-yield savings accounts provide a simple way to save money while earning higher-than-average interest rates on your balance," Miller said.
Save a Hefty Down Payment
Speaking of down payments, Alex Caras, a real estate agent Magellan Realty LLC, based in the Chicago area, said you'll need to come up with at least a 20% down payment or pay cash for your new home entirely.
"The current market is hyper competitive with investors snatching up properties for all-cash offers," he said. "In order to compete, Gen Z home buyers will want to at least get a conventional loan or also bring an all-cash offer to the table in order to win the bidding wars they are sure to encounter."
Know Your Finances Inside-Out
Before you start searching for your new home, Carolina Gerdts, Executive Vice President at RelatedISG Realty, based in South Florida, said you'll need to be as financially informed as possible.
"This means knowing their credit score, how much debt they have, how much they can afford to put down and what their budget for monthly mortgage payments looks like," she said. "Once they are ready with all of the required documents, a mortgage lender can also assist them in understanding their financial responsibility."
Research Your Local Market
To be a competitive buyer, Gerdts said you need to know they market you're interested in, paying special attention to current trends and changes.
"By doing so, they can identify potential homes, make competitive offers, and be prepared for any obstacles," she said. "Knowing the market is also essential for identifying potential growth and making wise long-term investment decisions."
Be Flexible
If you're willing to compromise on the home you're interested in and have patience regarding the timing of your purchase, this can work to your advantage Gerdts said.
"This may mean being willing to compromise on certain aspects of their dream home or being open to different locations within their budget," she said. "I always advise clients that if the property has all their must-haves, such as location and good foundation, but needs a slight cosmetic improvement, they should still move forward."
You can't change the home's location, but she said painting it a new color is doable.
Offer Better Financial Illustration
"Provide the seller a full-illustration of your financial ability to get your mortgage approved," said Chuck Vander Stelt, a licensed real estate broker based in Valparaiso, Indiana who runs the real estate website Quadwalls.com. "With your offer submit supplemental documents which show your credit score, tenure at your employer and an account statement showing you already have the funds to close."
He said this will make you stand out from other buyers who only submit a pre-approval letter.
Don't Let the Sellers Know Your Age
"Some home sellers try to prod with what in the end are discriminatory questions including about a buyer's age," said Vander Stelt. "Some home sellers perceive a younger buyer [as] a less reliable buyer that can't complete the purchase."
Therefore, if possible, he recommended avoiding letting the seller learn your age.
"Working with a real estate agent helps a lot because you do not typically meet the seller until closing," he said. "But, turning your social media profiles to private while making offers on homes can be a good idea."
Buy With a Partner
If you don't have the funds to get the home you truly want or be a competitive buyer, Fant Camak, a real estate agent with Coldwell Banker-Caine, based in Spartanburg, South Carolina, suggested purchasing a property with friends or family.
"Co-living communities or housing arrangements like shared housing might also be more affordable options," he said. "So [this] makes things a lot easier to compete in the market."
Consider a Lease-to-Buy Option
If you're willing to be flexible with the terms of your purchase, Camak suggested seeking out a home with lease-to-buy option.
"It allows for building equity, provides flexibility to test the property and time to improve finances," he said.
Of course, he said you'll need to exercise caution to understand in this type of arrangement and consult real estate and financial professionals to make sure the deal is legit and truly works for you.
Buying a home can be a frustrating and time-consuming process — especially in this market — but don't give up. When you get the keys to your new place, all the stress will be well worth it.
More From GOBankingRates