I'm a Real Estate Agent: Here Are 8 Home Renovations Buyers Want the Most in 2023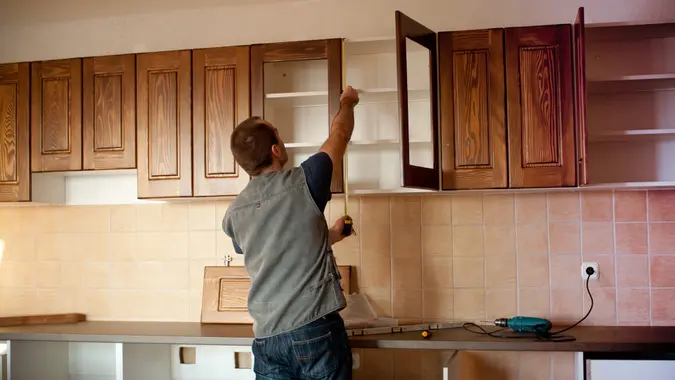 viki2win / Shutterstock.com
Amid a cooling real estate market, sellers may need to go the extra mile to get their homes sold. This might mean taking on renovation projects before putting their home up for sale.
To find out the most in-demand home renovation projects right now, GOBankingRates spoke to real estate agents, who know firsthand what buyers are looking for. These are the renovations buyers want the most in 2023.
Kitchen Upgrades
Jaylon Brigham, an associate real estate broker with Compass in New York City, said that kitchen renovations remain a top priority for buyers.
"With open layouts in today's homes, a renovated kitchen has more value than a renovated bath as it's part of the public space that's visible at all times," she said. "Even if a seller may not recover the entire cost of the renovation put into the home, they should consider at least upgrading the kitchen to help with the sale. That includes replacing cabinet doors with modern ones, and replacing countertops and appliances. 
"Renovating or upgrading will help not only sell at a better price than a competing home with an older kitchen, but also time on market will significantly decrease," she continued. "We all know time is money, and in this case, a quick closing will save the seller HOA fees, real estate taxes and mortgage payments."
Updated Bathrooms
While a renovated kitchen may be the priority, prospective buyers are seeking newly renovated bathrooms as well.
"Bathrooms are an area where buyers are looking for upgraded amenities," said Denis Smykalov, a Miami-based real estate agent with Wolsen Real Estate. "This can include features such as new fixtures, updated tile or flooring and modern lighting. Upgrading bathrooms can also increase the value of a home and improve its marketability."
Home Office Space
"Many buyers are looking for dedicated home office spaces, especially in light of increased remote work and schooling," Smykalov said.
Fortunately, this can be effectively created via staging in many cases.
"If a home doesn't already have a designated office area, sellers may want to consider converting a spare room or adding a desk to an existing space," Smykalov said.
Energy-Efficient Upgrades
Colleen Cassel, a New York City-based real estate agent with Compass, said that many buyers are looking for energy-efficient homes at a time when utility prices are soaring.
"This is a costly upgrade, so having it done prior to buying a home is very important," she said. "A home that is energy efficient can save the new homeowner money each month on their electric and utility bills. An energy-efficient renovation can include new windows, better insulation, smart thermostats and even solar panel installations."
New Front Door
Cassell said that updating the front door can have major appeal to prospective buyers.
"Your front door is the centerpiece of your home and offers amazing curb appeal," she said. "Plus, it offers greater security with upgraded technology and materials." 
Sellers can recoup a high portion of the cost for this upgrade: "The average return on investment of a new front door is 68%," Cassell said.
Outdoor Space Improvements
Buyers are seeking inviting outdoor spaces in the current market, Cassell said.
"Due to the pandemic, people realized the importance of outdoor space," she said. "An aesthetically pleasing patio, balcony or terrace can offer additional space where one can work or relax. This [renovation] can include [installing] new screen doors and flooring — [renovations] that are relatively inexpensive to do, but offer a more pleasing space. New homeowners prefer to buy a home that is already renovated and doesn't require multiple upgrades."
Light Wood Floors
If you plan to replace floors before listing, Parisa Afkhami, an agent with Coldwell Banker Warburg, recommends opting for white oak.
"The newly renovated apartments that I see have white oak flooring," she said. "Aside from the sustainability factor, the aesthetic is current with the furnishing trend of neutral colors. It also can create an airy and expansive feeling in apartments, particularly for those that do not have much natural light. Ironically, lighter floors are much easier to clean than dark-stained brown ones."
Smart Home Technology
"Buyers are increasingly interested in homes equipped with smart home technology," said Greg Kime, a realtor of 30 years based in Michigan. "Installations such as security systems, lighting controls and voice-activated assistants can enhance a property's appeal."
More From GOBankingRates