I'm a Real Estate Agent: 5 Reasons I'm Optimistic About the Market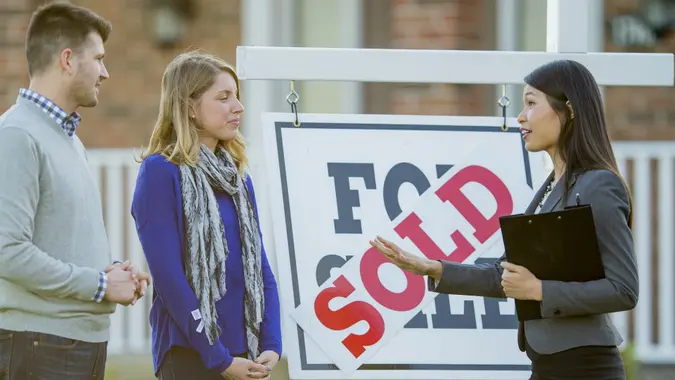 FatCamera / iStock.com
Megan Micco, a third-generation native of Berkeley and CEO of Megan Micco, Inc., has witnessed the rise of the San Francisco Bay Area as the country's hottest real estate market, saw the housing crisis that frenzy created and worked through the game-changing disruption that the post-pandemic tech exodus caused in the region.
Throughout it all, she's held firm in her belief that quality agents find a way to thrive and serve their clients in any market. She remains optimistic today for the Bay Area and the country as a whole despite the expensive loans, inflated prices, hesitant sellers, cautious buyers and painfully insufficient supply that have defined 2023.
"While tight inventory and high interest rates are certainly challenges, there are several reasons why I'm still bullish on the long-term real estate market," Micco said. "While each of these factors alone doesn't warrant a bullish outlook, in combination, they paint a picture of a highly favorable environment for long-term real estate market activity and asset appreciation."
The Underlying Economic Fundamentals Are Strong
Currently, the main frustration for agents is that despite the most expensive mortgages in 23 years, they'd have no problem lining up buyers if only more sellers would part with their properties.
"While interest rates are relatively high, we still see healthy demand for housing," said Micco, who is a member of the Forbes Business Council and a top-producing agent in the Bay Area. She also has a flawless five-star rating on Zillow and, according to Compass, she's among the top 0.2% of East Bay realtors with $200 million in lifetime sales volume.
But despite suffering from the same thin inventory as everyone else, she sees resilient demand as a positive macro indicator that bodes well for the industry.
"We still have a historically robust job market that has been characterized by strong consumer confidence," Micco said. "We are also seeing a period of real wage growth, even in light of inflation, thus increasing consumer purchasing power. If we see wages continue to grow at a rate that outpaces the increase in home prices and interest rates, this will sustain or even boost demand."
Demographic Trends Are Positive
Micco also thinks the generation lumbering toward middle age has its thumb on the scale in a way that favors a robust housing market.
"As the largest generation in the U.S., millennials are entering their prime home-buying years," she said. "We have an estimated shortfall of up to four million housing units over the next decade, and demand from millennials will offset some of the negative economic pressures to help keep the U.S. real estate market healthy."
Ongoing geographical and lifestyle shifts might also play toward the housing market's strengths.
"The pandemic has accelerated the trend of people moving from cities to suburbs, which is creating new markets for home construction and purchases," Micco said.
It's a Logical Time for Real Estate as an Investment
Even if prohibitive interest rates eventually shrink demand among homebuyers who are financing, cash-buyer investors could offset that reduction as they seek relief from a deflating dollar and volatility in the stock and bond markets.
"Another factor to consider is investment trends," Micco said. "In uncertain economic times, real estate is seen as an attractive investment compared to more volatile assets like stocks. Real estate is also often used as a hedge against inflation. In addition, when other investment opportunities are not seeing strong returns due to high interest rates and inflationary pressures, real estate can attract more capital."
Technological Leaps Forward Are Improving the Industry
The realities of 2020 mainstreamed innovations like fully virtual showings and streamlined the online mortgage loan process — and new technology continues to advance the industry through its rapid post-pandemic evolution.
"Tech such as blockchain and tokenization will continue to make real estate transactions more efficient and accessible, thus increasing market activity and driving ongoing growth," Micco said. "Virtual reality is another technological trend that will continue to drive demand and growth in the real estate industry. While we already have 3D virtual tours such as Matterport, the introduction of next-generation VR and AR (augmented reality) technologies such as the Apple Vision Pro will supercharge customer engagement with the home buying process and help drive demand growth."
The Two Big Negatives Come With Some Positives
Interest rates are the primary hindrance to buyers. But while they're higher than they've been in the 21st century, they're not even approaching the highest in recent history. Today's home loans are prohibitively expensive for some, but that reality could assuage the market's other major challenge — supply.
"One final point may seem counterintuitive," Micco said. "High interest rates and tight inventory can scare off some buyers, reducing competition, thus creating opportunities for those willing to take the plunge."
More From GOBankingRates