Real Estate Struggles: These 5 Factors Are Bringing 51% of Millennials to Literal Tears When Buying a Home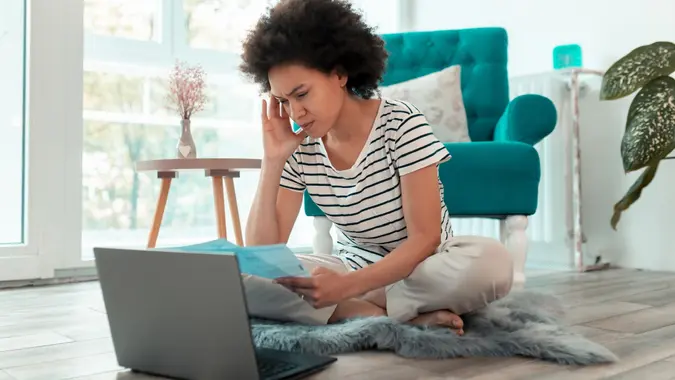 vladans / iStock.com
Real Estate Witch's 2023 Millennial Home Buyer Report did not look good for potential homebuyers in America's largest generation. Millennials have faced an unprecedented number of obstacles when it comes to buying property, and according to those surveyed, most do not see relief coming anytime soon.
Unlike the generations before them, many millennials entered their 20s already knee-deep in debt, oftentimes due to student loans. They've also have to contend with incomes that have not kept pace with housing prices in many areas of the country. Add to this record inflation and little room to save, and you have the perfect recipe for disaster. 
Here are five factors that are bringing over half of millennials to tears when shopping for real estate.
High Interest Rates
Buying a house is substantially more expensive than it was just a few years ago, and millennials are feeling the pinch. According to the recent report, "Nearly half of millennials (47%) say high interest rates are a significant barrier to homeownership." Over 80% of those surveyed said they wish they had bought a home prior to the rate increases. 
Unfortunately, mortgage rates may not be dropping much anytime soon. The record-low rates from a few years ago were historically more of an exception, rather than the norm. With 40% of millennials who were preapproved for a mortgage saying that their "rate is higher than expected," it is unsurprising that many feel homeownership may be out of reach. 
For millennials that did purchase homes recently, over 20% said they regretted their interest rate, and 63% plan to refinance in the future. 
Inflation
Almost all (92%) of the millennials surveyed said that inflation impacted their homebuying plans. The report indicated that inflation caused them to consider buying a fixer-upper or a smaller home. Twenty-eight percent felt that inflation caused them to delay their home-purchasing plans and 36% reported that they now plan to spend more than they had originally expected. 
Lack of Savings
Another obstacle to homeownership for millennials is an overall lack of savings. Over half (54%) of those surveyed said that they have under $10,000 in savings. Even more dire, 20% reported having no savings at all. 
It makes sense, then, that 41% of millennials reported that saving for a down payment was one of their biggest barriers to homeownership. The number of millennials who anticipate putting less than 20% down to purchase a home has almost doubled in the past year. Over 60% of those surveyed said they did not plan to put the recommended amount down on a home.
As a result, many homeowners (over one-third) are working second jobs to help pay for a down payment on a home. They also report "cutting back on nonessential spending" and even going into debt in order to afford a home. 
Housing Costs
Home prices in many regions are just unaffordable and remain that way for the average American. Just under half (46%) of millennials say one of the largest obstacles to purchasing a property is that homes are too expensive. 
While the market may have cooled slightly this year, millennials still face a number of challenges. High mortgage rates are keeping existing homeowners out of the market. Less inventory means that housing prices may not come down enough for hopeful homeowners to afford them. 
The high cost of homes has more millennials than ever saying they are willing to purchase a fixer-upper or to take risks on a home that is priced right. Many reported being willing to purchase a home with significant concerns such as mold, foundation issues and asbestos.
Debt and Other Financial Concerns
Just as a lack of savings may be causing millennials to tear up when thinking about the American dream, so does the crushing amount of debt that many of them carry. Nearly one-quarter of those surveyed said that "too much credit card debt" was one of the biggest barriers to homeownership. Nineteen percent reported having too much student debt, and 17% felt they had too much medical debt.
Although, it wasn't just debt that had millennials concerned. Twenty-four percent were worried about the job market, and 37% had apprehension about whether their financial situation would even allow them to qualify for a mortgage.
More From GOBankingRates