Real Estate: Hope for Buyers Improves as House Inventory Finally Increases, According to New Zillow Report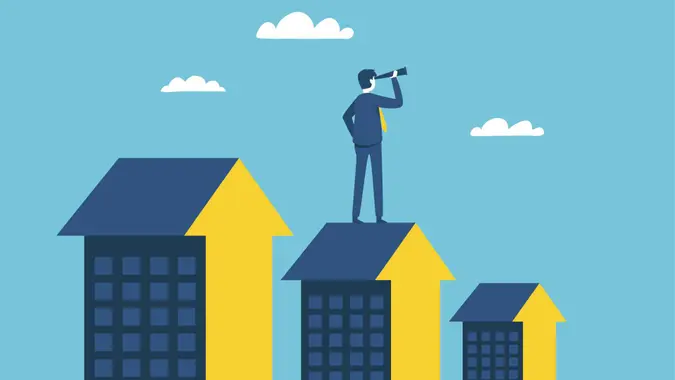 Jcomp / Getty Images/iStockphoto
In an optimistic sign for homebuyers who have been kept on the sidelines for many months, the drought of new listings abated slightly in August, despite high mortgage rates, according to a new Zillow report.
Indeed, sellers listed nearly 350,000 homes for sale across the U.S. in August, a 4% increase, giving buyers more new choices, yet, competition for homes "remains stiff," according to Zillow.
While inventory is still much lower than pre-pandemic norms-20% down-the uptick of new listings is a sigh of relief for many homebuyers.
"Those still shopping for homes late in summer were offered a bit of relief, and not all from expected sources," Jeff Tucker, Zillow senior economist, said in a press release. "Competition for houses tends to ease up at this time of year, giving buyers more time to decide and a better chance to negotiate on price," "What we didn't expect — especially considering 7%+ mortgage rates — was more new listings. The inventory crunch is still far from resolved, but this was a small step in the right direction."
The slight uptick helped to halve an annual deficit in new listings, from -26% year over year in July to -13% in August, according to Zillow.
Seasonality is important
"When it comes to the increase in inventory seen recently, it's important to take things into context," said Sebastian Jania, owner of Ontario Property Buyers. "We just ended the summer season which typically has a high amount of inventory relative to the other months."
According to Jania, to make any large conclusions it's important to wait for things out through the fall months and ensure that inventory in fact does go up. Meanwhile, he added, buyers can take advantage of this increased inventory as sellers are more motivated now than ever.
Going into the fall season, Zillow said that buyers can generally expect more modest price growth and less competition compared to the peak seasons of spring and early summer.
Dottie Herman, vice chair and former CEO of Douglas Elliman Real Estate, also said that seasonality was crucial, as there is always going to be a slight increase in listings in the summer, even in a slow year, until things slow down again during the Christmas and holiday season.
"I believe by and large that homes will appreciate measurably over time and in the long run, that is the safest aspect of making the investment, particularly if the owner is planning to live there for several years or more," said Herman. "Again, there's a little more out there for sale but competition remains very tight and the majority of buyers are still waiting to see if interest rates go down and if mortgage rates are lowered."
Herman also noted that she expects to see the market get busier from all the remote workers who moved further from cities and now want to move back because of in-person mandates that companies are issuing. 
"So let's say someone bought a house in 2021 at a mortgage of 3-4%, that was three hours from their office, now they're trying to buy something one hour away and they're going to pay 7% for less house," she added.
Meanwhile, U.S. home value climbed 0.2% from July to August, "a marked cooldown after red-hot monthly appreciation in the spring and early summer," according to Zillow.  On the other hand, the nation's typical home value has reached another all-time high at $351,423 — 1.3% higher than last August.
In terms of regions, home values rose month over month in 32 of the 50 largest metro areas in August, including in Hartford, Conn., Buffalo, N.Y., San Diego, Calif., Cleveland, Ohio and Providence, R.I.
Conversely, values fell from July to August in 12 major metro areas, most notably in New Orleans, La. Austin, San Antonio and Dallas, Texas, as well as in Denver, Colo.
Still a lot of volatility
According to Jason Sorens, PhD, economist with American Institute for Economic Research, month to month listings changes are volatile, as some of the markets that have done best over the past year in bringing inventory to market, like cities in Texas, Oklahoma, and Louisiana, saw big monthly declines in listings.
"That said, sellers may find it worthwhile to sell now given that if inflation falls, higher real mortgage interest rates will hit demand," he said. "We're probably seeing the top of the market for the next few months in several metro areas, and that may be encouraging new listings from homeowners."
Finally, the Zillow report noted that sales activity decreased as there were 19% fewer newly pending listings in August than last year, compared to a roughly 15% year-over-year dip in July.
More From GOBankingRates