I'm a Real Estate Investor: Here Are the Properties You Should Never Buy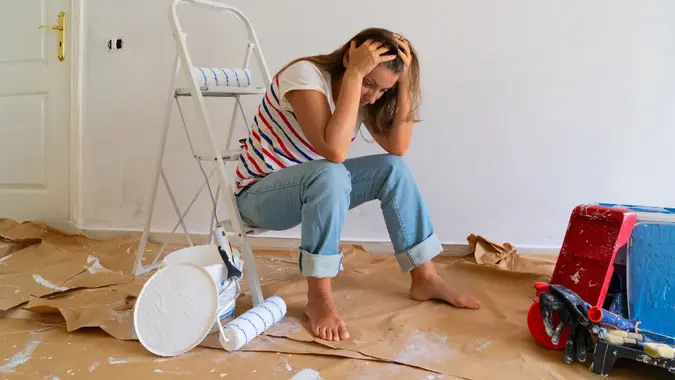 neirfy / iStock.com
You may want to purchase your dream home as soon as possible, but the last thing anyone wants to do is invest in a property that requires endless renovations or presents a health risk to you and your family.
GOBankingRates spoke to Mike Gregor, realtor at Cohen Agency SiM, about properties to steer clear of buying and the reasons why buyers should beware. 
Even if they are available for attractive deals, never risk buying these seven properties. 
Foreclosed Properties With Unknown Histories
Buyers may be tempted to purchase a foreclosed property because it can sometimes come with a lower price. 
However, Gregor said a foreclosed property with an unknown history presents buyers with several potential complications. Some of these may include hidden liens, unpaid taxes or unresolved legal issues, all of which are expensive to address after the purchase.
Take Our Poll: Are You Planning To Buy or Sell a House This Year?
Homes With Structural Issues
Approach any properties with structural problems, like cracks in the foundation, sagging floors or severe water damage, with caution. 
Gregor said repairs can be expensive and time-consuming, often exceeding the initial savings on the property's purchase price. 
Properties With Unusual Layouts
Think odd room shapes, inefficient floor plans, little natural light or other strange and unconventional forms. Not only can these homes be a challenge to live in on a day-to-day basis, but they can be equally as challenging to sell later on.
"The resale value may be compromised, and the unique design features may limit the property's appeal to potential buyers in the future," Gregor said. 
Properties in High-Risk Natural Disaster Zones
Buyers may reconsider making offers on homes for sale in areas that are flood or hurricane prone or are in earthquake zones. 
Gregor said it may be a requirement to purchase costly insurance coverage. There is also a significant amount of risk and damage that can outweigh the potential benefits of purchasing the property.
Properties in Declining Areas
Gregor does not recommend buying a property in an area experiencing economic decline or stagnation. 
"These locations may suffer from declining property values, limited amenities and reduced demand, making it difficult to sell or generate rental income."
Properties With Environmental Hazards
Is the home or property you want to buy close to a landfill, industrial plant or another contaminated area? If yes, these are considered hazardous sites. Gregor does not recommend buying a home or living near these sites as they can pose health risks and lead to potential legal liabilities. 
Properties With Excessive Maintenance
Does the home you're looking at need a lot of renovations or repairs? Is some of this ongoing maintenance you'll need to take care of on a regular basis? 
If yes, buyers may want to skip these properties as they can quickly drain your financial resources. The only buyer who should consider these properties, Gregor said, is one who has the expertise, resources and willingness to invest in significant upgrades.
More From GOBankingRates