6 Real Estate Tips in a Buyer's Market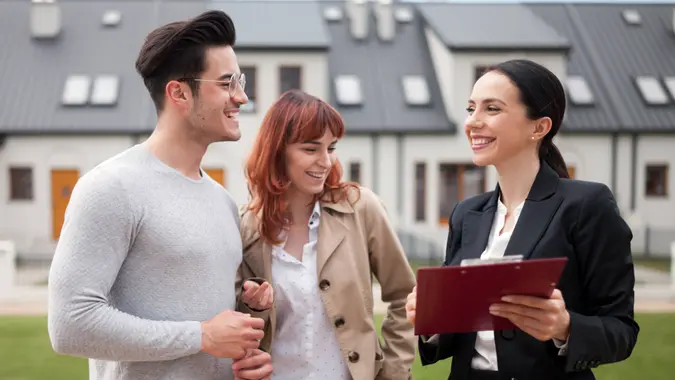 ©Shutterstock.com
Whether you're purchasing your first home or want to get the best possible deal on a new home, it's important to know if you're in a buyer's market. 
What does it mean when you find yourself in a buyer's market? How do you know the difference between a buyer's market and a seller's market, and how can you find the best deal on a property? Follow these real estate tips in a buyer's market.
What Is a Buyer's Market?
A buyer's market is created when the supply of homes on the market exceeds the demand from buyers, said Alex Platt, real estate agent at The Platt Group, Compass.
Michaela Hachtel, founder and realtor at Record Realty, said a buyer's market is categorized by the number of months of inventory. Months of inventory refers to the number of houses on the market versus the number of houses under contract or sold. An even market, Hachtel said, is six months of inventory. Anything greater than six months is a buyer's market.
A buyer's market means there are many homes for sale but a shortage of interested buyers. Platt said real estate prices typically decrease in this market and homes stay on the market for a longer period of time.
The good news, however, is buyers in this market have more power to negotiate with sellers since there are plenty of homes on the market. Sellers competing with each other may drop their asking prices and be more willing to negotiate offers.
Take Our Poll: Would You Put All of Your Savings in an Apple Savings Account?
Buyer's Market and Seller's Market: What's the Difference?
Ashley J. Farrell, real estate agent with Corcoran, said buyer and seller markets are rooted in the fundamental laws of economics. There is low demand and high supply of homes in a buyer's market which leads to lower prices. 
In a seller's market there is high demand, far outweighing the supply of homes and driving prices upward.
Tips for Finding the Best Property and Deal in a Buyer's Market
Work With a Real Estate Professional 
Realtor David Zeff recommends buyers work with a real estate professional through the process of buying a home. By working with a qualified real estate agent, buyers will be able to implement a proper strategy to find a home that meets their needs and negotiate the best possible price or terms on the home.
Look for Homes That Have Been on the Market for a While
Those interested in buying a home may consider looking at the number of days a home has been on the market. Platt said this can give buyers more power to negotiate for a lower price.
The longer the house has been on the market, the more likely buyers may be able to purchase the home within their budget. "The sellers may be exhausted from the process or need the money from the sale and are willing to come down on the price," said Hachtel.
Find Finished Inventory From Builders
In a buyer's market, some buyers may find success in finding finished inventory from builders that are ready to move in.
"Builders want to get spec homes off the books, so they may be willing to negotiate or throw in incentives," said Hachtel. These incentives may include buying down a mortgage rate, paying for a portion of closing costs or offering extra appliances.
Look Outside Your Area
Buyers who are willing to look for homes outside their preferred area may find great houses or better prices in areas they hadn't considered before.
Make In-Person Visits 
Hachtel recommends potential buyers visit the homes in person and compare price versus condition.
"Keep watching the market until you find a home that has the best condition at the best price. You won't know a good deal until you have seen several homes in person," said Hachtel.
Reach a Fair and Honest Deal
In a buyer's market, not every offer from a buyer is accepted by a seller. While a buyer should be able to find a home fairly easily, sellers may find it more difficult to find another suitable buyer.
Because of this, Farrell said sellers may be more apt to negotiate and give in to buyer demands. Buyers need to be cautious in regard to the types of demands they make moving forward.
"The goal is a fair and honest deal," said Farrell. "Don't negotiate for the sake of pride or 'winning.' Not only do you risk frustrating the seller, but you could jeopardize the deal without reason."
More From GOBankingRates