4 Real Estate Tips To Save the Most on Housing in Case of a Layoff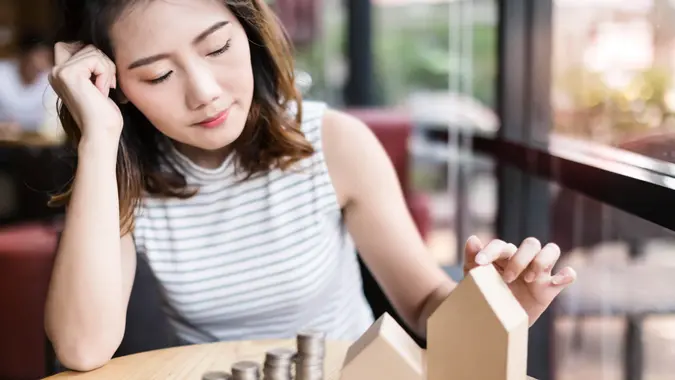 Punyhong / Shutterstock.com
Housing is typically one of the biggest line items in any household budget. Although the economy is still growing, there are some warning signs that a slowdown may lie ahead. In addition to announced layoffs from big companies like Microsoft and Goldman Sachs, interest rates have surged to shocking heights as of early 2023. In December 2021, for example, the average interest rate for new car loans was just 3.85%. As of November 2022, that had shot up to over 6%, and it continues to rise. Many economists fear that the combination of high inflation and rising interest rates will cripple the economy, tipping it into recession sometime in 2023.
Do You Have a Money Question? Ask an Expert
Find Out: 3 Things You Must Do When Your Savings Reach $50,000
All of these factors are contributing to rising fear among Americans regarding job security. According to a recent survey by GOBankingRates, nearly one-third of Americans are worried about losing their jobs this year, and roughly the same amount are worried about being able to cover housing costs. If you count yourself among this category, here are a few tips about how to save the most on housing in case of a layoff.
Wait To Buy
If you've been in the market for a house but are currently renting, consider postponing your purchase — especially if you're worried about being laid off. The U.S. housing market is currently far less affordable than in recent years. Mortgage rates, while not quite at their recent peak, are still hovering around the 6% to 7% level, more than double the sub-3% rate that was common in 2021 and early 2022. Meanwhile, housing prices in many markets have actually continued to rise, and the falls have not been significant even in the weaker markets. Since buying a house involves a lot of added expenses beyond the simple headline list price — from transaction fees to property taxes to upkeep and maintenance — if you're at all worried about your economic footing, there's little downside to waiting on that big purchase.
Take Our Poll: Are You Planning To Buy or Sell a House This Year?
Negotiate a Lower Rental Rate
This could be a tough ask in an environment in which prices are rising — after all, high inflation means that everything your landlord provides for you is also costing them more as well. However, if you've been a good, long-term tenant who has always paid on time and never asked for major improvements, you may be able to negotiate a lower rental rate. Although many landlords are used to increasing rents on a regular basis — and rarely, if ever, lower it — they also value the consistency of a reliable tenant. If you were to move out, for example, your landlord would not only have to take the time and effort to find someone to replace you, but they would also likely need to put some extra money into your unit to make it attractive to a new tenant. Rather than going through all that effort, your landlord might be amenable to knocking $50 to $100 off your rent instead. 
Find a Partner
If you're facing a drop in your income, you might need to save on housing from the expense side of the issue. By partnering with someone you trust, you may be able to cut your housing costs in half. If you're renting an apartment or a home, bringing in a roommate (or two) could significantly reduce your costs, from your rent payment itself to your electric and gas bills. If you're set on buying a new home, investing with a partner could save you money on everything from your mortgage to your property taxes, maintenance costs and even your HOA fees, if applicable. If times turn around and you end up back in a good job, you can once again rent out your own place or perhaps buy out the co-investor in your home. 
Rent Out a Portion of Your Home 
In the current market environment, selling your home and downsizing, which is typically recommended if you're facing tough financial times, may actually end up costing you more. With home prices remaining high and mortgages more than doubling over the past few years, selling and moving into a new residence, even a smaller one, can actually prove more expensive. However, if you do own a home, you still have one card you can play — renting it out. If you have some extra bedrooms, you can rent some or all of them out. You may even be able to partition your home so that you and your renters have your own separate living spaces. Depending on the size of your mortgage, it's possible that renting out a portion of it can cover some or even all of your monthly payments. 
More From GOBankingRates
Methodology: GOBankingRates surveyed 1,002 Americans aged 18 and older from across the country on between January 30 and February 1, 2023, asking six different questions: (1) How much savings do you have?; (2) If you lost your job, what would be your immediate concern?; (3) How much do you take financial advice from influencers/personalities on social media, TV/Radio/podcast personalities or other financial experts in the media?; (4) Have you been laid off from your job in the last 12 months?; (5) How worried are you about layoffs/being laid off from your current position?; and (6) How much has your energy/utilities bill changed over the last year?. GOBankingRates used PureSpectrum's survey platform to conduct the poll.