6 Reasons Texas Might Be Facing a Housing Crisis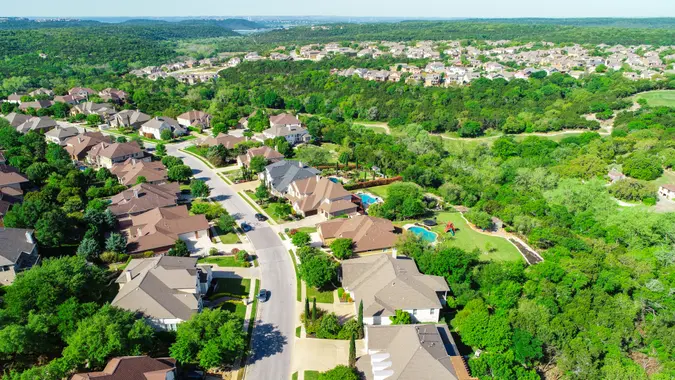 RoschetzkyIstockPhoto / Getty Images/iStockphoto
Texas, the Lone Star State, has become a destination for relocation from pricier, often more coastal states such as California, due to its comparative affordability. In fact, according to Redfin, Texas saw a population expansion of more than 4 million people in the decade between 2010 and 2020, with nearly half of those coming from other states or from abroad.
Also See: 8 Places in California Where Home Prices Have Plummeted
Check Out: 3 Things You Must Do When Your Savings Reach $50,000
But, even destination states can face housing crises. In fact, this large influx of people may come with a major downside that could lead to a housing crisis in the state.
According to Dustin Singer, a real estate professional and owner of Dustin Buys Houses, "There is a risk of the market becoming oversaturated, which could lead to a decline in demand and housing prices."
Check out six other reasons that might point to a coming housing crisis in Texas.
Also look at the possibility of a housing problem in Florida.
Low Wages
As Texas' housing prices rise, particularly in the most populous cities — Austin, Dallas and Houston — wages are not keeping up, said Alice Hall, co-founder and creative director at Rowen Homes.
The state minimum wage is $7.25 per hour, but Hall said, "A person in Texas would require a wage of $21.16 per hour, as stated in a report compiled by the National Low Income Housing Coalition, to be able to buy a simple apartment with two bedrooms."
As Hall pointed out, there's a major disconnect between what people would need to earn to own a home.
"Because of this," she said, "a large number of Texans are having trouble finding housing that is within their price range, which has resulted in an increase in homelessness and instability in housing situations."
In general, economic inequality in Texas has been steadily increasing over the past few years, and this has led to more people struggling to afford basic necessities like housing, said Shaun Martin, owner and CEO of We Buy Houses In Denver. "Many working families are finding it difficult to make ends meet and pay for housing."
In fact, Martin said, Texas has one of the lowest home ownership rates in the nation, with only around 53% of residents owning homes. "This low home ownership rate means that more people are renting than ever before and this competition is pushing rental prices up." 
Increased rental prices can put an economic pinch on lower-income Texans, which could herald greater economic concerns and a potential housing crisis.
High Property Taxes
Perhaps one of the reasons there are fewer homeowners in Texas, Martin said, is that "property taxes in Texas are some of the highest in the nation, which puts even more pressure on homeowners and renters alike. The high cost of living in Texas, coupled with high property taxes, makes it difficult for people to access and afford housing without financial help from the government or other sources."
Low Home Inventory
All of those folks migrating to Texas are also creating a shortage in housing supply, leading to an increase in demand and higher home prices, according to Alex Capozzolo, a licensed Realtor in California and owner of SD House Guys. "This could lead to an eventual housing crisis if the market isn't able to keep up with the rising costs."
Rising Interest Rates
Texas is also affected by the Federal Reserve's recent increases in interest rates, which has been a bid to chill inflation's price-gouging effects. That also increases the amount of mortgage payments for some homeowners — and the total they'll pay over time.
"This could put a strain on people's finances," Capozzolo said, "and make it difficult for them to afford their mortgage payments, leading to a potential foreclosure crisis in the state."
Natural Disasters
Additionally, Texas is at the mercy of Mother Nature, especially susceptible to natural disasters — from hurricanes and floods to freezing conditions like the winter storm of 2021 that nearly broke the state's utilities infrastructure and put many people in jeopardy without heat and water.
Extreme weather and other disasters can damage or destroy homes, potentially leading to a housing crisis if there is a shortage of available housing, said Walter Jackson, a real estate agent with Dependable Homebuyers in Baltimore. As climate change drives increasingly more severe weather patterns, anything could happen.
Decline in Oil and Gas Industry
The price of oil has been on a roller coaster globally over the past few years, with prices skyrocketing and then coming back down, only to rise again.
"The oil and gas industry is a significant contributor to the Texas economy," Capozzolo said. "If the industry were to experience a decline, it could lead to job losses and a decrease in demand for housing, which could contribute to a housing crisis."
Though housing markets often undergo quite a bit of volatility before a true housing crisis occurs, savvy homebuyers should keep an eye on the Texas housing market before deciding to buy homes there.
More From GOBankingRates