Renters in These 12 US Cities Are Just Shy of Earning Enough for a Starter Home — How Much More Money They Need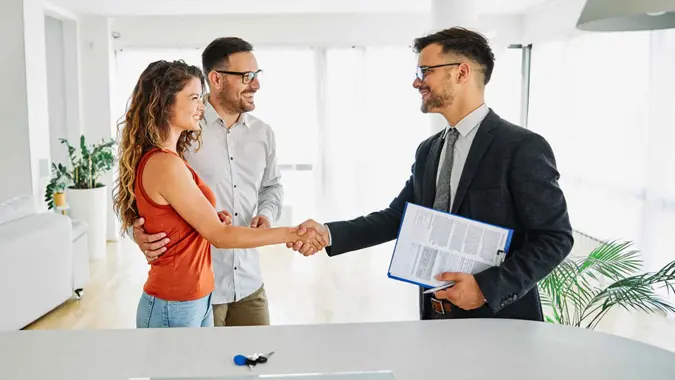 Paperkites / Getty Images/iStockphoto
Transitioning from owning a home to renting one in the United States has been a major challenge in recent years due to the combination of high home prices and tight inventory. The situation has gotten even worse over the last year because of rising mortgage rates.
The national median list price for U.S. homes climbed to $441,000 in May 2023 from $430,000 in April, according to data from Realtor.com. That was down from a record high of $449,000 in June of last year, and trends show year-over-year price gains could continue easing in the months ahead.
However, higher mortgage rates and home prices compared to the previous year hiked the monthly cost of financing 80% of the typical home by about $28,000, a gain of 15.5%.
Those high costs are preventing many renters from buying a new home, according to a new analysis from Point2. It found that in 41 of the 100 largest secondary cities in the U.S., renters earn half or less than half of the income they would need to buy a median-priced starter home.
Point2 estimates that here are no secondary cities in which renters could "comfortably make a move toward homeownership." In 10 cities, the necessary income is about triple what they earn.
With main markets "no longer an option" for first-time buyers, Point2 looked at the country's 100 largest secondary cities — those not far from major metro areas — to see if they're much better. These cities "used to be fruitful house-hunting grounds" for first-time buyers exploring less-expensive options, according to Point2. But in the current market, high prices and lending costs "can put a dent in" homeownership plans regardless of a city's size or type.
That's especially so in California. Renters in nine California cities would need to earn about $100,000 more in order to afford a starter home, Point2 found. Secondary, "non-core" cities in the Los Angeles and San Diego metros are the toughest for first-time homebuyers.
But the problem isn't confined to the Golden State. In a pair of markets near New York City — Yonkers, New York, and Paterson, New Jersey — renters on average lacked 57%-58% of the amount needed to comfortably cover a monthly mortgage on an entry-level home.
If you're currently a renter looking to buy a home, there are some secondary cities that are borderline affordable. Point2 found that buyers in 15 non-core cities lacked "only" 2% to 23% of the income needed to own a home. That's roughly the equivalent of a few more months' worth of income on top of what you already earn.
Here's a look at 12 secondary cities where the difference between average renter income and the income needed to own a home is less than 20%:
Independence, Missouri: Renters earn 2% less than what is needed to purchase a starter home, on average.
Broken Arrow, Oklahoma: 5% less.
Aurora, Illinois: 9% less.
League City, Texas: 13% less.
Spring Valley, Nevada: 13% less.
Coral Springs, Florida: 14% less.
Pasadena, Texas: 14% less.
Joliet, Illinois: 14% less.
Hampton, Virginia: 15% less.
Irving, Texas: 19% less.
Norman, Oklahoma: 19% less.
Overland Park, Kansas: 19% less.
More From GOBankingRates