Should You List Your Home During the Holidays or After the New Year?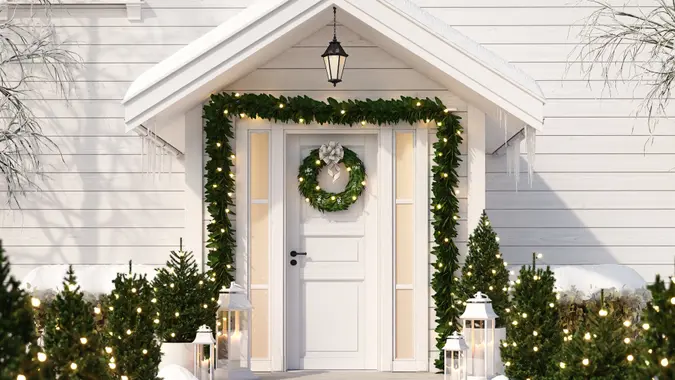 2Mmedia / Getty Images/iStockphoto
If you want to sell your home, it's important to know the optimal time to place it on the market. With the holidays coming up, is now a good time? Or should you wait until the new year to get better offers?
Read: Craziest Things That Kill Your Home's Value
Home Improvement: 20 Home Renovations That Will Hurt Your Home's Value
To find out, GOBankingRates spoke with Mark J. Schmidt, broker associate with RE/MAX Country in Milltown, New Jersey. Here's what he said are the pros and cons of each time of year.
Winter Months Tend To Be Slower — But That Doesn't Mean You Shouldn't Sell Now
"The best time for you to sell your home is when you need to sell it," Schmidt said. "Each part of the year has good parts and challenging parts for sellers. For example, we see more buyers out during the spring and summer months, but many people are just out looking during that time. There are fewer buyers out during the winter months, but those buyers tend to be more serious — if you're going out in the cold to look at homes, you're more serious about buying."
Pros of Listing Your Home During the Holidays
Schmidt said that listing during the holidays can be a "smart move."
"Many homes are decorated for the holidays, and those decorations can provide a sense of warmth and nostalgia for buyers," he said. "Tapping into the emotions of the people looking at your home is a great way to get them interested in buying."
Cons of Listing Your Home During the Holidays
"One of the disadvantages of selling during the holidays is that there are fewer buyers who are out actively looking for a home," Schmidt said.
However, as he noted before, those who are looking are likely serious buyers — so although you may get fewer offers, those you do get are more likely to be committed to pulling the trigger.
Pros of Listing Your Home in the New Year
Listing early in the New Year has its own unique advantages.
"One of the best advantages is that you can beat the competition," Schmidt said. "Many people consider getting their homes on the market by the spring because they know more people will be out looking then. But people tend to look at homes online well in advance of their buying, and if your home is on the market and everyone else is waiting, you have a much better chance of selling for your asking price or better than if there were a ton of other homes to compete with."
In addition, buyers may feel reinvigorated by the fact that it's the start of a new year.
"The holidays are behind you and people are looking forward," Schmidt said. "Take advantage of that new focus those buyers have — whether it's resolution-related or not — and get your home on the market!"
Cons of Listing Your Home in the New Year
"I don't see any disadvantages to getting your home on the market early on in the New Year," Schmidt said. "Depending on what part of the country your home is located in you could possibly have challenges with weather, like snow or ice, but you'll still have serious buyers without a lot of competition to worry about."
These Rules of Thumbs Tend To Hold True, Regardless of the Market
Although we're in the midst of a hot real estate market, Schmidt expects the coming holiday season and new year to play out like years past.
"I've been selling real estate since 2002, and this is what I've learned from helping sellers over that time," he said. "The market may be super-hot right now, but it's best to base your plans and your marketing on what has traditionally worked. Even with the number of buyers in the market right now and the lack of inventory, it's still a good idea to stick with the fundamentals."
More From GOBankingRates