10 Small Towns To Consider for Homebuyers Leaving Major Cities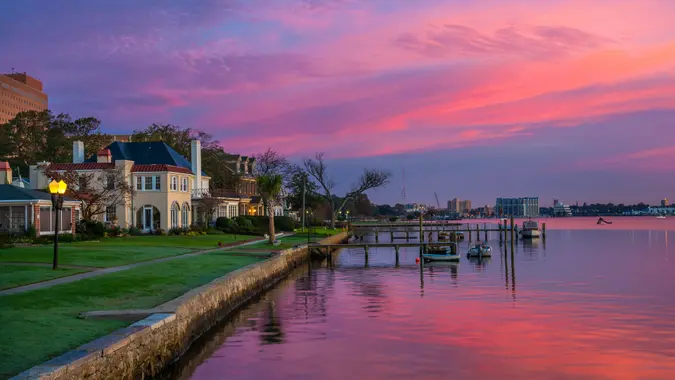 Davel5957 / Getty Images/iStockphoto
Housing affordability has been a growing problem for quite some time now, almost to the level of an affordability crisis. While new home construction has picked up in 2021, it still hasn't reached the level of new construction before the Great Recession. So, in big cities, first-time homebuyers are finding themselves priced out entirely and are looking for more affordable options elsewhere.
US Housing Market: Is Now the Right Time To Be a Buyer?
Find: 7 Unexpected Cities To Invest in Property in 2022
Small towns can be just that. They may not offer quite as much hustle and bustle as the big cities, but not all buyers want that anyway. Some prefer a slower pace, whether it's because they are starting a family or simply because they want to be somewhere less crowded.
Whatever the reason, these small towns are solid options to get away from the big city and, in doing so, buy a home that is much more affordable than its big-city counterparts.
Granville, West Virginia
Population: 4,628
Median home price: $124,207
Metropolitan area: Morgantown
Granville is a town of just over 4,600 located on the west side of the Monongahela River. On the east side is Morgantown, home of West Virginia University. That makes it an ideal home for university staff, but the town is also great for those who love to be outdoors. The area has plenty of green space plus trails and streams. It also has plenty of shopping despite its small-town appeal.
Related: Homebuyers Are Leaving These 5 Big Cities, Relocating to These 5 Big Cities — Experts Weigh In
Mauldin, South Carolina
Population: 25,841
Median home price: $258,942
Metropolitan area: Greenville
Mauldin is located just outside Greenville, SC, a relatively small city that has become less small in recent years. Buoyed by job growth from employers such as Prisma Health, General Electric, and BMW, Greenville has already started to become unaffordable for first-time homebuyers. Granted, the home prices in the two towns aren't that different — the median price in Greenville is currently $275K. However, Mauldin has plenty of homes under its median price, some of which are very nice homes for the price.
Chalco, Nebraska
Population: 10,952
Median home price: $225,000
Metropolitan area: Omaha
Chalco is a suburb of Omaha, which is located in the far eastern part of Nebraska. Despite its relatively affordable homes, Chalco has a low unemployment rate, a stable economy, and good schools in the area. Residents can hike and bike at the Chalco Hills Recreation Area, or make the 20-minute trek to Omaha for more activity in the city.
Portsmouth, Virginia
Population: 93,342
Median home price: $224,959
Metropolitan area: Hampton Roads
With nearly 100,000 residents, whether Portsmouth qualifies as a small town is up for the debate. What isn't up for debate, though, is the affordability of its homes. Named for its place as a shipping hub on the Elizabeth River, Portsmouth is about two hours southeast of Richmond. Drive two more hours up I-95 and you will be in Washington, D.C. Due to its legacy as a port town, Portsmouth itself has a rich history and plenty of cool shops and restaurants.
Beech Grove, Indiana
Population: 15,030
Median home price: $179,637
Metropolitan area: Indianapolis
Beech Grove is a suburb of Indianapolis, located just 15 minutes to the southeast. Despite its closeness to the state's capital and largest city, Beech Grove remains remarkably affordable with a median home price of just under $180K. Beech Grove is just a small slice of Indiana; the town itself is just 4.47 square miles in physical size. Hence, there aren't many properties available, but the ones that do go on sale can be great deals.
See: Why Buying Property in These Vacation Destinations Could Be a Great Investment
Ferndale, Michigan
Population: 20,009
Median home price: $235,031
Metropolitan area: Detroit
Ferndale is a suburb of Detroit, just a 20-minute drive north of Detroit's downtown core. Ferndale may be small, but there are a surprising number of things to do without having to make the drive to the big city. There is the Rust Belt market, a distillery, axe throwing, and even a meadery all located within Ferndale. And how about a comedy improv show? Indeed, Ferndale has a lot to offer, and homes in the suburb are still quite affordable.
Hardeeville, South Carolina
Population: 9,657
Median home price: $224,207
Metropolitan area: Hilton Head Island-Bluffton-Beaufort
Located a little more than 30 minutes from Hilton Head, Hardeeville is actually closer to Savannah, Georgia, which is just over 20 minutes away. Although Hardeeville is nearly 57 square miles in size, much of the town is undeveloped. As a result, its population is under 10,000, and there aren't many homes available for sale. But if you can find one, you might just find yourself a great deal — and access to endless things to do in Hilton Head and Savannah.
Watford City, North Dakota
Population: 10,100
Median home price: $298,167
Metropolitan area: Minot-Bismark
Unlike many other towns on this list, Watford City is fairly well isolated. It will take about two hours from there to drive to Minot, and three hours to Bismarck. All of North Dakota has fewer than 775,000 people; Watford City is best for those who prefer real small-town living. Unsurprisingly then, the best things to do there include a river bend outlook and a national grassland.
Triana, Alabama
Population: 1,936
Median home price: $244,831
Metropolitan area: Huntsville-Decatur
Located about 25 minutes southwest of Huntsville, Triana is the ideal place for Huntsville commuters who are looking for more affordable properties. Triana itself is tiny, but it's right on the Tennessee River and has its own public library. Properties can be found here for less than $250,000.
Fruitland Park, Florida
Population: 12,638
Median home price: $267,236
Metropolitan area: Orlando-Kissimmee
Despite being a part of the Orlando metro area, Fruitland Park is a bit isolated; it takes about an hour to drive into Orlando. However, those who like the water will love Fruitland Park, as there are several large lakes in the area. Lake Griffin, Lake Harris, and Lake Eustis are all right next to Fruitland Park. While homes in Fruitland Park itself can be limited, there are plenty in the surrounding areas, in many cases for less than $300,000.
More From GOBankingRates