Top 10 Cities Americans Would Move To If 'Money Was No Object'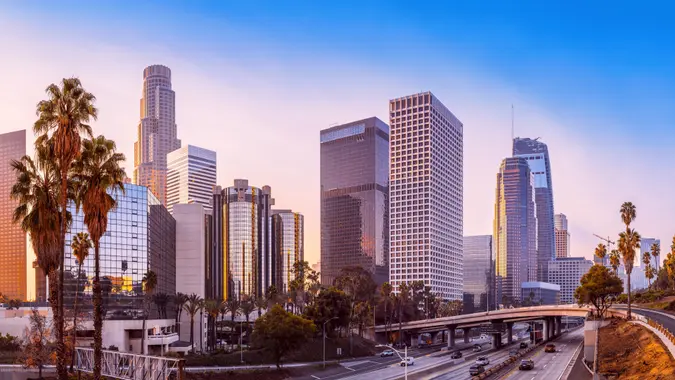 frankpeters / Getty Images/iStockphoto
If you had all the money in the world, where would you want to live? That's the question that Home Bay, a real estate advice website, posed to its readers.
The top 10 results proved quite interesting, as Los Angeles came in the top spot even as the same survey found that California was the state Americans were moving from the most — perhaps due to how expensive the West Coast state has become in terms of cost of living.
In general here are the top 10 cities people would move to "if money was no object," according to Home Bay's survey:
Los Angeles, California.
Atlanta, Georgia.
Austin, Texas.
Las Vegas, Nevada.
Miami, Florida.
New York, New York.
Boston, Massachusetts.
Dallas, Texas.
Baltimore, Maryland.
Charlotte, North Carolina.
Interestingly, Chicago — still the third-largest city in the U.S., per the Chicago Realtor Association — did not make the cut. Home Bay found that a large number of people actually moved out of Illinois and attributed this trend to younger people leaving the state to look for new jobs elsewhere. As GOBankingRates recently reported, Illinois also fared poorly on MoneyGeek's report card concerning state taxes. The Midwest state received an "F" for its 16.9% tax rate, which could be a contributing factor surrounding outmigration.
In addition to California and Illinois, New York also had the largest number leaving. This dovetails with Home Bay's findings that 25% of those polled wanted to move from a metropolitan area and head for the suburbs. Though, Home Bay also found that 40% wanted to live in a major city if money wasn't a factor.
The cost of living has become a huge determinant of where people choose to live. Not long ago, World Economic Forum published a report showing that increased costs are severely affecting people's mental and physical health around the globe as many countries grapple with poverty and housing issues.
GOBankingRates also published a report profiling 10 cities that will become largely unaffordable to live in in less than a decade. The top five on that list included Roseburg, Oregon; Auburn, Alabama; Fayetteville, Arkansas; Knoxville, Tennessee; and Dallas, Texas.
More From GOBankingRates