6 Tiny Houses With Huge Price Tags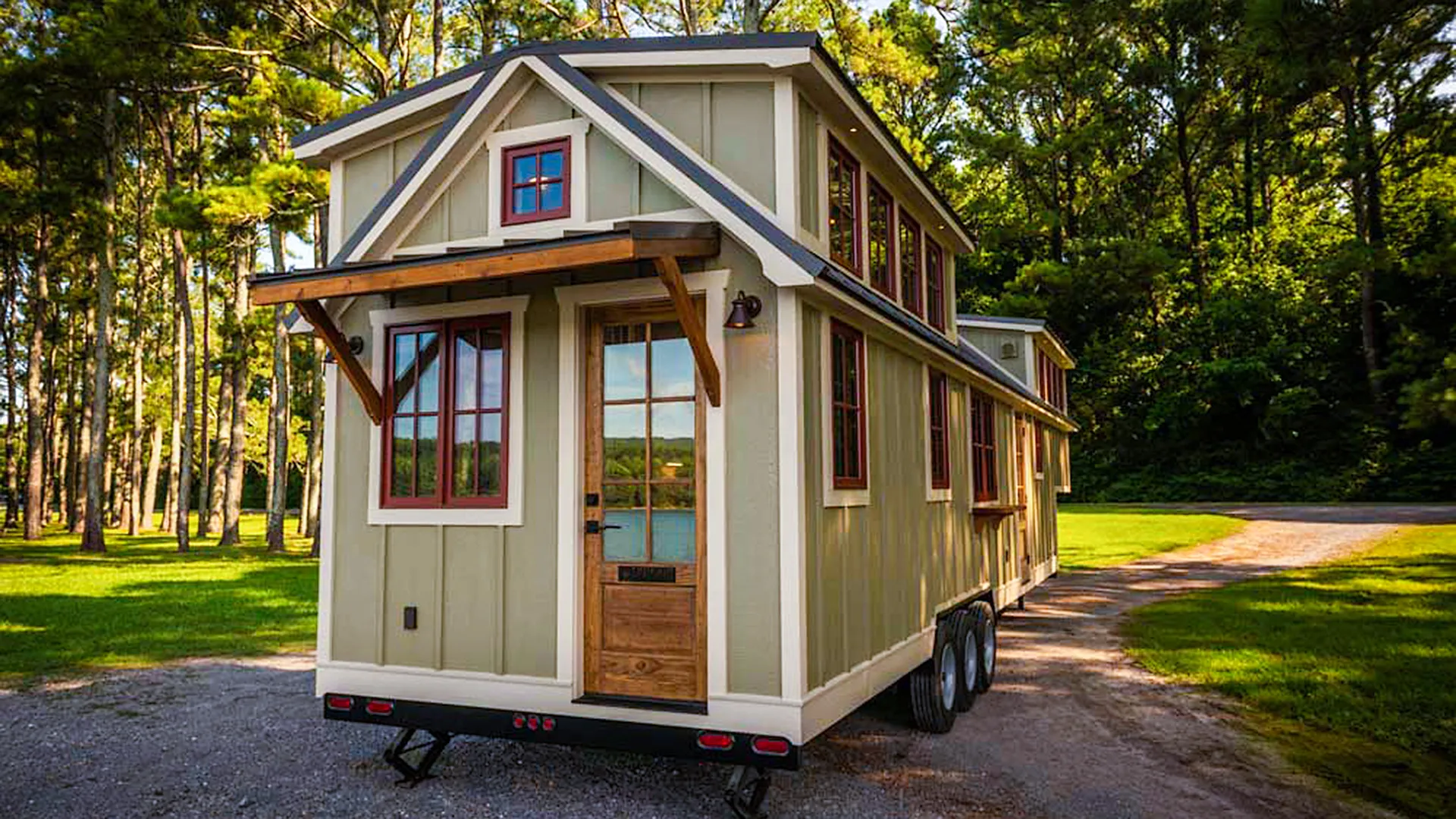 As more people struggle to afford traditional homes, some are opting to live in tiny homes instead. The average tiny house costs $10,000 to $30,000 if you build it yourself, and $20,000 to $60,000 if you hire someone to build it for you, according to The Tiny Life. But some tiny homes can cost upwards of six figures. Are they worth it? Click through to see for yourself what these pricey tiny houses for sale look like.
Last updated: Oct. 16, 2019
Roof Deck-Equipped Tiny Home in Fort Collins, Colorado
This 400-square-foot tiny home in Colorado is listed at $111,000. Keep reading to see if what you get for that price and size makes it worth it.
The Basics
The two-bedroom, one-bathroom home was built on a 30-foot Trailer Made trailer. It was constructed by Gibson Tiny Homes in 2019.
The Amenities
There are plenty of luxury touches in this tiny home, including a California king bed in one of the two bedroom lofts and a rooftop deck. Other amenities of this tiny house's interior include a full-sized U-shaped kitchen with a gas range, oven and butcher block countertops, a full shower in the bathroom, two lofts with 4-foot ceilings, LED lighting, cedar siding, French doors and energy-efficient windows.
Turnkey Tiny House in Flat Rock, North Carolina
Listed at $113,900, this turnkey tiny house is 400 square feet. So what kind of tiny house do you get for that price? Read on to find out.
The Basics
This tiny house on a trailer was built in 2017 and features one bedroom and one bathroom.
The Amenities
The tiny house has plenty of outdoor space with screened front and back porches, and views from each — the front porch overlooks a pond while the back porch/all-season room looks out into the woods. The home comes equipped with a dishwasher, microwave, washer-dryer, five overhead fans, a built-in queen bed platform, a shower and a separate bathtub, on-demand hot water and a cement slab for parking. The home is located in a model park which has its own pool, clubhouse, dog park and community garden. 
Custom Finishes in a Small Package in Chattanooga, Tennessee
This 350-square-foot Tennessee home is for sale for $119,000. But despite its tiny size, it has a lot to offer.
The Basics
The solar-powered tiny home on a trailer has one bedroom and one bathroom. It was built in 2018.
The Amenities
This off-the-grid custom tiny home is complete with sweeping views. It features a storage loft, a sleeping loft, a deck, skylights and a queen-size bed.
Handcrafted Tiny Home in Huntington, Indiana
The list price for this 325-square-foot handcrafted tiny home is $120,000. You'll definitely want to check out all that you get with this house.
The Basics
The home is big as far as tiny houses go at 28 feet long. The two-bedroom, one-bathroom home on a trailer was built in 2018.
The Amenities
This functional home can sleep up to five and features a fully functional kitchen with custom-built cabinets, a washer-dryer, a large coat closet, a fold-down oak dining table, a 46-inch bathtub, a full-size vanity sink and mirror, a large loft area and a rear storage area. It also has a covered porch and a deck.
Modern Mountain House in Portland, Oregon
This 359-square-foot modern tiny home can be yours for $124,995. Find out all you get with this delightful Oregon home.
The Basics
Built in 2018, this tiny house on a trailer has two bedrooms and one bathroom.
The Amenities
The cozy home provides a warm atmosphere with rich wood accents, a fireplace and other amenities. Features of the modern tiny house include a three-burner gas cooktop, a gas oven, a skylight, French doors, LED lighting, a folding bar table, indoor and outdoor showers, and a front storage compartment.
Custom Timbercraft Tiny Home
With a Timbercraft Tiny Home, you choose your size and amenities, so the prices can vary. Some models can cost upwards of $150,000, depending on how luxurious you go with your design.
The Basics
Timbercraft Tiny Homes handcrafts luxury tiny homes of all sizes and specifications, including its largest model, the Denali XL, which can be as long as 41 feet. The price you pay depends on the features you choose.
The Amenities
All Timbercraft Tiny Homes come with a custom trailer, painted cabinets, butcher block countertops, a stainless steel sink and a propane cooktop, but the upgrades you can add on are nearly limitless. Nonstandard features include double lofts, granite or quartz countertops, a washer-dryer unit, a gas range with an oven and stained cabinets.
More From GOBankingRates